Trump administration 'delayed' $20billion of aid to Puerto Rico after Hurricane Maria in 2017, new report claims
New report by US Inspector General's housing department claims Trump administration delayed $20billion of aid to Puetro Rico in the aftermath of Hurricane Maria in 2017
Alice Hutton
Thursday 22 April 2021 21:11 Comments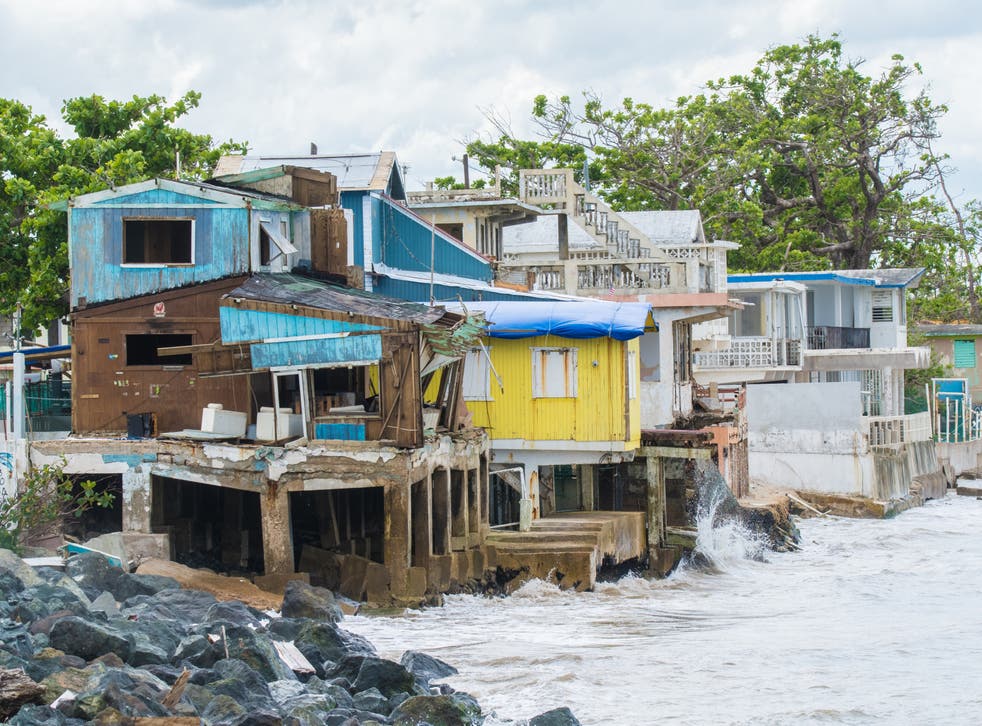 Leer en Español
The Trump administration delayed $20billion of vital aid to the US territory of Puetro Rico following the devastating hurricane in 2017, a new report has claimed.
The 46-page report by the US Inspector General's Department of Housing and Urban Development (HUD) has alleged that financial relief efforts were "unnecessarily delayed by bureaucratic obstacles", following category 5 storm Maria, which killed more than 3,000 people and left thousands more homeless in September 2017.
The principal reason appears to be an extra layer of 'red tape' imposed by the office of management and budget, that prevented disaster funds being released quickly, as reported by The Guardian.
The investigation, which was re-launched in 2019, was "hampered" by a refusal from Trump administration officials to co-operate and take part in the 31 interviews of former and current staff involved in dealing with the crisis, including former HUD Secretary Ben Carson who refused to be interviewed unless a lawyer was present and whose testimony was eventually not obtained
"While the OIG undertook efforts to mitigate these challenges, the delays and denials of access and refusals to cooperate negatively affected the ability of the OIG to conduct this review," the report said.
The investigation also found that further delays occurred due to the 2018-2019 government shutdown.
The report said: "Staffing shortages due to the shutdown and miscommunications between HUD and the Puerto Rico Department of Housing pertaining to the grantee's bank information delayed PRDOH's ability to access grant funds until several days after the shutdown ended."
The release of the report follows the announcement on Monday by HUD that it was lifting restrictions on Puerto Rico from accessing certain recovery funds, including releasing $8.2 billion in previously approved Community Development Block Grant Mitigation funds to aid in long-term recovery, as reported by CNN.
Following the devastating storm, Congress assigned around $67 billion in aid to the island, but only about $17.8 billion, or less than a third of the amount, has been disbursed.
Trump was criticised for his handling of the crisis, including a refusal in 2018 to send additional relief funds, and tweeted in October 2018: "The people of Puerto Rico are wonderful but the inept politicians are trying to use the massive and ridiculously high amounts of hurricane/disaster funding to pay off other obligations. The U.S. will NOT bail out long outstanding & unpaid obligations with hurricane relief money!"
At the time Puerto Rico had estimated it would need $94 billion to rebuild, with many people still living in make-shift housing.
Register for free to continue reading
Registration is a free and easy way to support our truly independent journalism
By registering, you will also enjoy limited access to Premium articles, exclusive newsletters, commenting, and virtual events with our leading journalists
Already have an account? sign in
Register for free to continue reading
Registration is a free and easy way to support our truly independent journalism
By registering, you will also enjoy limited access to Premium articles, exclusive newsletters, commenting, and virtual events with our leading journalists
Already have an account? sign in
Join our new commenting forum
Join thought-provoking conversations, follow other Independent readers and see their replies