Presidential election: Voter fraud claims fly in Florida, where George W Bush won by 537 votes in 2000
Democrats insist they are going by the book as Broward again in the spotlight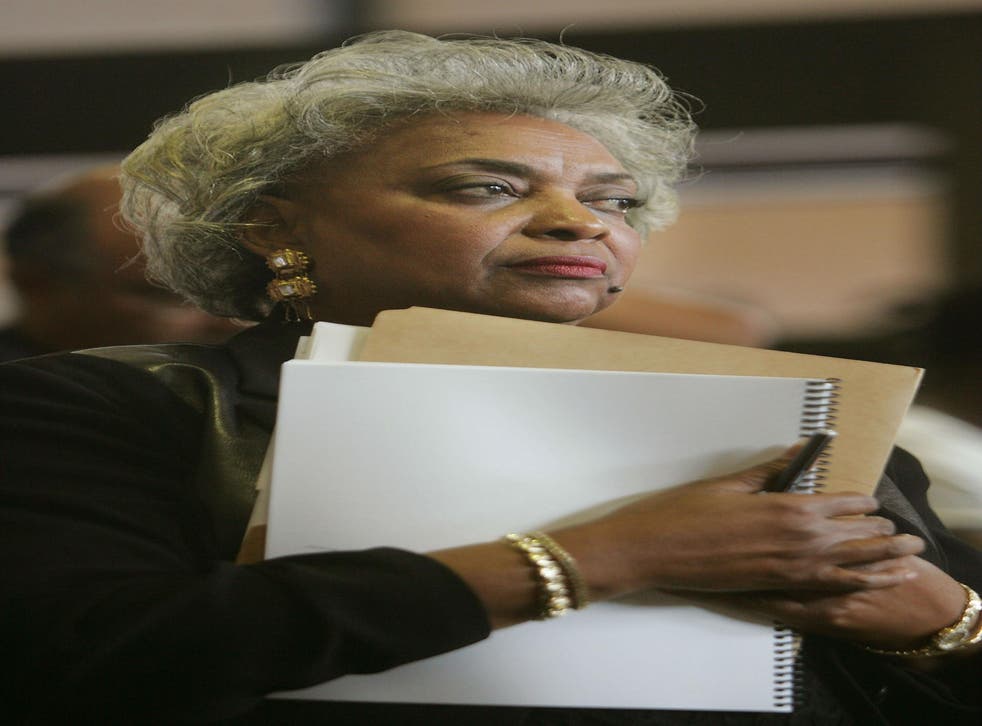 South Florida is being rattled by new claims of voter fraud in Broward County, the most left-leaning county in a state that will once more be pivotal in picking America's next president.
The flap is evoking painful memories of the contested 2000 race between George W Bush and the Democrat he vanquished, Al Gore. He was able to declare final victory only after 36 days of legal wrangling beyond election day that went all the way to the US Supreme Court.
Then, as today, it was Broward County that was in the eye of the storm, though 16 years ago it wasn't fraud that fouled the election but the so-called "hanging chads" that muddled the voting count because some voters hadn't pushed the holes in their ballots all the way through.
The county, which includes Fort Lauderdale, has about 600,000 registered Democrats, the most in the state, and also falls within the district of Debbie Wasserman Schultz, the Congresswoman who was chair of the Democratic National Committee before being ousted in July amid claims she had helped tilt the party's primaries away from Bernie Sanders in favour of Hillary Clinton.
On Wednesday, the Florida Republican party's top official, Blaise Ingoglia, sent a letter to the head of Broward's elections supervisor, Brenda Snipes, alleging that she and her staff had been illegally opening and sorting "tens of thousands" of absentee ballots without proper oversight by an independent canvassing board.
"These illegal actions must stop immediately," he wrote. "The Republican Party of Florida is prepared to take all necessary legal actions to ensure that Broward County conducts its election in compliance with the law."
The allegation instantly resonated with some Republicans who have been fed a diet of claims by their nominee, Donald Trump, that the Democrats will somehow seek to cheat their way to victory next Tuesday and that unspecified rigging of the vote is going on.
Among the remaining states on a knife-edge, Florida is arguably the most critical. Democrats are striving to push up voter numbers in blue-leaning counties such as Broward and neighbouring Dade county that includes Miami. If Ms Clinton can deny Mr Trump victory in Florida, where he performed well in the primaries, it is likely she will have denied him the White House too.
Also still lurking was a seemingly unfounded claim made by Roger Stone, a one-time political advisor to former President Richard Nixon and today one of the loudest pro-Trump voices in the land, that Ms Clinton last month held a secret meeting with Ms Snipes during a campaign stop in South Florida, implying they were colluding to fix the outcome in her county.
"Yesterday Hillary Clinton shows up in Broward County – slips into a private meeting with the woman who runs the board of elections," he told the ultra-conservative talk-show host Alex Jones on 28 October. According to the Politifact website no such meeting ever took place, however.
This week's broadside against Broward by the state party drew a defiant response from Ms Snipes who insisted that her office was doing everything by the book.
"We don't run a slipshod operation here," Ms Snipes told two GOP lawyers who came to South Florida from Chicago and Houston on Thursday, the Miami Herald reported. "So for someone to say we mishandled thousands of absentee ballots – that's totally inaccurate."
At a rally with President Barack Obama in Miami on Thursday, Ms Wasserman Schultz similarly struck back at the Republican attack. "We will not accept bullying," she declared.
The dispute about absentee ballot processing may have been partially defused following an offer by a local judge who belongs to the the three-judge canvassing board to make it his job to monitor all absentee ballot processing in Broward between now and election day, accompanied by observers from both parties.
While the state Republican party appeared on Friday to have accepted the compromise, others continued to express scepticism that Broward was playing by the rules.
"Bottom line: the law is still not being followed and Broward continues to process vote-by-mail ballots illegally," Michael Thielen, the director of the Republican National Lawyers Association, insisted.
Any suggestion of incompetence or malfeasance draws expressions of exasperation from officials in Broward for whom memories of 2000 are still painful. "For some reason in Broward County our issues get blown out of proportion," Ms Snipes complained to the Herald.
The county also includes both West Palm Beach, where the hanging-chad debacle occurred and which saw repeated marches and protests while the post-election legal challenges played out that year, and also Palm Beach, home to the Mar-a-Lago estate and private club owned by Mr Trump, which may become a kind of Winter White House if he is elected.
Register for free to continue reading
Registration is a free and easy way to support our truly independent journalism
By registering, you will also enjoy limited access to Premium articles, exclusive newsletters, commenting, and virtual events with our leading journalists
Already have an account? sign in
Register for free to continue reading
Registration is a free and easy way to support our truly independent journalism
By registering, you will also enjoy limited access to Premium articles, exclusive newsletters, commenting, and virtual events with our leading journalists
Already have an account? sign in
Join our new commenting forum
Join thought-provoking conversations, follow other Independent readers and see their replies