Presidential election: Obama pleads with African-American voters to turn out for Hillary Clinton after early voting slump
Clinton is not Obama – early voting among blacks down sharply in Florida and North Carolina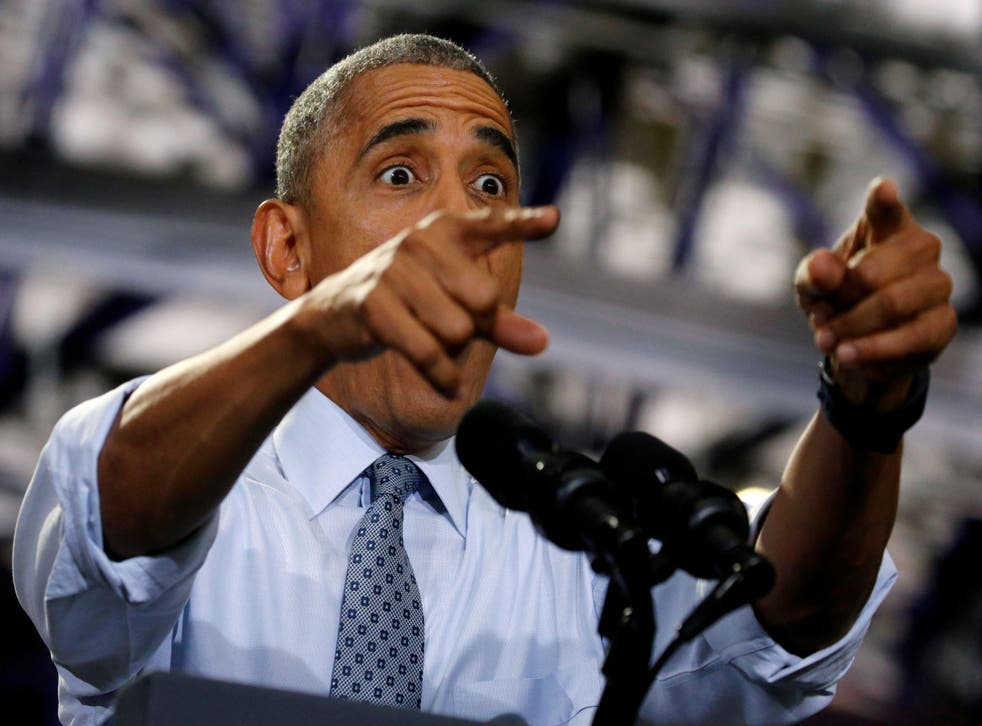 President Barack Obama has made an urgent plea to black Americans to get out and vote for Hillary Clinton, warning that otherwise policies he has enacted to benefit them will be reversed.
Citing data suggesting that early voting among blacks is far below what it was when he was running for president four years ago, Mr Obama said that if he is elected president, Donald Trump would "reverse every single thing that we've done" in the past eight years.
His appeal comes as early voting patterns indeed suggest that enthusiasm among black voters for Ms Clinton is lagging dangerously, which could demolish one of the principal pillars of her strategy to win. It could spell particular peril in key swing states like Florida and North Carolina.
"I'm going to be honest with you right now, because we track, we've got early voting, we've got all kinds of metrics to see what's going on, and right now, the Latino vote is up. Overall vote is up. But the African-American vote right now is not as solid as it needs to be," Mr Obama said on the Tom Joyner Morning Show, a radio programme popular with black listeners.
According to analysis by The New York Times on Wednesday, early voting among blacks in Florida is down 10 per cent compared with four years ago, a potentially serious shortfall with polling showing the Sunshine State a toss-up now between her and Mr Trump. A win for Ms Clinton in the state would effectively block any path that the Republican might have to win the White House.
Similarly critical for both candidates is North Carolina. In that state there is evidence that early voting by blacks has slipped a full 16 per cent compared with 2012.
Attempting to spell out the stakes, Mr Obama stressed the danger of "if we let this thing slip and I've got a situation where my last two months in office are preparing for a transition to Donald Trump, whose staff people have said that their primary agenda is to have him in the first couple of weeks sitting in the Oval Office and reverse every single thing that we've done."
Areas of policy at risk of particular interest to black voters, he intimated, including criminal justice reform to end discrimination against minorities and undue incarceration periods for drug offenders. He cited the recent case of five young African Americans wrongfully convicted and imprisoned for the rape and beating of a Central Park jogger.
"Donald Trump is somebody who, after the Central Park case was recognised as having convicted young African American men who were innocent, today still insists that they should be in jail and what – this is the guy who's gonna suddenly help to make sure that folks have fair treatment in the criminal justice system?" the President declared.
He argued that if the black community has an affection for him and his record, they need to protect his legacy by not allowing Mr Trump to win next week.
"I know that there are a lot of people in barbershops and beauty salons, you know, in the neighbourhoods who are saying to themselves, 'We love Barack, we love – we especially love Michelle, and so, you know, it was exciting and now we're not as excited as much'. You know what? I need everybody to understand that everything we've done is dependent on me being able to pass the baton to somebody who believes in the same things I believe in," Obama said.
Other areas where Mr Trump might reverse his legacy, Mr Obama said, would include the Affordable Care Act (Obamacare), Medicaid, support for historically black colleges and universities, civil rights, voting rights and even the First Lady's garden at the White House.
A failure of blacks – or indeed Hispanics – actually to vote is arguably the Clinton campaign's worst nightmare. Ms Clinton is banking on the minority vote as a bulwark against Mr Trump's advances with other groups, notably non-college-educated white men.
It explains why on Wednesday she made an unscheduled visit to a shopping centre in Lauderhill, near Fort Lauderdale, in Florida, an area with a large Caribbean population. She was greeted by a large throng of supporters who were overwhelmingly black. Also on hand was Broward County Commissioner Dale Holnes, who is originally from Jamaica.
The Clinton campaign will attempt to use its vastly superior ground operation in states like Florida, North Carolina and also Ohio to try to whip up African-American enthusiasm in the last few days of the campaign. This Sunday could be especially important as black churches traditionally use the pulpit to urge their congregations to make their votes count.
The campaign is facing particular headwinds in North Carolina thanks to attempts by the Republican state leadership to curtail early voting. Though the measures were blocked by the Supreme Court as a deliberate attempt to suppress the black vote, there is evidence of some counties still making it hard for anyone to vote early by restricting voting locations and hours.
Join our new commenting forum
Join thought-provoking conversations, follow other Independent readers and see their replies