'Something close to genocide': San Juan mayor Carmen Yulin Cruz begs for more Puerto Rico relief
Democratic lawmakers seek emergency hearing on administration's response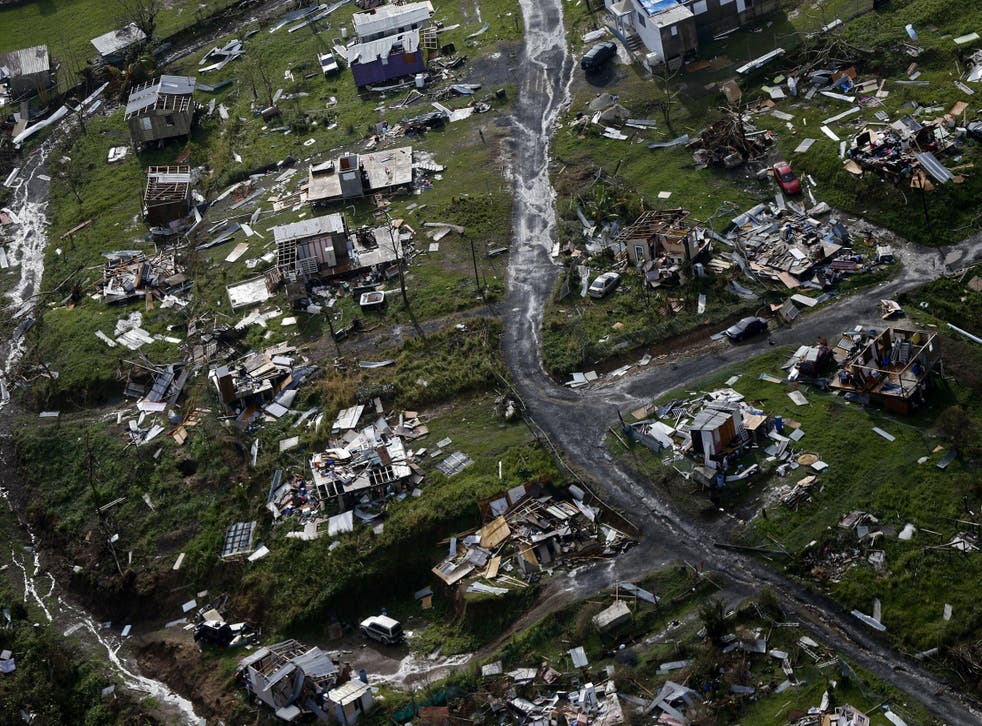 The mayor of San Juan issued an emotional "mayday call" for help for the hurricane-stricken island of Puerto Rico, saying "we are dying here" as a pair of Democrats sought an emergency oversight hearing.
"I cannot fathom the thought that the greatest nation in the world cannot figure out logistics for a small island," San Juan Mayor Carmen Yulín said during a press conference. "I am asking the President of the United States to make sure somebody is in charge that is up to the task of saving lives," she added, warning that "if we don't get the food and water into peoples' hands what we are going to see is something close to a genocide".
In a letter to the House Committee on Oversight and Government Reform Rep Elijah Cummings, Democrat of Maryland, and Rep Stacey Plaskett, the US Virgin Islands' delegate to Congress, sought to convene a hearing to address what they called the slow pace of federal help in the aftermath of successive battering hurricanes.
The lawmakers pleaded for urgent action to forestall "a worsening of the human tragedy that is unfolding" and cites criticism that the Trump administration is not doing enough to aid the devastated islands, where infrastructure lies in ruins, millions are without power and shortages of food and medicine are imperilling survivors.
"This issue is in desperate need of rapid and robust oversight," the letter says. "Millions of American citizens residing in Puerto Rico and the US Virgin Islands are facing massive calamities - including widespread disease and death - and we need to help them now."
Part of the problem is the Trump administration's halting response, the lawmakers argue, noting that the President waited days to deploy aid ships. Noting that the committee has no hearings scheduled for the coming week, they urged an array of federal officials - including from the White House - to be called before the committee so "lessons…from past federal responses are implemented by the Trump administration".
Hurricane Irma – devastation caused in pictures

Show all 45
While Trump administration officials have touted their response to the widespread destruction, noting the President has augmented federal aid to Puerto Rico and the Virgin Islands and has been in regular contact with officials involved in the relief effort, they have been assailed by island residents for moving too slowly and for tone-deaf comments.
The suffering in Puerto Rico elicited few mentions from Mr Trump in the days after Hurricane Maria, even as he issued a barrage of tweets on other subjects. Speaking to reporters on Friday, Mr Trump praised the "incredible…results that we've had with respect to loss of life".
"People can't believe how successful that has been, relatively speaking," Mr Trump said. Acting Homeland Security Secretary Elaine Duke spurred an outcry for praising the federal government's response as "a good news story".
Officials in Puerto Rico have taken a dimmer review. Ms Cruz has been a vociferous critic of the relief effort, and she issued a wrenching plea for help on Friday.
"If anybody out there is listening to us, we are dying, and you are killing us with the inefficiency and the bureaucracy," Ms Cruz said. "I am done being polite. I am done being politically correct. I am mad as hell."
Register for free to continue reading
Registration is a free and easy way to support our truly independent journalism
By registering, you will also enjoy limited access to Premium articles, exclusive newsletters, commenting, and virtual events with our leading journalists
Already have an account? sign in
Register for free to continue reading
Registration is a free and easy way to support our truly independent journalism
By registering, you will also enjoy limited access to Premium articles, exclusive newsletters, commenting, and virtual events with our leading journalists
Already have an account? sign in
Join our new commenting forum
Join thought-provoking conversations, follow other Independent readers and see their replies