Puerto Rico: Trump administration gave job of delivering 30 million meals to small contractor who delivered just 50,000
The Independent spoke with one of the subcontractors about his experience
Emily Shugerman
New York
Tuesday 06 February 2018 19:11 Comments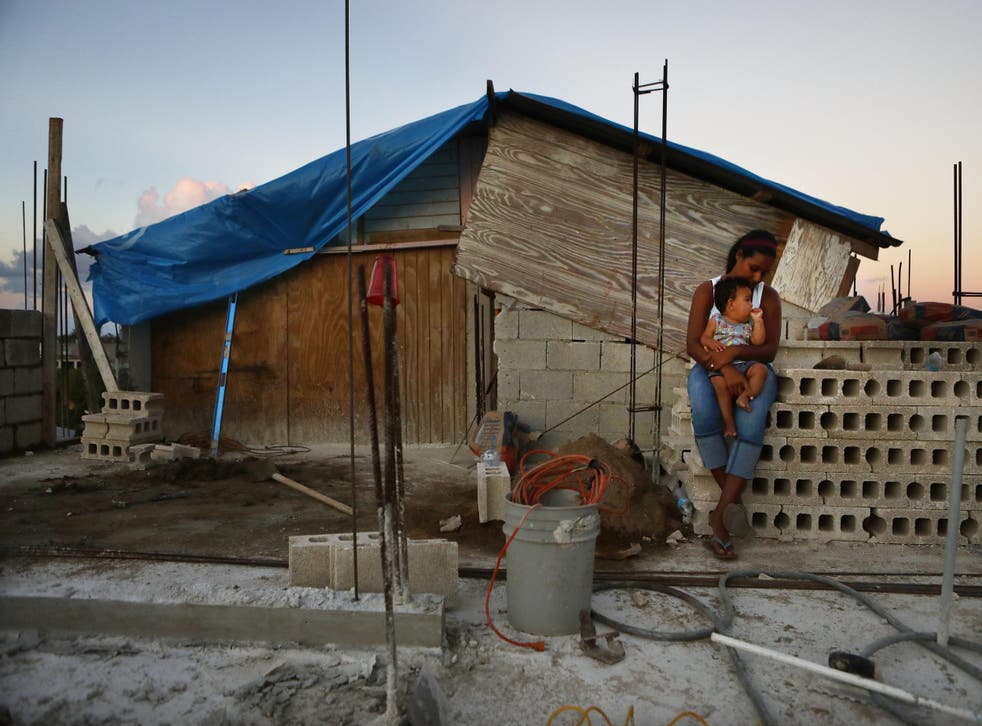 The Trump administration tasked a small, inexperienced contractor with delivering 30m meals to Puerto Ricans affected by Hurricane Maria, according to a new report. She delivered 50,000.
When Hurricane Maria hit Puerto Rico in late last September, it demolished homes, destroyed the electricity system and left millions of people dependent on the Federal Emergency Management Agency (FEMA) for food and water. On 3 October, FEMA signed a $156m contract with self-described "serial entrepreneur" Tiffany Brown to deliver millions of meals to the island, according to the New York Times.
By 19 October, they had cancelled the contract. Ms Brown – the sole owner and employee of her contracting company – had delivered only 50,000 meals in the time she was supposed to deliver 18.5m.
"Do not ship another meal. Your contract is terminated. This is a logistical nightmare." FEMA contracting officer Carolyn Ward wrote in an email to Ms Brown, obtained by the Times.
Ms Brown is now disputing the termination and seeking a $70m settlement. She did not reply to a request for comment.
Bringing aid to Puerto Rico

Show all 20
The Atlanta-based entrepreneur started her company, Tribute Contracting LLC, in 2013. According to her LinkedIn page, Ms Brown also operates a fashion line and once staged a write-in campaign for Atlanta mayor.
Her company has been awarded more than 20 government contracts since it began, according to a federal database. The government has also cancelled its contracts with her company at least five times, according to the Times. On four of those occasions, the government accused Ms Brown of failing to deliver.
Donald Trump: Our response to Puerto Rico was ten out of ten
To help complete last year's FEMA contract, Ms Brown hired two subcontractors: catering company Cooking With A Star LLC and emergency food provider Breedlove Foods Inc.
Bill Miller, the CEO of BreedLove, told The Independent he only learned that the contract had been cancelled when his drivers called him from a port in Jacksonville, Florida and told him their deliveries were being denied.
"We then had some dialogue with Tribute, and Tribute requested we not discuss this with FEMA; they were trying to resolve it," Mr Miller said. "And we said, 'We need to step back and look at this'."
Now, the company is sitting on the two 40-ft containers of supplies it shipped to Puerto Rico, along with two other containers it intended to send, and the raw materials needed for yet another shipment.
Kendra Robinson, the director of Cooking With A Star catering, told the Times that she, too, was sitting on about 75,000 prepared meals. Ms Brown said the subcontractors have threatened to sue for breach of contract.
FEMA declined to comment on Ms Brown's appeal, but a spokesperson told the Times that the situation had not affected their food distribution efforts in Puerto Rico.
"At the time of the contract termination there were ample commodity supplies in the pipeline, and distribution was not affected," spokesman William Booher said, adding that the agency has sourced more than 200m meals during the 2017 hurricane season.
Nearly half a million Puerto Ricans still do not have power. The territory is re-evaluating the official death toll of the storm, which the Times has put at 1,052.
Register for free to continue reading
Registration is a free and easy way to support our truly independent journalism
By registering, you will also enjoy limited access to Premium articles, exclusive newsletters, commenting, and virtual events with our leading journalists
Already have an account? sign in
Join our new commenting forum
Join thought-provoking conversations, follow other Independent readers and see their replies