Rachel Maddow becomes 'most popular prime-time news host' as Trump opponents flock to MSNBC
The audience of Ms Maddow's show has almost tripled, from 849,000 nightly viewers in 2014 to more than 2.3m in June
Alexandra Wilts
Washington DC
Monday 07 August 2017 22:48 Comments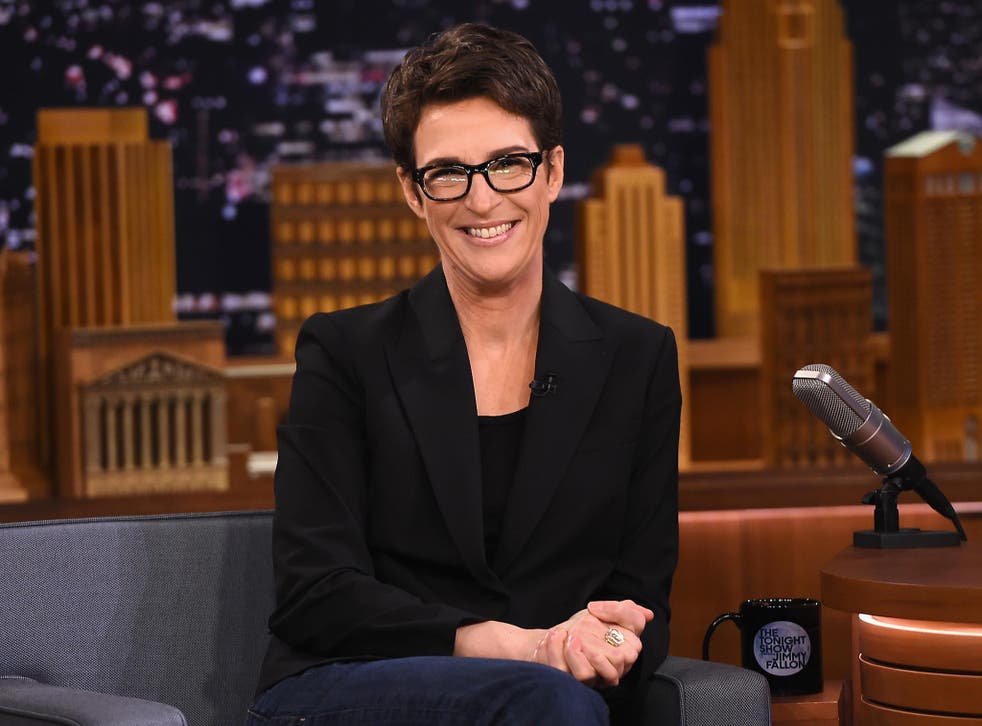 Rachel Maddow of MSNBC is now said to be the most popular personality in prime-time cable news – a title that has been claimed by Fox News TV hosts since 2001.
Ms Maddow's network also achieved other milestones in July, including its closest finish to Fox since 2000 and its largest margin of victory ever over CNN. While cable ratings across the board surged throughout the first six months of Donald Trump's chaotic presidency, The Rachel Maddow Show, launched nearly 10 years ago, appears to have particularly benefited amid the actions and controversies involving the unpredictable US leader.
Ms Maddow's audience alone has almost tripled, from 849,000 nightly viewers in 2014 to more than 2.3m in June, according to Rolling Stone.
In a June interview with the magazine, Ms Maddow – a self-declared liberal and the first openly gay anchor to host a major prime-time news programme in the US – said her rule for covering the Trump administration was: "Don't pay attention to what they say, focus on what they do...because it's easier to cover a fast-moving story when you're not distracted by whatever the White House denials are."
Janet Reitman, a contributing editor at Rolling Stone who interviewed Ms Maddow, told the Independent the TV host is "both incredibly bright and also relateable, without being fake about it."
"She is who she is, and she has a take on the news that, certainly for liberal audiences, probably makes them feel like they're talking to this really cool, super-smart friend who isn't trying to blow them a bunch of smoke."
"While she's as guarded as you must be for TV news, she presents herself as very genuine and I think audiences relate to that," Ms Reitman added. "I also think part of her appeal is that she's not really 'TV' - she's very much about the subject she's covering".
The biggest names involved in the Trump-Russia investigation

Show all 17
During prime-time weekday hours last month, Fox News averaged 2.36m viewers - still more than any other cable network, news or entertainment. However, MSNBC was at 2.13m, just 230,000 viewers behind, and the closest it has come to bettering Fox in 17 years. CNN had 961,000 viewers, according to the Nielsen company.
Earlier this year, Fox consistently had more viewers than MSNBC and CNN combined. The network founded by Rupert Murdoch was also racked by the departures of high-profile figures, including top-rated host Bill O'Reilly over allegations of sexual harassment. Host Megyn Kelly left in January for NBC.
MSNBC and CNN often battle for second place; last November CNN averaged 1.83 million viewers to MSNBC's 1.64 million, Nielsen reported. MSNBC took over second earlier this year.
According to the Associated Press, CNN does not believe that MSNBC's success has come at its expense. The network is on track to have its second-highest prime-time viewership since 2008 and best ever in full-day ratings, Nielsen reported.
CNN's prime-time is panel-based, with a stream of people talking about the news. Unlike MSNBC, CNN regularly includes Trump supporters in the mix.
The surge in MSNBC's prime-time ratings appears to be fuelled by new cable news watchers, and it is still uncertain why these newbies are choosing MSNBC over CNN.
While Mr Trump frequently berates CNN for its coverage, MSNBC – with the exception of the President's attacks on "Morning Joe" hosts Joe Scarborough and Mika Brzezinski – has gotten off relatively unscathed.
Phil Griffin, the president of MSNBC told the AP he believes a key to the network's success is that its hosts aren't just spouting talking points; their programmes contain solid reporting.
"People want depth," he said. "This is a complicated time."
Register for free to continue reading
Registration is a free and easy way to support our truly independent journalism
By registering, you will also enjoy limited access to Premium articles, exclusive newsletters, commenting, and virtual events with our leading journalists
Already have an account? sign in
Join our new commenting forum
Join thought-provoking conversations, follow other Independent readers and see their replies