Trump's fired chief of staff Reince Priebus 'to be interviewed by Robert Mueller' as part of Russia investigation
Ousted key adviser is likely to be familiar with the details of all White House meetings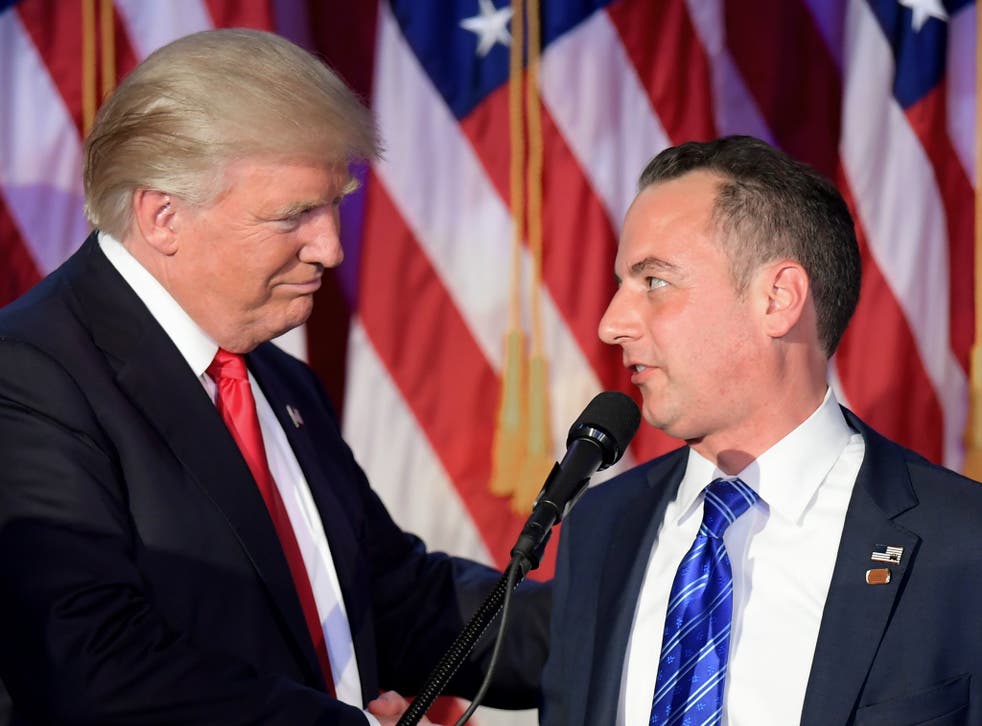 The man overseeing the probe into Donald Trump's ties with Russia, Robert Mueller, intends to interview Reince Priebus, the recently deposed White House's chief of staff, it has been reported.
The special counsel plans to interview several current and former Trump administration officials as part of his ongoing investigation, according to the New York Times.
Mr Mueller is asking for records including details of specific meetings with administration and campaign officials, and any related documents such as transcripts.
The meetings he is asking about specifically include those related to Mr Trump's decision to fire former FBI Director James Comey, according to the report.
The biggest names involved in the Trump-Russia investigation

Show all 17
Mr Mueller is considering whether Mr Trump obstructed justice with his dismissal of Mr Comey, which would be grounds for impeachment.
Mr Priebus is likely to be familiar with the details of all White House meetings.
The sweeping investigation is looking at Russian interference in the 2016 US election, when state-sponsored hacking is believed to have helped propel Mr Trump into office ahead of Hillary Clinton.
It is also examining possible collusion between members of the Trump campaign team or administration and Moscow.
While not unexpected, Mr Mueller's interest in Mr Trump's most senior advisers is seen in Washington as evidence the probe is widening in scope and gathering momentum.
Mr Priebus was forced out of his role in July and replaced with Homeland Security Secretary John Kelly after he was subjected to a foul-mouthed tirade from new communications secretary Anthony Scaramucci, who lasted just 10 days in his job.
Mr Priebus said he had resigned privately and Mr Trump thanked him for his service, although it was widely reported that he was effectively fired after being involved in all the major decisions made by the President during the transition period and the turbulent first months of his tenure.
The special counsel to the President, Ty Cobb, said the White House would "continue to fully cooperate" with Mr Mueller's investigation.
The President has repeatedly said the swirling speculation around his ties to Russia is a "distraction" and "fake news" designed to undermine his position.
Mr Trump denies claims he has threatened to fire Mr Mueller for not concluding the investigation more swiftly, insisting "I haven't given it any thought".
A bipartisan group of senators recently introduced legislation designed to prevent the sacking of both Mr Mueller and Attorney General Jeff Sessions, following fears there could be another "Saturday night massacre" – the name given to the evening in 1973 when Richard Nixon forced out his Attorney General amid the Watergate investigation.
Mr Nixon is the only President in US history to have been forced to resign from office following his impeachment.
Join our new commenting forum
Join thought-provoking conversations, follow other Independent readers and see their replies