Nunes memo: Democrats draft response to Republican FISA document
Republicans are calling for the public release of a classified document about the Obama administration
Emily Shugerman
New York
Thursday 25 January 2018 00:04 Comments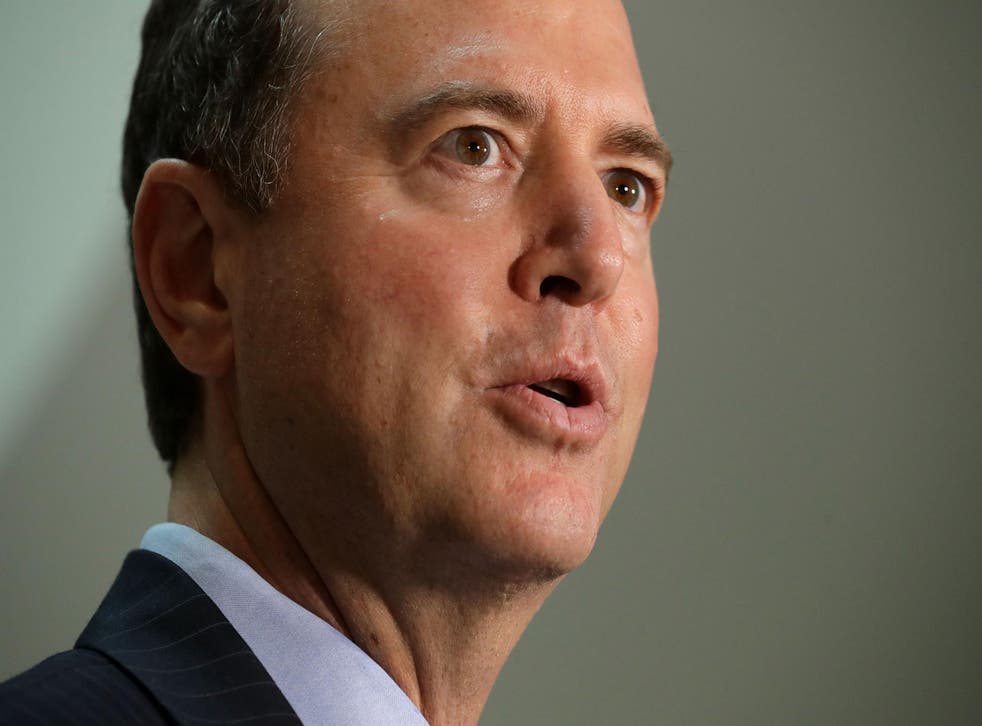 Democrats have crafted a response to the Republican-drafted memo that purportedly contains explosive claims about the Obama administration and its investigation of possible Trump campaign ties to Russia.
House Intelligence Committee chairman Devin Nunes released a memo to his fellow Republican Representatives last week that purported to show "shocking" abuses by the Obama administration in its surveillance of the Trump campaign. The news spurred other conservatives to demand the public release of the classified memo – something President Donald Trump is reportedly inclined to do.
Now, ranking Intelligence Committee member Adam Schiff says Democrats have drafted their own memo, as a means of "setting out relevant facts and exposing the misleading character of the Republicans' document".
Mr Schiff slammed the Republican memo as a "highly misleading" attempt to undermine special counsel Robert Mueller, the attorney in charge of investigating possible Trump-Russia ties. The memo, Mr Schiff said, "seeks to selectively and misleadingly characterise classified information in an effort to protect the President at any cost."
Some Republicans who have seen Mr Nunes's memo claim it proves that the warrants used to surveil the Trump campaign were improperly obtained, and that the entire investigation was politically motivated. Republican Representative Steve King tweeted that the allegations contained in the memo were "worse than Watergate".
The biggest names involved in the Trump-Russia investigation

Show all 17
The buzz around the document led to calls for its public release, and even spawned the hashtag #ReleaseTheMemo. So far, however, officials from the FBI, Justice Department, and Senate Intelligence Committee have all been denied access to the document.
But Mr Trump – a frequent critic of the special counsel's investigation – is partial to releasing the memo publicly, according to CNN. Mr Schiff said one Republican Representative who had talked to the President reported that he seemed inclined to release the memo because its contents were "so favourable to him".
White House Press Secretary Sarah Huckabee Sanders said only that the White House "support[s] full transparency".
"It sounds like there are some members in the House that have some real concerns with what is in that memo and feel very strongly that the American public should be privy to see it," she said at a press conference on Wednesday.
Mr Nunes stepped aside from his committee's investigation into Russian meddling in the US election last year, after the House Ethics Committee placed him under investigation over reports that he "may have made unauthorized disclosures of classified information."
Mr Nunes called the investigation "entirely false and politically motivated" in a statement at the time.
Register for free to continue reading
Registration is a free and easy way to support our truly independent journalism
By registering, you will also enjoy limited access to Premium articles, exclusive newsletters, commenting, and virtual events with our leading journalists
Already have an account? sign in
Register for free to continue reading
Registration is a free and easy way to support our truly independent journalism
By registering, you will also enjoy limited access to Premium articles, exclusive newsletters, commenting, and virtual events with our leading journalists
Already have an account? sign in
Join our new commenting forum
Join thought-provoking conversations, follow other Independent readers and see their replies