Republicans continue to run against transgender rights
Mr Trump spoke about transgender rights in his CPAC speech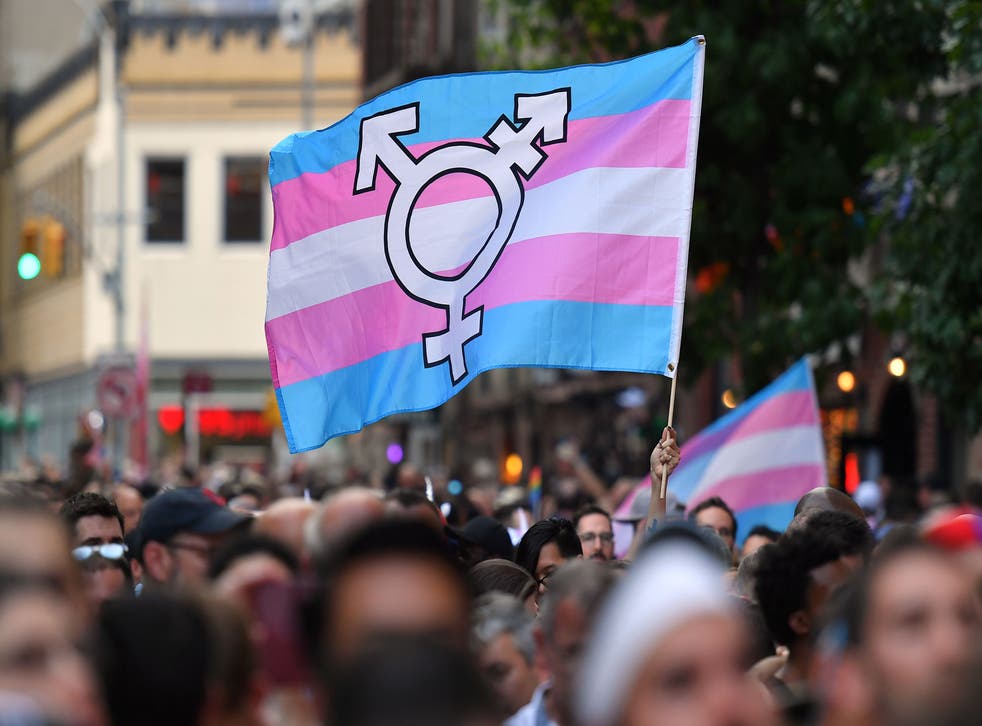 For most of his 90-minute CPAC speech, former president Donald Trump played the hits. Democrats favour "open borders." President Joe Biden doesn't "know what he was talking about." The 2020 election was stolen, in ways that neither his own Justice Department or judges he'd put on the bench were able to see.
But halfway through the speech, Mr Trump said something new. "Joe Biden and the Democrats are even pushing policies that would destroy women's sports," he warned. "Young girls and women are in sets that they are now being forced to compete against those who are biological males."
The former president did not say "transgender," a word he uttered just once during his four years in office. His audience got the message. In Congress and the states, conservatives are talking more and more about transgender rights - specifically, the treatment of children and student athletes whose gender identity differs from the sex they were assigned at birth.
"They're just looking for something to make people afraid and claw back the advances that we've made in equality," said Kate Oakley, the state legislative director of the Human Rights Campaign, the national LGBT+ rights group. "It's definitely escalating, the rhetoric and. . . the number of bills being filed."
Mr Trump, who rarely talked about transgender rights as a candidate, ignored the issue in 2020 rhetorically. But his appointees were fully engaged. His Department of Education threatened to withhold money to some Connecticut schools over a decision to let transgender athletes compete, while his Department of Health and Human Services rewrote gender nondiscrimination language to exclude trans people.
Mr Biden, a relatively early supporter of transgender rights, pledged to undo all of that. That didn't emerge as an issue last year, but it wasn't for lack of trying by social conservatives. The PAC of the American Principles Project, founded in 2009 with the battle over same-sex marriage still underway, spent millions of dollars on swing-state ads against "transgender radicalism." Its most widely seen spot portrayed a young boy smugly running past female athletes on a track.
"All female athletes want is a fair shot at competition," a narrator explained. "What if that shot was taken away by a competitor who claims to be a girl, but was born a boy?"
In an interview when the ad campaign launched, APP Executive Director Terry Schilling said that liberals were underrating the backlash that could come if voters understood what the Equality Act and other Democratic anti-discrimination bills really did. "Once they start figuring out what 'equality' means in the Equality Act, they oppose it," he said.
The election didn't validate that theory, with APP's targeted states - Michigan, Pennsylvania and Wisconsin - voting narrowly for Mr Biden. In Georgia, where Senator Kelly Loeffler sponsored legislation to block "biological males" from girls' sports, Republicans lost two runoffs, and their Senate majority. Four years after North Carolina's Republican governor was defeated, politically weakened by the fight over an anti-transgender "bathroom bill," the issue hadn't moved the electorate away from Democrats.
"Republican politicians seem unwilling or unable to learn the lesson that anti-trans policies are unpopular," said state Senator Sarah McBride, elected as Delaware's first trans legislator last year.
Even still, social conservatives picked up their pace. There were 79 pieces of legislation in states to restrict transgender rights last year, many focused on student athletes. In 2021 so far, there have been 69 bills, many sailing quickly through state legislatures where the GOP grew its majorities. The scenario from the TV ads, of girls losing races or scholarships to trans athletes, had not come to pass. The Connecticut case highlighted by the Trump administration, in which two transgender women took home state track titles, has not been repeated in red states. That has not made a difference.
"To say it's not a problem in Tennessee may be true," Republican Senator Kerry Roberts told the Tennessean, after helping pass a bill to require students to compete only on teams that match the gender they were assigned at birth. "But it will be a problem in Tennessee probably sooner than we think."
In confirmation hearings for Mr Biden's Cabinet, nominees have taken a number of questions about transgender rights, with a focus on minors. When now-Secretary of Education Miguel Cardona faced the Senate, Senator Rand Paul of Kentucky pressed him on the transgender sports policy, sketching out the same nightmare scenario as the American Principles Project ads.
"You don't have a problem, then, with boys running in the girls track meet, swimming meets, you name it?" Mr Paul said. "A lot of us think that's bizarre."
Mr Paul got more attention when challenging HHS undersecretary nominee Rachel Levine, who could be the first transgender federal official confirmed by the Senate. The senator, a practicing ophthalmologist, incorrectly suggested that hormone blockers made irreversible changes, and repeatedly used the term "genital mutilation" in reference to gender reassignment surgery.
"You're willing to let a minor take things that prevent their puberty and you think they get that back?" Mr Paul said. "You give a woman testosterone enough that she grows a beard, you think she's going to go back looking like a woman when you stop the testosterone?"
Ms Levine avoided the question, offering to meet with Mr Paul in his office to discuss transgender medicine. But the exchange got noticed, as did Representative Marjorie Taylor Greene of Georgia's decision to misgender the child of Representative Marie Newman of Illinois. When Ms Newman placed the pink, white and blue transgender flag outside her office, Ms Greene put up a poster with the words "There are TWO genders: MALE & FEMALE. 'Trust The Science!' "
The passage of the Equality Act, a dead letter when Republicans ran the Senate, has been the new hook for Republicans at the federal level. Representative Elise Stefanik of New York, one of two Republicans who backed the bill in 2019 and opposed it last week, explained to CNN that she had new concerns: That changing legal language could mean "eliminating single-sex sports and social groups that are critical for personal development and growth."
That argument has won out in conservative state legislatures, and was advanced at CPAC. Mr Schilling joined one of the plaintiffs in the Connecticut case from the stage, and shortly before that, he went on former Trump adviser Steve Bannon's live podcast to lay out the political strategy. 
Out of office but still the leader of his party, Mr Trump has now talked more about the issue than ever. In Orlando, he riffed on records being broken by transgender athletes, and imagined what it must be like to be a coach or female athlete disappointed by being bested by someone who was "biologically male." This could be one of his movement's causes in the coming years, and he was there for it.
"Is that controversial?" Mr Trump asked the crowd. "Somebody said, well, that's going to be very controversial. I said, that's okay. You haven't heard anything yet."
The Washington Post
Join our new commenting forum
Join thought-provoking conversations, follow other Independent readers and see their replies