Rex Tillerson arrives in Russia amid growing tensions over suspected chemical weapons attack
US Secretary of State will meet Russian Foreign Minister Sergei Lavrov on Wednesday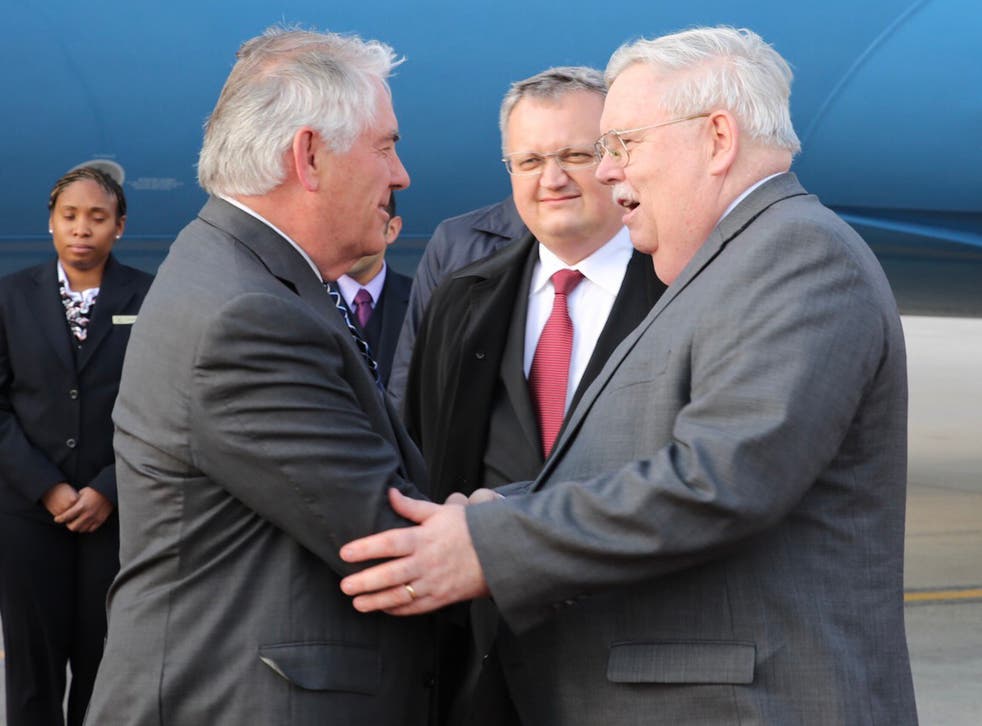 Rex Tillerson has arrived in Moscow in the middle of an escalating diplomatic spat between the US and Russia – and he may not have appreciated the omen of a fire that broke out near the airport as his plane touched down.
The US Secretary of State will be feeling the heat as he meets various Russian officials on Wednesday while both the administrations of Donald Trump and Vladimir Putin have doubled-down on their stances towards the suspected chemical weapon attack in Syria last week.
That attack, blamed by the majority of the international community on Syria's President – and Putin ally – Bashar al-Assad, killed dozens. Turkey has claimed to have found evidence of sarin gas use after testing bodies of the victims. Eventually, having taken up a number of contradictory positions in the days following, Mr Trump decided to use missile strikes against a Syrian airbase in a warning over future attacks.
On Tuesday, Vladimir Putin deepened his support for the Syrian regime saying that groups opposed to Mr Assad could use "false chemical attacks" blamed on the Syrian President to provoke the US into further strikes. He even appeared to suggest the US may have more attacks planned.
"We have information that a similar provocation is being prepared … in other parts of Syria, including in the southern Damascus suburbs where they are planning to again plant some substance and accuse the Syrian authorities of using [chemical weapons]," Mr Putin said, without offering any proof.
Mr Putin said western and Turkish accusations that Syria's government dropped the nerve agent that killed dozens of civilians in Idlib earlier this month were comparable to the now-discredited claim that Saddam Hussein had stockpiled weapons of mass destruction in Iraq.
"It reminds me of the events in 2003 when US envoys to the security council were demonstrating what they said were chemical weapons found in Iraq," the President said. "We have seen it all already."
For much of his campaign Mr Trump had spoken of wanting to thaw the relationship with Russia while blaming Barack Obama's previous administration for the creation of Isis. He promised to be the one to eradicate the terrorist group and improve ties with Mr Putin.
However, the civilian deaths – particularly of young children – appear to have swayed Mr Trump, and the White House Press Secretary Sean Spicer was quick to push the envelope in his usual style.
Mr Spicer said that Adolf Hitler "didn't even sink to using chemical weapons" – a comment he later regreted given the millions of Jews gassed by Nazi Germany and he back-pedalled as he tried to clarify the remark.
"We didn't use chemical weapons in World War II," said Mr Spicer.
Minutes later, Mr Spicer delivered a garbled defence of his remarks in which he tried to differentiate between Hitler's actions and the apparent gas attack the town of Khan Sheikhun.
"I think when you come to sarin gas, there was no, he (Hitler) was not using the gas on his own people the same way that Assad is doing," Mr Spicer said.
US intelligence indicates that the chemical agent was delivered by Syrian Su-22 aircraft that took off from the Shayrat airfield, a White House report said. The planes were said to be in the vicinity of Khan Sheikhoun about 20 minutes before the attack began and vacated the area shortly afterward.
"Additionally, our information indicates personnel historically associated with Syria's chemical weapons program were at Shayrat airfield in late March making preparations for an upcoming attack in northern Syria, and they were present at the airfield on the day of the attack," the report said.
Mr Spicer said that Russia had "isolated" itself in its support for Syria. "They have aligned themselves with North Korea, Syria, Iran… they are all failed states," he said.
US authorities are said to be investigating whether there was any collusion between Syria and Russia over the apparent chemical attack, although officials have briefed there is "no consensus" on the issue
Mr Tillerson also talked tough before heading to Russia – although he may have been undermined by the fact that at a meeting of the G7 on Tuesday there was no agreement over a British-led push to impose further sanctions on Russia over their actions in Syria.
"It is clear to us the reign of the Assad family is coming to an end," Mr Tillerson said in Italy before departing for Moscow. "We hope that the Russian government concludes that they have aligned themselves with an unreliable partner in Bashar al-Assad."
He said Russia had failed in its role as sponsor of a 2013 deal under which Mr Assad promised to give up his chemical arsenal.
"These agreements stipulated Russia as the guarantor of a Syria free of chemical weapons," Mr Tillerson said.
"It is unclear whether Russia failed to take this obligation seriously and whether Russia has been incompetent. But this distinction doesn't much matter to the dead. We can't let this happen again."
World news in pictures

Show all 50
There was little talk about the possibility of further strikes – with Mr Spicer having suggested on Monday that strikes could come with Syrian government use of barrel bombs on civilians – something activists in the country claimed happened at more than one location on Tuesday. However White House officials said there was no change to policy.
Mr Tillerson is due to meet with Russian Foreign Minister Sergei Lavrov on Wednesday, the tough posturing from both sides, allied to some mixed messages over strategy will likely lead to some difficult conversations.
Join our new commenting forum
Join thought-provoking conversations, follow other Independent readers and see their replies