Rex Tillerson denies he wants to resign, but doesn't deny calling Trump a 'moron'
The former Exxon CEO is a relatively camera-shy Secretary of State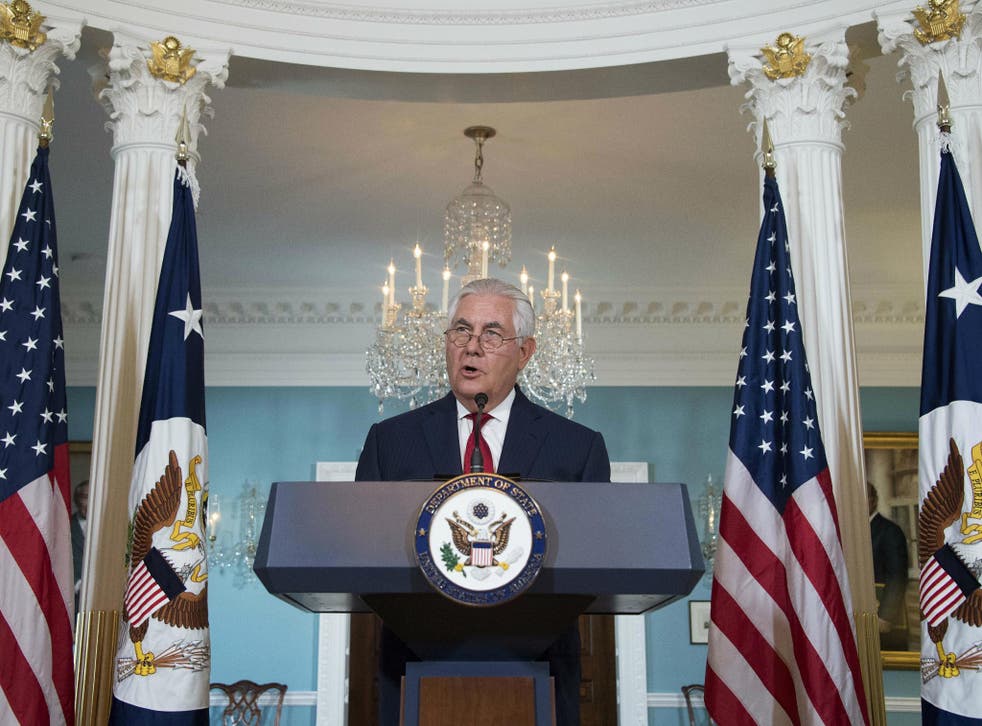 US Secretary of State Rex Tillerson has said he will stay in the Trump administration as "long as he is useful", but he did not deny reports that he had called the president a "moron".
The former Exxon CEO organised an impromptu briefing at the State Department to address a report that broke just hours earlier via NBC News that Mr Tillerson had also considered leaving his post.
He reportedly had to be counselled by Vice President Mike Pence to stay with the Trump administration, a claim that Mr Pence said was "categorially false" in a statement.
Staff were only told about the briefing about 15 minutes ahead of Mr Tillerson's appearance on camera.
"The Vice President has never had to persuade me to remain as Secretary of State because I have never considered leaving this post," Mr Tillerson said, reading from prepared remarks.
The President and his cabinet member have not seen eye to eye on matters before, most recently about North Korea when Mr Trump took a thinly veiled jab on Twitter at the State Department's perspective on the matter.
The NBC News report indicated he had called the President a "moron" after Mr Trump's controversial speech to the Boy Scouts of America in July of this year.
Mr Trump's speech sounded like a political rally as he spent a vast majority of it discussing the "millions and millions of people that came out and voted for Make America Great Again".
The scouts gathered were under 18 and traditional presidential remarks would include comments on service to country, learning leadership skills, and honour – not references to the salacious New York lifestyle enjoyed by the city's moguls in the 1980s and 1990s that Mr Trump also referenced.
Mr Tillerson once led the Boy Scouts organisation and was supposedly not pleased with the remarks. It was reported that his comments were made during a meeting at the Pentagon to national security officials around the time of the speech.
Rex Tillerson explains Donald Trump's North Korea comments
During his latest press conference however, Mr Tillerson said the reports of his comment and Mr Pence's role were "erroneous".
He began by unequivocally praising Mr Trump's foreign policy agenda, adding that it "break[s] the mould of what people think is achievable".
Mr Tillerson also spoke of the "peaceful campaign against North Korea" and how Mr Trump was able to get China to exert unprecedented economic pressure on Pyongyang as one of their largest trading partners.
He was full of praise for Defence Secretary James Mattis, with whom he communicates every day, and said there is no "better partner than Secretary of Defence who believes in diplomacy".
Mr Trump is "smart. He puts Americans, and America, first," Mr Tillerson said.
He was pressed once again about the "moron" comment and the matter-of-fact Texan said that "this is something I don't understand about Washington," calling the "mis-reported" story "petty nonsense" simply meant to divide the Trump administration.
"I'm not going to deal with petty stuff like that."
Just moments later, Mr Trump took to Twitter to once again rail on NBC News for the original report and asked for "an apology".
He spent the earlier part of the day also criticising the "fake news" media for its reporting of his recent trip to Puerto Rico after Hurricane Maria devastated the island and killed 34 people.
White House Press Secretary Sarah Huckabee Sanders – on board Air Force One with Mr Trump who was heading to visit victims of the Las Vegas mass shooting – was also asked whether Mr Trump had confidence in Mr Tillerson.
"As we've said many times before, if the President doesn't have confidence in somebody, they will no longer be in their position," she said.
State Department spokeswoman Heather Nauert later denied that Mr Tillerson called Mr Trump a "moron''. She said Mr Tillerson had told her that he did not make the comment and she took him at his word.
Join our new commenting forum
Join thought-provoking conversations, follow other Independent readers and see their replies