Richard Spencer is a 'terrorist leader', says Florida mayor Lauren Poe
White supremacist is delivering a controversial speech in Florida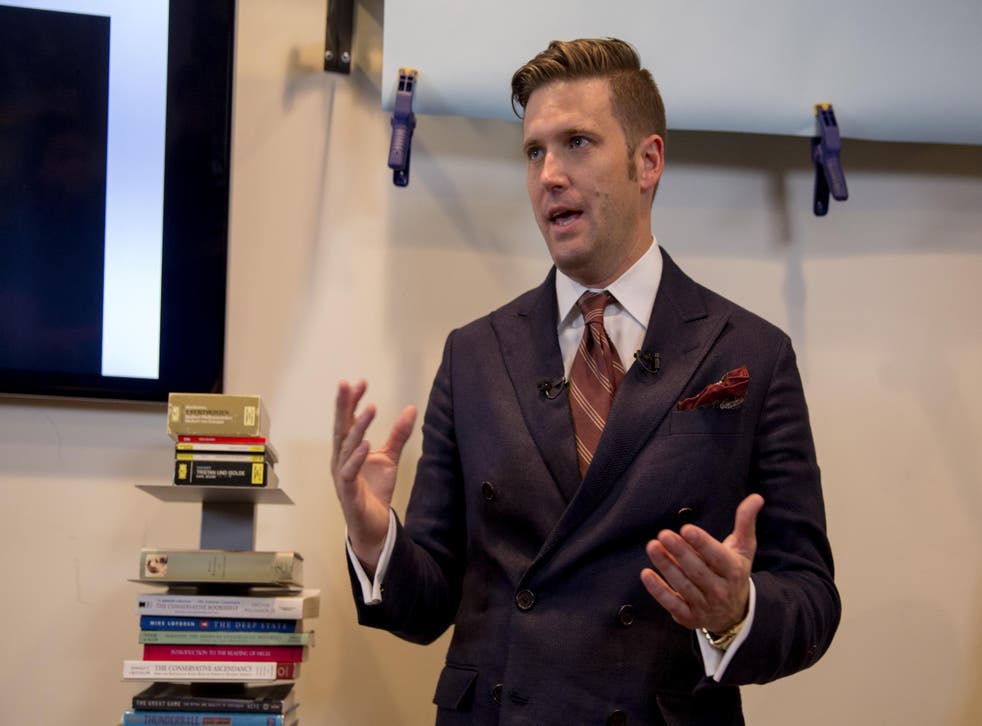 White supremacist leader Richard Spencer is a "terrorist", the mayor of Gainesville, Florida said ahead of Mr Spencer's controversial speech at the University of Florida.
The planned speech spurred alarm among elected leaders in Florida. Republican Gov Rick Scott declared a state of emergency in response, noting in his order that Mr Spencer's appearances have in the past "sparked protests and counter-protests resulting in episodes of violence, civil unrest and multiple arrests".
Gainesville Mayor Lauren Poe had harsher words for Mr Spencer.
"There's no question that he is a terrorist leader and that his followers look to commit acts of terror to disrupt our community," Mr Poe told the Huffington Post, adding that "it's clear they look to descend upon communities, harm people and then leave, and those are the acts of terrorists".
One of the public faces of a resurgent white nationalist movement, Mr Spencer helped organize protests of the removal of a statute of confederate general Robert E Lee in Charlottesville, Virginia that spiraled into bloodshed when a car plowed into counterprotesters.
He has argued that white Americans face a dire threat from immigrants, calling for "peaceful ethnic cleansing" to remedy the situation. He also invoked Nazi symbols by shouting "hail our people! Hail victory!" during a speech celebrating the election of Donald Trump, prompting some members of the audience to extend their arms in Nazi salutes.
Violence on the streets of Charlottesville

Show all 9
Protesters greeted Mr Spencer in Florida, at times drowning him out as they chanted "it's your fault" in reference to the violence in Charlottesville.
Hundreds gather for Charlottesville vigil
Since the election, adherents of the so-called "alt-right" - a nebulous philosophy that celebrates America's white, European heritage - have spurred large counter-demonstrations in speaking at universities.
Provocateur Milo Yiannopoulos addressed a crowd at the University of California, Berkeley last month even after a "Free Speech Week" hosting him was canceled.
Join our new commenting forum
Join thought-provoking conversations, follow other Independent readers and see their replies