Trump's Energy chief Rick Perry: I do not believe carbon dioxide is a primary cause of climate change
His comments echo others given by Trump administration officials
Mythili Sampathkumar
New York
Tuesday 20 June 2017 00:59 Comments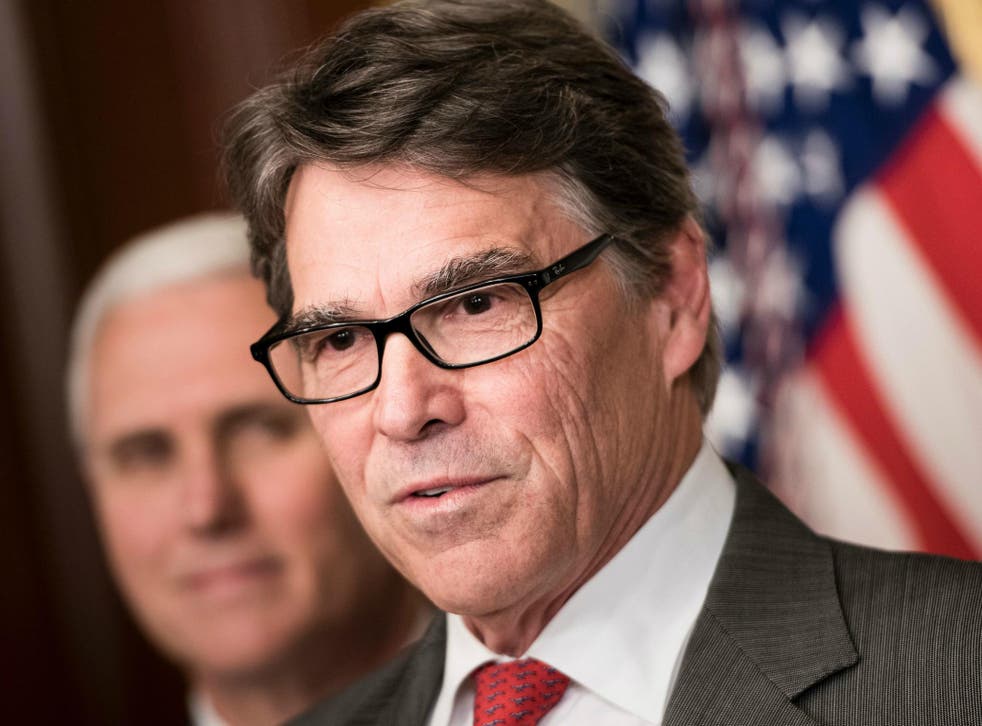 US Secretary of Energy Rick Perry has said he does not believe carbon dioxide is a primary contributor to global warming, putting him at odds with mainstream scientific opinion.
Mr Perry's statement is in line with Environmental Protection Agency chief Scott Pruitt, but flies in the face of several scientists and studies done on climate change that all say increased carbon emissions creates a greenhouse effect - the atmosphere is clogged and the planet heats up causing melting glaciers, rising sea levels, and natural disasters.
The former governor of Texas said on CNBC that "the most likely the primary control knob [for climate change] is the ocean waters and this environment that we live in."
He did not give further explanation on what that meant. Certainly, rising sea levels have been an oft-cited issue by those studying the North and South pole but also American coastal cities like Miami Beach and San Diego.
His view contradicts research done by NASA, the National Oceanic and Atmospheric Administration, the EPA, and his own agency.
Mr Pruitt has said in the past to CNBC that "there's tremendous disagreement about the degree of impact" of carbon dioxide and other greenhouse gases.
Both he and Mr Perry have commented that though human action does have some impact on the climate, neither believes there is proof that regulations or government policies would help.
10 photographs to show to anyone who doesn't believe in climate change

Show all 10
Mr Perry's comments come just a few weeks after Donald Trump withdrew the US from the Paris Agreement on climate change, which nearly 200 countries signed in December 2015 in an effort to lower greenhouse emissions and adapt to an already changing planet.
The US President said the accord put American workers at an "economic disadvantage". Secretary of State Rex Tillerson and Defence Secretary James Mattis had both advised the President to stay in the agreement.
According to former State Department officials, Mr Trump could have remained in the deal and simply shifted US targets for greenhouse gas emissions reductions.
A recent report by the Organisation for Economic Co-operation and Development (OECD) shows that the world's economies could boost economic growth by nearly three per cent by 2021 if they institute policies that would lower greenhouse gas emissions. By 2050 that growth could reach up to five per cent.
New investments in renewable energy outpaced new money in the oil and gas sector for the first time in 2015 - to the tune of $350 billion.
Several US cities and major corporations have come out to say that green jobs programmes are what will revitalise economically lagging areas and help businesses thrive.
World leaders were largely critical of the decision and even more so of Mr Trump's idea that the Paris Agreement would need to be renegotiated for the US to be involved, with France, Germany, and Italy all issuing a statement saying that after 20 years of annual negotiations, they are not going to re-open the doors for the US.
Register for free to continue reading
Registration is a free and easy way to support our truly independent journalism
By registering, you will also enjoy limited access to Premium articles, exclusive newsletters, commenting, and virtual events with our leading journalists
Already have an account? sign in
Join our new commenting forum
Join thought-provoking conversations, follow other Independent readers and see their replies