RNC 2016: Melania Trump makes a case for The Donald's softer side
Donald Trump's wife told a rapt Republican audience in Cleveland that her husband's kindness 'is not often noted, but it is there for all to see'
Tim Walker
Cleveland
Tuesday 19 July 2016 06:04 Comments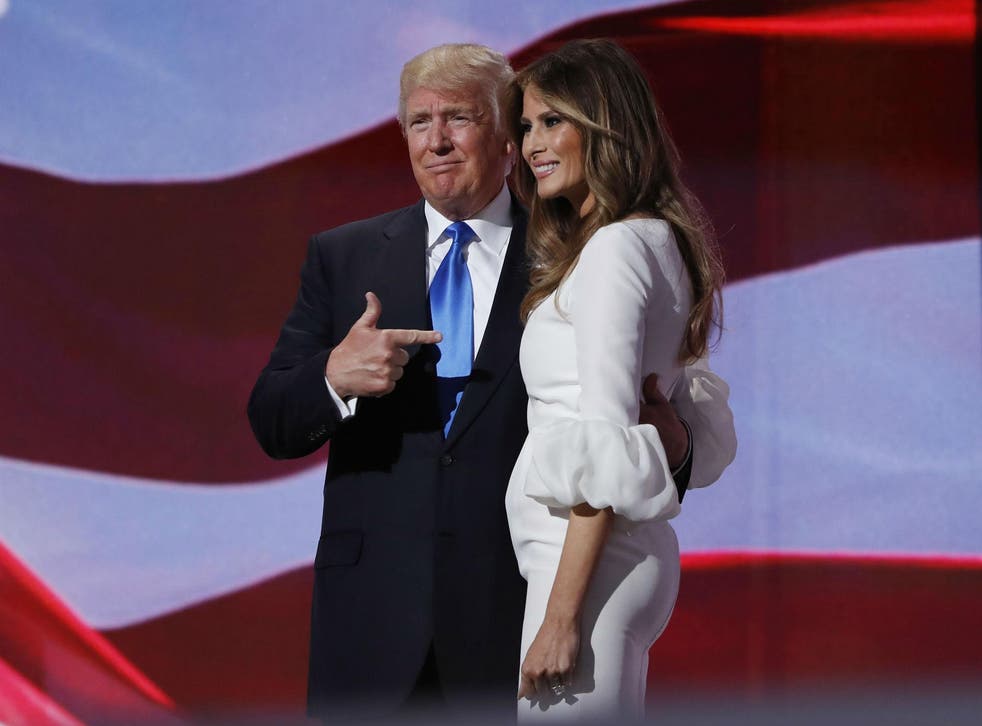 During a primetime address designed to advertise her husband's little-seen softer side, Melania Trump told a rapt audience at the Republican National Convention that, as President and First Lady, the Trumps would bring "kindness, love and compassion" to the White House.
In the months before her speech on Monday, Donald Trump's third wife was a silent campaign partner, granting few interviews and making scant appearances on the stump. His daughter Ivanka filled the surrogate role normally reserved for a prospective presidential spouse.
But in a week when every adult member of the Trump family is due to address the convention, the 46-year-old Slovenian former model appeared poised and prepared for her most daunting electoral task to date: the headline slot on opening night.
Though she stumbled briefly over some of her teleprompter script in her heavily accented English, Mrs Trump made an all-but-convincing case for The Donald as a devoted family man. His "kindness," she said, "is not often noted, but it is there for all to see."
"Intensely loyal" to his family, friends and employees, Mr Trump has a "simple goodness of heart", his wife claimed, adding: "There is a great deal of love in the Trump family. That is our bond and that is our strength."
Mr Trump had said before the convention that his wife would talk about "women's issues" in her speech, in what was expected to be a conspicuous attempt to win over female voters, among whom the GOP's presumptive nominee is still uncommonly unpopular.
In the event, Mrs Trump reserved her most heartfelt platitudes for children, suggesting that as First Lady she would do what she could "to ensure every child can live in comfort and security with the best possible education."
However, an otherwise impressive performance later seemed likely to be overshadowed by accusations that Mrs Trump's speechwriters had lifted an entire section of her speech from Michelle Obama's address to the Democratic convention in 2008.
Mr Trump had arrived at the convention to introduce his wife, earning a wild welcome from the crowd as he appeared from backstage in Bond-like silhouette. Mrs Trump – built to be a Bond girl – emerged in a figure-hugging, ruffle-cuffed white dress by the Serbian designer Roksanda.
She began by relating her own potted biography, born in then-Communist Slovenia in 1970 to parents who, she said, "impressed on me the values that you work hard for what you want in life" – values that she carried with her into "the incredible arena of fashion."
During the course of his colourful campaign, Mr Trump has been variously accused of Islamophobia, anti-Semitism and racism. In a message directed squarely at his haters, his wife insisted firmly that he "intends to represent all… Christians and Jews and Muslims… Hispanics and African-Americans and Asians."
Her conciliatory speech was in stark contrast to that of former New York mayor Rudy Giuliani, who preceded her appearance with a portentous address full of dire warnings about terrorism and violent crime.
Praising her husband's leadership qualities and love of country, Mrs Trump said the property mogul was "tough when he has to be, but he's also kind and fair and caring… He will never ever give up and he will never ever let you down."
Register for free to continue reading
Registration is a free and easy way to support our truly independent journalism
By registering, you will also enjoy limited access to Premium articles, exclusive newsletters, commenting, and virtual events with our leading journalists
Already have an account? sign in
Join our new commenting forum
Join thought-provoking conversations, follow other Independent readers and see their replies