Robert Mueller requests 35 blank subpoenas against former Trump campaign chairman Paul Manafort
Former lobbyist accused of laundering, tax evasion and fraud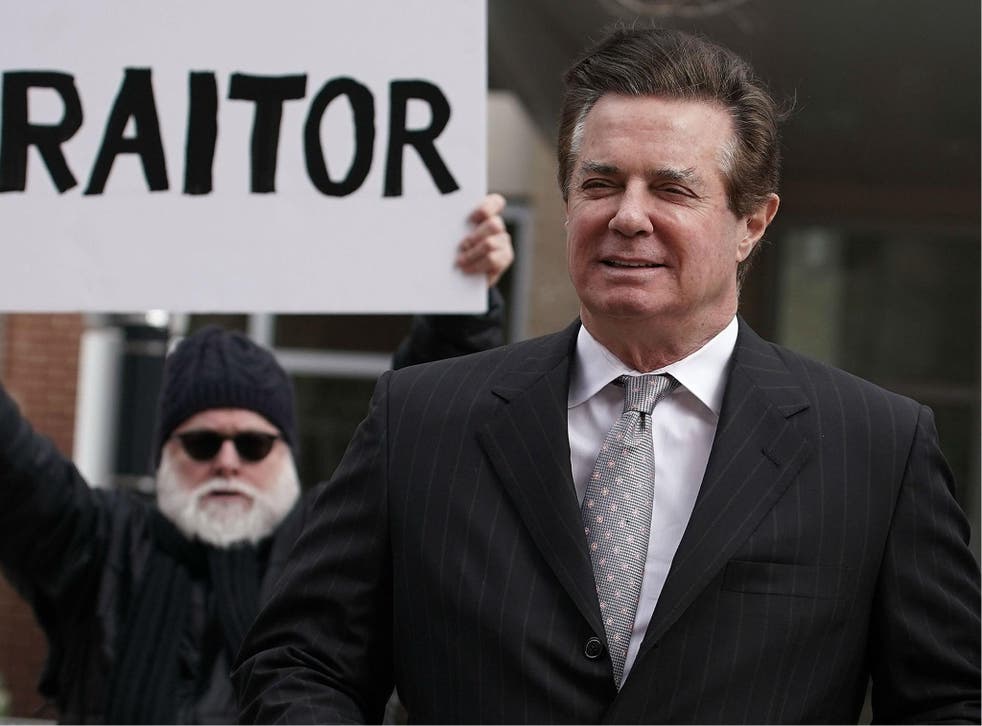 Special counsel Robert Mueller has petitioned a judge for 35 blank subpoenas as a part of its case against Donald Trump's former presidential campaign chairman Paul Manafort.
Mr Mueller, who is leading the investigation into Russian meddling in the 2016 election, made the request last week.
In theory, it could mean that federal prosecutors are planning on bringing in as many as 35 witnesses to testify against Mr Manafort.
"It is respectfully requested that the Clerk of said Court issue subpoenas as indicated below for appearance before said Court at Alexandria Virginia, in the United States District Court at 10:00 o'clock am, on 10th day of July, 2018, then and there to testify on behalf of the United States," the request, filed on April 6 in a federal district court in Virginia, says.
Mr Manafort, who has pleaded not guilty to accusations for crimes including money laundering, tax evasion and fraud, has been deemed "substantial a flight risk" by US District Judge Thomas Selby Elliss III, who will hear the case.
In an order last month, the judge noted that Mr Manafort's has the "financial means and international connections to flee and remain at large".
In a court order, Judge Selby wrote: "Specifically given the nature of the charges against the defendant and the apparent weight of the evidence against him, defendant faces the very real possibility of spending the rest of his life in prison."
The biggest names involved in the Trump-Russia investigation

Show all 17
Mr Manafort was charged last October and then indicted with further crimes in February. They stem from Mr Mueller's investigation into Russian meddling in the 2016 election, although it is not clear that the current charges filed against Mr Manafort directly relate to his time working on President Donald Trump's election campaign.
Mr Manafort is a well-known political operative with deep connections to Republicans in the United States, and has spent a considerable portion of his career working as a political consultant in Ukraine.
In response to his charges, Mr Manafort's lawyers have argued that, since they do not relate specifically to the 2016 election, they should be dropped.
"The conduct alleged here was not discovered because of the special counsel's investigation into alleged coordination; nor was it 'demonstrably related to' that investigation," a filing on behalf of Mr Manafort, which cites several alleged tax violations that would have occurred before Mr Trump even declared his candidacy, reads.
Register for free to continue reading
Registration is a free and easy way to support our truly independent journalism
By registering, you will also enjoy limited access to Premium articles, exclusive newsletters, commenting, and virtual events with our leading journalists
Already have an account? sign in
Register for free to continue reading
Registration is a free and easy way to support our truly independent journalism
By registering, you will also enjoy limited access to Premium articles, exclusive newsletters, commenting, and virtual events with our leading journalists
Already have an account? sign in
Join our new commenting forum
Join thought-provoking conversations, follow other Independent readers and see their replies