Robert Mueller and New York Attorney General 'team up on Manafort probe', stopping Trump from pardoning him
The news will likely be of deep concern to the White House
Andrew Buncombe
Minneapolis
Thursday 31 August 2017 14:19 Comments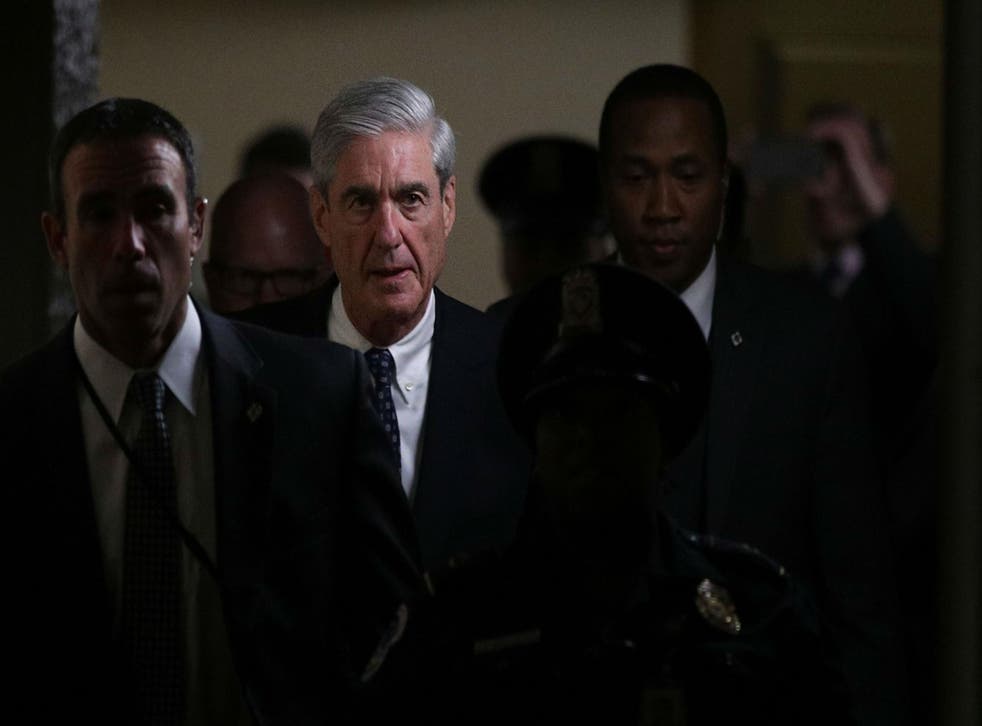 Special counsel Robert Mueller has reportedly teamed up with a powerful New York prosecutor to investigate Donald Trump's former campaign manager – a disturbing development for the White House as the President does not have the power to pardon state crimes.
Mr Mueller's team is said to have already shared evidence and information with investigators working with New York Attorney General Eric Schneiderman.
The team of Mr Schneiderman, a Democrat who was appointed in May, has been looking at the financial transactions of Paul Manafort, Mr Trump's former campaign manager who resigned in 2016 as controversy grew about his links to Russia.
"[The cooperation] could potentially provide Mueller with additional leverage to get Manafort to cooperate in the larger investigation into Trump's campaign, as Trump does not have pardon power over state crimes," said Politico, which first revealed the development.
Commentators pointed out the move is of crucial importance because while Mr Trump has the power to issue a federal pardon – as he controversially did to former Arizona Sheriff Joe Arpaio who was found guilty of contempt of court after being accused of racial profiling – he does not have the same ability in relation to state law.
Jeanne Zaino, Professor of Politics at Iona College, told The Independent she believed the news marked a "critical development" because it suggested Mr Mueller's team was making a concerted effort to pressure Mr Manafort, and potentially others close to the President.
"As any one who has been under this type of pressure from federal prosecutors can attest, the impact on themselves, their families, their livelihood is tremendous," she said.
"This is, of course a standard tactic in these investigations and is clear evidence that the special prosecutor is trying to trade up. Manafort is likely just one a few key players in this investigation who is under this type of pressure and scrutiny."
Trump defends Arpaio pardon
As a result, if Mr Manafort were to be found guilty in a New York State court – or indeed, if Mr Trump's daughter or son-in-law or even himself were convicted by such a court – the former reality television host could do nothing about it.
Mr Manafort has always denied any wrongdoing and has maintained such a position, even after federal agents raided his Virginia apartment last month. The longtime political consultant and lobbyist is being investigated for possible money laundering and has been targeted as someone who might testify against former colleagues.
The biggest names involved in the Trump-Russia investigation

Show all 17
Mr Mueller, a former FBI director, who was appointed to head a federal probe into possible collusion between the Trump campaign and Russia's alleged interference in the 2016 presidential election, has been looking into Mr Manafort's lobbying work and financial transactions, including real estate deals in New York. CNN said this week that Mr Mueller had issued subpoenas to an attorney who formerly represented Mr Manafort and to a spokesman for the consultant.
Mr Mueller's office has declined to comment, as has that of Mr Schneiderman. The White House has not commented on the developments.
Politico said no decision had been made on whether to file charges against Mr Manafort. One source said: "Nothing is imminent."
Mr Schneiderman said in May that Mr Trump's firing of former FBI Director James Comey, a move that triggered the appointment of Mr Mueller, threatened the integrity of the agency. Mr Trump has hit back, by calling Mr Schneiderman "a lightweight".
Russia has denied any meddling in the 2016 US and Mr Trump has similarly denied working with Russia and has dismissed various ongoing investigations into him as part of a witch hunt.
Register for free to continue reading
Registration is a free and easy way to support our truly independent journalism
By registering, you will also enjoy limited access to Premium articles, exclusive newsletters, commenting, and virtual events with our leading journalists
Already have an account? sign in
Join our new commenting forum
Join thought-provoking conversations, follow other Independent readers and see their replies