Robert Mueller issues subpoenas to longtime Trump adviser Roger Stone's aide
Special counsel reportedly investigating Stone's ties to WikiLeaks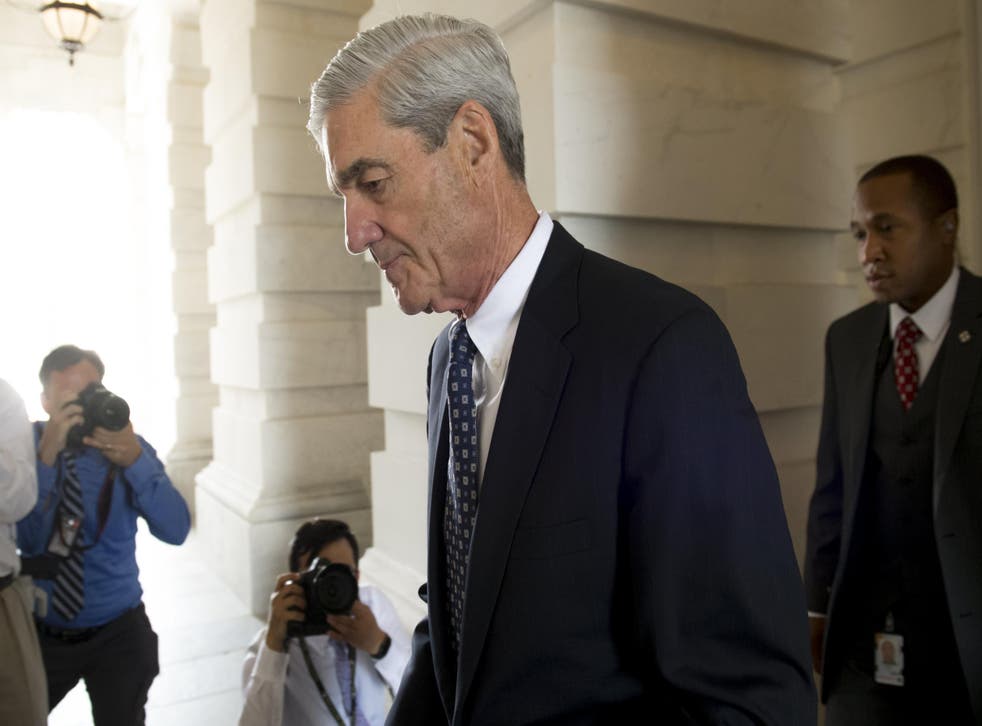 Special counsel Robert Mueller's team has issued subpoenas to an adviser for one of Donald Trump's longtime advisers, Roger Stone.
The Department of Justice (DOJ) sent two subpoenas to Jason Sullivan, a social media consultant who advised Mr Stone on his pro-Trump political action committee during the election.
Mr Stone, a conservative lobbyist and political consultant, is reportedly one of the top subjects of Mr Mueller's investigation into possible Russian meddling in the 2016 election. His pro-Trump pac, the Committee to Restore America's greatness, paid Mr Sullivan for social media services for several months in the summer of 2016.
Mr Sullivan told Reuters that he "worked on the Trump campaign serving as Chief Strategist directly to Roger J Stone Jr."
Knut Johnson, a lawyer for Mr Sullivan, confirmed to The Independent that his client had received two subpoenas from the DOJ, but would not discuss the content. He said Mr Sullivan intended to comply with the subpoenas, though he was negotiating for more time.
Mr Johnson said his client was not a target of the investigation, and that there was "no suggestion of criminality" on his part.
The biggest names involved in the Trump-Russia investigation

Show all 17
Reuters reports that Mr Mueller is investigating whether Trump campaign associates helped online publisher WikiLeaks time the release of hacked emails from the Democratic National Committee (DNC).
Mr Stone previously claimed to have received advance notice from WikiLeaks about plans to publish incriminating information on Democratic presidential candidate Hillary Clinton. Days later, the site posted thousands of emails hacked from the DNC.
Mr Stone later walked back his comments, saying he had "no advanced notice of the content source or exact timing of the WikiLeaks disclosures including the allegedly hacked emails".
"I never received anything whatsoever from WikiLeaks, Julian Assange, anyone associated with them, or anyone else, including allegedly hacked emails, and passed them onto Donald Trump," he told CNN last month.
Donald Trump suggests he would override his legal team submit to interview with Robert Mueller
In September, Mr Stone was called before the House Intelligence Committee, which is also investigating possible Russian meddling. Mr Stone told reporters at the time he was not aware of any evidence of collusion by the Russian state or anyone in the Trump campaign.
Mr Trump has repeatedly denied colluding with Russia in the election, calling Mr Mueller's investigation a "witch hunt".
One of the subpoenas delivered to Mr Sullivan requests that he appear before a Washington, DC grand jury on 18 May, according to Reuters. The other requests documents, objects and electronically stored information.
Mr Sullivan declined to comment to The Independent, but ended a phone call by exclaiming: "No collusion!"
Register for free to continue reading
Registration is a free and easy way to support our truly independent journalism
By registering, you will also enjoy limited access to Premium articles, exclusive newsletters, commenting, and virtual events with our leading journalists
Already have an account? sign in
Register for free to continue reading
Registration is a free and easy way to support our truly independent journalism
By registering, you will also enjoy limited access to Premium articles, exclusive newsletters, commenting, and virtual events with our leading journalists
Already have an account? sign in
Join our new commenting forum
Join thought-provoking conversations, follow other Independent readers and see their replies