Republicans 'preparing to impeach deputy attorney general Rod Rosenstein' after 12 Russians indicted over election meddling
Democrats say impeachment talk is an attempt to undermine Mueller probe 
Emily Shugerman
New York
Monday 16 July 2018 23:22 Comments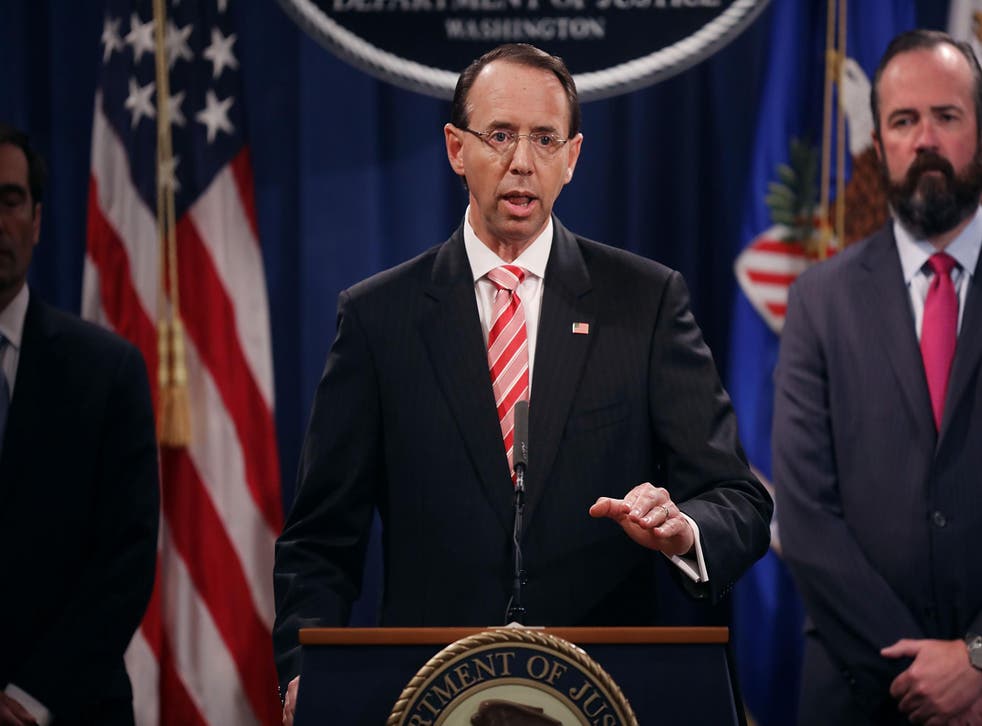 Republicans in the House are reportedly preparing an effort to impeach deputy attorney general Rod Rosenstein, the man overseeing the special counsel's probe into Russian meddling in the 2016 US election.
Members of the conservative House Freedom Caucus have drafted an impeachment filing for Mr Rosenstein and are planning to introduce it as early as Monday, according to Politico.
Republicans have long accused Mr Rosenstein of stalling their attempts to investigate the FBI's probes of President Donald Trump's campaign team and election rival Hillary Clinton's private email server.
News of the impeachment filing came as Mr Rosenstein announced the indictment of 12 Russian military officials for federal crimes during the 2016 election on Friday – a major development in special counsel Robert Mueller's investigation.
Democrats claim the Republicans are using the threat of impeachment to undermine Mr Mueller's probe, which Mr Trump has repeatedly criticised as a politically motivated witch hunt. Mr Rosenstein took over supervision of the probe – which also concerns possible obstruction of justice by Mr Trump – after Attorney General Jeff Sessions recused himself last March.
The biggest names involved in the Trump-Russia investigation

Show all 17
Republicans, meanwhile, say the deputy attorney general is deliberately stonewalling their investigations of possible FBI bias. The House passed a measure last month demanding access to thousands of FBI documents related to the Russia investigation and the Clinton email probe.
The White House also waded into the fray, ordering the Department of Justice on Monday to give legislators access to classified information about an informant the FBI used in its investigation of the Trump campaign, according to the New York Times.
Republican such as Intelligence Committee Chairman Devin Nunes, Freedom Caucus Chairman Mark Meadows, and Freedom Caucus founder Jim Jordan threatened to impeach Mr Rosenstein in April over similar complaints. His actual removal from the position would be unlikely, as it would require a two-thirds majority vote in the Senate, where Republicans have a slim 51-49 majority.
Deputy Attorney General Rod Rosenstein holds news conference as 12 intelligence officers are indicted for hacking offences in 2016 presidential election
Mr Rosenstein defended himself in a public hearing last week against accusations by Mr Jordan that he was hiding information from Congress.
"Your use of this to attack me personally is deeply wrong," Mr Rosenstein told Mr Jordan at the hearing. "When you find some problem with the production or with questions, it doesn't mean that I'm personally trying to conceal something from you."
Announcing the indictment of the Russian officials on Friday, Mr Rosenstein accused members of the military unit known as GRU of monitoring computers, implanting malicious computer code, and stealing emails from Democratic organisations and the Clinton campaign during the 2016 election.
The Mueller probe has so far resulted in indictments or guilty pleas from 32 people and three Russian companies, according to a Wall Street Journal tally.
Register for free to continue reading
Registration is a free and easy way to support our truly independent journalism
By registering, you will also enjoy limited access to Premium articles, exclusive newsletters, commenting, and virtual events with our leading journalists
Already have an account? sign in
Register for free to continue reading
Registration is a free and easy way to support our truly independent journalism
By registering, you will also enjoy limited access to Premium articles, exclusive newsletters, commenting, and virtual events with our leading journalists
Already have an account? sign in
Join our new commenting forum
Join thought-provoking conversations, follow other Independent readers and see their replies