Roger Stone allegedly met with Wikileaks founder Julian Assange during 2016 election
Mr Stone said he did not leave the country that year, despite earlier comments that he had contact with Mr Assange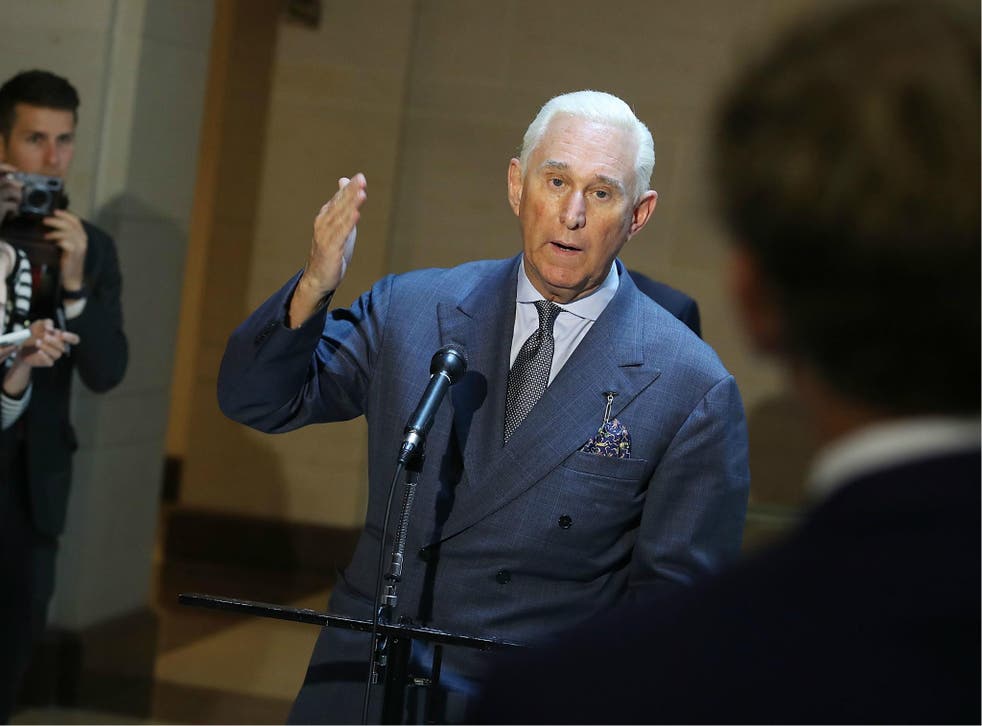 Roger Stone, an informal adviser to President Donald Trump, reportedly had contact with Wikileaks founder Julian Assange during the 2016 US election.
According to an unnamed source of the Washington Post, Mr Stone had a conversation with Mr Assange about emails Wikileaks had obtained "that would torment" Democrats like Hillary Clinton's campaign manager John Podesta.
Mr Stone noted the meeting Mr Nunberg said reportedly happened is "provably false" because he did not leave the country in 2016. "The idea that I would meet with Assange undetected is ridiculous on its face," Mr Stone told the newspaper, though he had made similar public claims earlier in 2016.
At a meeting of a Republican organisation in Florida in August 2016, Mr Stone proclaimed: "I actually have communicated with Assange. I believe the next tranche of his documents pertain to the Clinton Foundation, but there's no telling what the October surprise may be".
Later that month Mr Stone tweeted "Trust me, it will soon [be] the Podesta's time in the barrel. #CrookedHillary".
The Atlantic had reported the pair had also exchanged private messages via Twitter in 2016 as well.
Mr Nunberg made waves when he publicly said he would not to come testify in front of a grand jury in relation to the investigation into whether campaign team members colluded with Russian officials during the election.
Trump adviser Roger Stone repeats wiretapping claims on Russia Today
Mr Nunberg ultimately did cooperate with special prosecutor Robert Mueller's subpoena, however, under threat of arrest.
He told the grand jury about Mr Stone's alleged meeting with Mr Assange.
The conversation between Mr Assange and Mr Stone allegedly occurred before it became public that the Democratic National Committee email server had been attacked and Mr Podesta's emails were released by Wikileaks.
It was later confirmed by the US intelligence committee that a Russian entity was involved in the hacking.
Mr Stone said, "I wish him no ill will, but Sam can manically and persistently call you...I said, 'I think I will go to London for the weekend and meet with Julian Assange.' It was a joke, a throwaway line to get him off the phone".
Mr Assange, who has been living in the Ecuadorian Embassy in London for the past six years over fear he will be extradited and tried on rape charges in Sweden, also denied to the paper that he and Mr Stone met in 2016.
He had spoken through his attorney, who could not reach Mr Assange for further comment on the matter recently.
Wikileaks as an organisation has also denied any contact with Mr Stone as well.
Mr Nunberg said he was happy to hear Mr Stone saying his comment to him was in jest, adding that "no one connected to the president should be connected with Julian Assange".
Register for free to continue reading
Registration is a free and easy way to support our truly independent journalism
By registering, you will also enjoy limited access to Premium articles, exclusive newsletters, commenting, and virtual events with our leading journalists
Already have an account? sign in
Register for free to continue reading
Registration is a free and easy way to support our truly independent journalism
By registering, you will also enjoy limited access to Premium articles, exclusive newsletters, commenting, and virtual events with our leading journalists
Already have an account? sign in
Join our new commenting forum
Join thought-provoking conversations, follow other Independent readers and see their replies