Q unmasked: Did the QAnon conspiracy founder start life as a shy kid from Washington?
A former classmate of the man believed to be Q tells Josh Marcus he was stunned to see the teenager he once knew hitting headlines around the word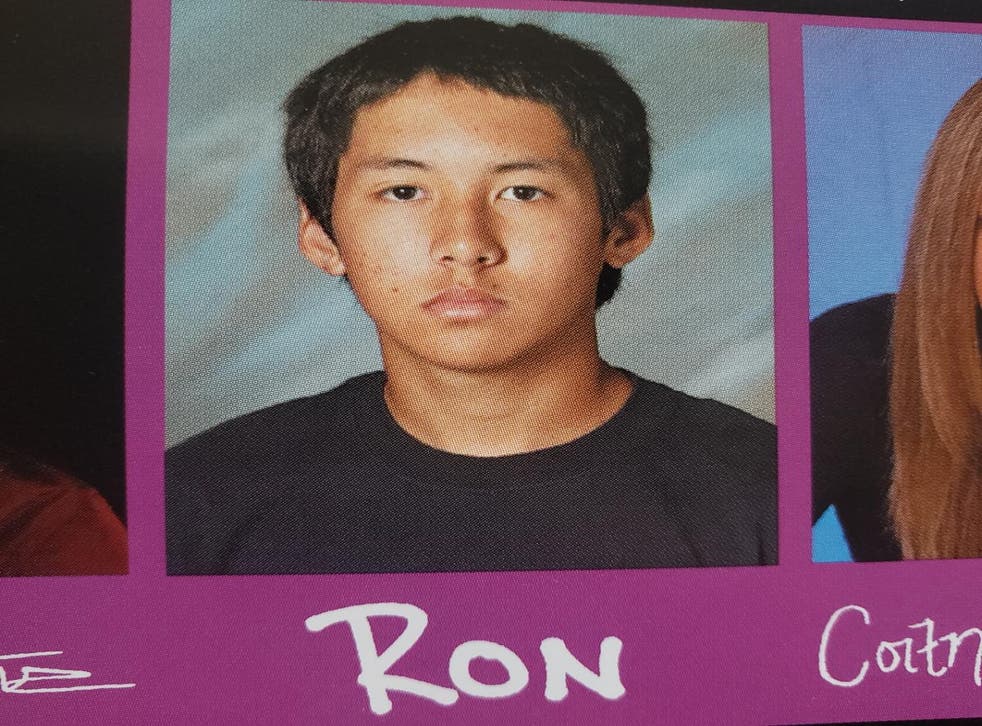 Leer en Español
Ron Watkins is remembered by an old classmate as being a shy kid, who seemed like he needed a friend. Words like "quiet" and "easily forgotten" were used to describe the teenager who, despite being active in jazz choir and drama, could barely be recalled by his old drama teacher.
Since high school, his name has attracted rather more attention. 
Not only was he responsible for running the infamous message boards 8chan and 8kun, along with his father James Watkins, but there is also speculation that he goes by another name: Q.
By now, the impact of the QAnon mass conspiracy is clear, but details are still emerging about the origins of the men believed to be the masterminds behind the movement.
Former associates of James and Ron Watkins, along with journalists and researchers, believe the pair are responsible for creating or coopting the QAnon phenomenon – despite both denying any direct involvement in the conspiracy beyond hosting its creator on their online message boards. 
The father and son are responsible for the message boards where the Q conspiracy spread widely. Followers of the internet-based conspiracy movement believe that a highly placed intelligence official, with a so-called "Q" security clearance, supplies cryptic messages about Donald Trump battling a conspiracy of paedophilic government and business elites who run the world.
The movement has divided family members and helped spread misinformation about the 2020 presidential election. Its members were among those who stormed the Capitol on 6 January, while Mr Trump once praised them as "people that love our country".
In HBO's recent docu-series Q: Into The Storm, while discussing his recent time spreading debunked claims about the 2020 election online, the younger Mr Watkins seems to all but admit he was in fact Q.
"It was basically three years of intelligence training, teaching normies how to do intelligence work," he tells filmmaker Cullen Hoback. "It was basically what I was doing anonymously before," he says, before busting out laughing.
But pressed by The Independent on whether he was the movement's eponymous "Q", he denied it strongly.
"I'm not Q. I have never coordinated with Q," Ron Watkins told The Independent in an email.
Still, given their massive alleged impact on US politics over the last few years, less is known about the background of the Watkins family.
According to new information uncovered by The Independent, it appears that before moving to the Philippines in the early 2000s to run a series of internet businesses, the Watkins lived in Mukilteo, Washington, a wealthy mid-size town 25 miles north of Seattle.
Andrew Stiteler, an engineer who lives in nearby Everett, told The Independent he knew Ron Watkins in high school and shared images where they both appear in the same yearbook for the years in question.
At the time though, according to Mr Stiteler, Ron Watkins was a shy kid who seemed like he needed a friend. The two would hang out at each other's houses and play the "Dance Dance Revolution" video game.
Eventually, they drifted apart, but years later, Mr Stiteler started seeing headlines about his old friend as the Q movement spread. He was astounded to see his shy high school friend in the news, and began asking old schoolmates whether they remembered him. Few did.
"He seems like he was one of those guys that's easily forgotten and nobody seemed to really remember him," Mr Stiteler said. "He was the guy who used to come over and hang out with me every day, and he was a quiet guy. I kind of got the impression that he needed some friends, and it was cool hanging out with him."
According to yearbook images supplied by Mr Stiteler, Ron Watkins was active in performing arts groups like jazz choir and drama.
Laurie Levine, who teaches drama at Kamiak High, said she barely had any memory of Mr Watkins. (Kamiak High School confirmed to The Independent that a student named Ronald Watkins attended between 2001 and his graduation year in the spring of 2005).
Property records uncovered by The Independent show that James Watkins and his wife Liziel owned a home in Mukilteo, Washington, between 2001 and May 2004, when it was sold. Splinter News previously reported James Watkins, who goes by "Jim", grew up on a family farm in Mukilteo.
After serving in the US army as a helicopter repairman and recruiter, Jim moved to the Philippines in 2004, where a cached issue of the Manila Times shows Mr Watkins eventually sought Philippines citizenship with his wife, a woman named as Liziel Watkins, in 2019, even though a newly uncovered 2007 court record from San Francisco shows that a James and Liziel Watkins got divorced, with James filing for custody of an unnamed child. 
Ron Watkins, when reached for comment by The Independent, reiterated he wasn't behind the QAnon movement. When presented with photographs of someone bearing his likeness named Ron Watkins at Kamiak High School, Mr Watkins did not respond for comment
"I am not friends with anybody named Andrew Stiteler and cannot remember anybody named Andrew Stiteler," he said in an email.
James Watkins, Ron's father, also alleged to be behind the Q movement, declined a request for comment from The Independent, but has previously said he is not behind the QAnon phenomenon beyond hosting it on his websites.
Mr Stiteler said he reached out to the media because he speculated that somewhere along the line, Ron Watkins was allowed to slip through the cracks, and hoped his story could serve as an example.
"Somebody let this guy down during his upbringing," Mr Stiteler said. "You get caught in your own abyss, and you feed your anger with more anger, and whatever else, whatever other negative feelings there might be, and you eventually get surrounded by others who perpetuate these ideals."
Ron Watkins declined a request for a phone interview, and did not answer a set of detailed questions over email about his life story.
Details about the Wakins family become clearer after they left Mukilteo. James and Ron arrived in the Philippines and ran a series of successful internet businesses, including 8chan, the message board where Q took off, until the site was eventually dropped by many of its digital hosting partners in 2019 and rebranded as 8kun. Ron Watkins resigned as administrator of 8kun late last year.
Former associates allege the two used Q's presence on their sites as a way to empower their favoured brand of right-wing politics in the US, as internet message boards had allowed the right to gain more influence in Japan in previous years. Ron denied holding right-wing views in his email.
"I'm not a racist," he said. "I don't have any opinion on eugenics. I'm not sexist. I'm not a fascist."
New biological information about the Watkins family could be relevant for two main reasons.
First, it could chip away at the veneer of mystery and legitimacy surrounding the Q movement, some of whose followers have remained faithful even as the conspiracy's promised "storm", a moment when Donald Trump would return to power and purge a cabal of evildoers, hasn't come to pass.
Second, a number of authorities are taking an interest in the family for their ties to such controversial political developments.
The Philippines National Bureau of Investigation and National Police launched investigations after a number of mass shooters used the Watkins' message boards to announce their killings, WIRED magazine reported in 2019. That same year, Congress called Jim Watkins to the Capitol for private testimony, where he defended his work.
"Our company has built and maintained a digital forum that is the place where opposing viewpoints and those of minorities such as the LGBTQ may express themselves free from the fear of their life," he said in a public version of his remarks.
Then, in early 2020, the Philippines Bureau of Immigration's Investigations Division labelled James Watkins an "undesireable alien", ABC news reported, meaning he was a risk to the public interest.
A charging sheet from the bureau describes Mr Watkins as "the owner and operator of 8chan, a hate filled forum/website which hosts trolling and serves as a go-to resource for violent extremists and white supremacists".
Mr Watkins was given permission to travel back to the US between August of 2020 and January of 2021, and he has returned to the US, although he is expected to head back to the Philippines to challenge the immigration ruling.
From there, what the Watkins family and Q do next is anyone's guess.
This article was amended on 9 April, 2021. It previously said that Watkins denied going to Kamiak High School. However, he actually denied having lived in Kamiak and declined to comment on whether he had attended the high school. 
Register for free to continue reading
Registration is a free and easy way to support our truly independent journalism
By registering, you will also enjoy limited access to Premium articles, exclusive newsletters, commenting, and virtual events with our leading journalists
Already have an account? sign in
Register for free to continue reading
Registration is a free and easy way to support our truly independent journalism
By registering, you will also enjoy limited access to Premium articles, exclusive newsletters, commenting, and virtual events with our leading journalists
Already have an account? sign in
Join our new commenting forum
Join thought-provoking conversations, follow other Independent readers and see their replies