Roy Moore child sex claims: Republican candidate accused of having sexual encounter with 14-year-old girl
Mr Moore - who denies the allegations - had been heavily favoured to win the upcoming special election for a Senate seat in Alabama
Clark Mindock
New York
Thursday 09 November 2017 22:12 Comments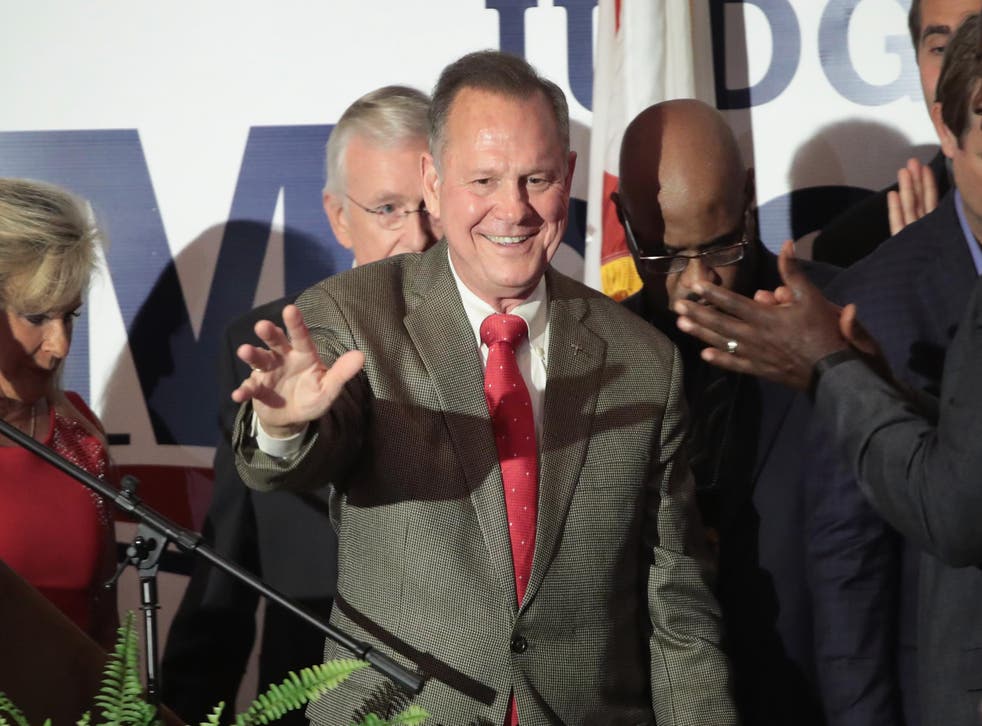 Alabama Senate candidate Roy Moore has been accused of initiating a sexual encounter with a 14-year-old girl, nearly 40 years ago when he was 32 - an accusation that could have serious implications for the election one month before voting day.
The Republican nominee running to fill Attorney General Jeff Sessions' old seat has been accused of the assault by Leigh Corfman, who told the Washington Post that Mr Moore approached her and her mother at an Alabama courthouse in 1979, and convinced her mother to let him watch her while she was in court.
While they waited, Mr Moore allegedly asked her for her phone number, which is said to have later used to schedule a time to pick the then-14-year-old up, bring her to his apartment, and engage in inappropriate sexual contact.
Mr Moore has not yet responded to a request for comment, but has denied the all accusations made in the Washington Post report.
"These allegations are completely false and are a desperate political attack by the National Democrat Party and the Washington Post on this campaign," Mr Moore, now 70, said in a written statement.
The campaign said in a subsequent statement that if the allegations were true they would have surfaced during his previous campaigns, adding "this garbage is the very definition of fake news."
Talking about the alleged meeting at the courthouse Ms Corfman's mother, Nancy Wells, told The Washington Post: "He said, 'Oh, you don't want her to go in there and hear all that. I'll stay out here with her... I thought, how nice for him to want to take care of my little girl."
Ms Corfman has alleged that Mr Moore picked her up just days later from just around the corner of her home after that initial interaction, and then drove her to his home. In his home, Mr Moore allegedly told her how pretty she was, and kissed her. Ms Corfman says he took off her shirt and pants while removing his own clothes during a second visit. She said that he then touched her over her bra, and guided her hand to touch hm over his underwear.
"I wanted it over with — I wanted out," she said she remembers thinking.
Donald Trump's least presidential moments so far...

Show all 30
The political ramification of the report are already being felt in Washington.
Top Republicans, still licking their wounds after a Democratic wave in state and local races Tuesday, were quick to condemn the actions, and to say that Mr Moore should withdraw from the race if the allegations against him are true.
"If these allegations are true, he must step aside," Senate Majority Leader Mitch McConnell said Thursday after the allegations were reported.
Others joined the top Republican in expressing alarm, including Alabama Senator Richard Shelby, a Republican who occupies the other Senate seat from the state.
"It's a nasty story, I don't know anything about it," Mr Shelby said. He demurred when asked if Mr Moore should withdraw from the race. "Let's see how the story runs."
Mr Shelby, when pressed on the issue, noted that he didn't support Mr Moore during the Republican primary earlier this year.
"I supported Senator [Luther] Strange, you all know that," Mr Shelby said of the candidate who had the support of the establishment Republican Party but was defeated by Mr Moore.
Senator Cory Gardner the chairman of the National Republican Senatorial Committee, called the allegations "troubling".
"The allegations against Alabama Senate candidate Roy Moore are deeply troubling," Mr Gardner said. "If these allegations are found to be true, Roy Moore must drop out of the Alabama special election."
Three other women in The Washington Post report also alleged that Mr Moore made advances on them when they were teenagers and he was in his 30s, but indicated that he had not attempted to initiate sexual contact with them. Those women ranged in age from 16 to 18.
Mr Moore is a former controversial Supreme Court judge, and is running against former US attorney Doug Jones in the Alabama special election. He had previously been favored heavily to win on election day on December 12.
Register for free to continue reading
Registration is a free and easy way to support our truly independent journalism
By registering, you will also enjoy limited access to Premium articles, exclusive newsletters, commenting, and virtual events with our leading journalists
Already have an account? sign in
Register for free to continue reading
Registration is a free and easy way to support our truly independent journalism
By registering, you will also enjoy limited access to Premium articles, exclusive newsletters, commenting, and virtual events with our leading journalists
Already have an account? sign in
Join our new commenting forum
Join thought-provoking conversations, follow other Independent readers and see their replies