Roy Moore: Who is he and what has he been accused of?
Mr Moore has denied allegations of a sexual encounter with a 14-year-old girl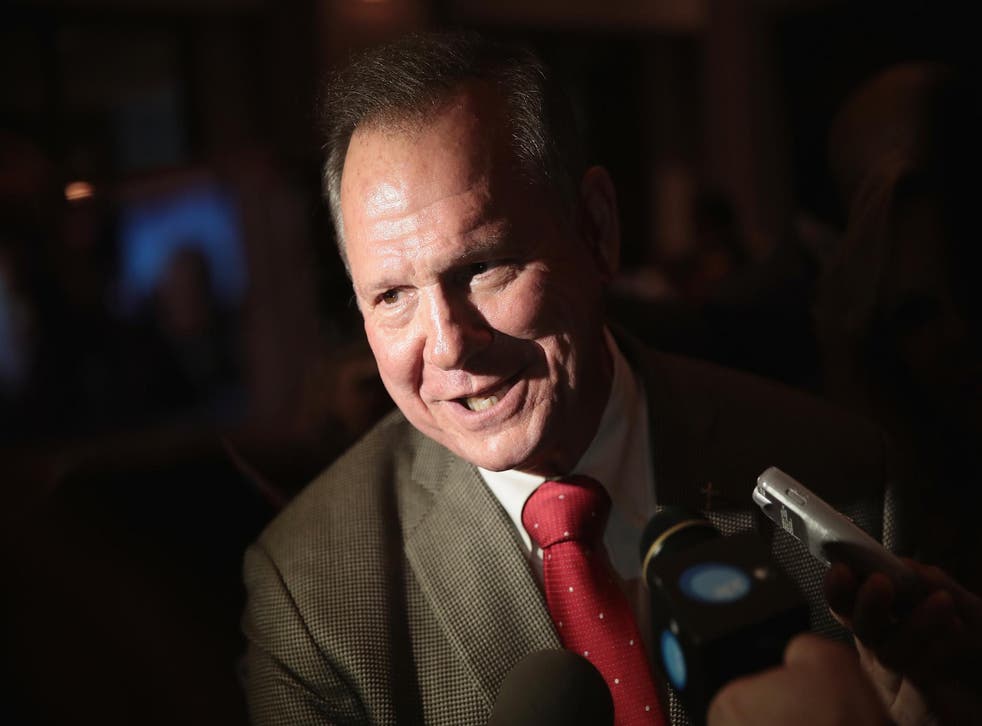 The Alabama Senate candidate accused of initiating a sexual encounter with a 14-year-old girl a child nearly 40-years-ago is a self-proclaimed conservative who has built a career and following in his state with policy rooted in his Christian faith.
Roy Moore, a former Alabama Supreme Court judge was accused by a woman who says that she met Mr Moore when she was 14-years-old, and that he later kissed and groped her. The allegations have thrust the special election there into the national spotlight and debate about sexual assault, threatening to provide a wave of support to his Democratic opponent that could end up sending the first Democratic senator from Alabama to Washington in nearly 20 years.
The Republican, who previously had little if any national profile, has accumulated a strong support base from conservatives in his state over a career as a judge and district attorney that has spanned decades. Mr Moore has adamantly denied the allegations, saying that he has "never engaged in sexual misconduct."
During that time, Mr Moore has notably championed conservative Christian causes, including the establishment of a Ten Commandments monument at the Alabama courthouse, and the denial of rights to gay people in the state.
If the support among Republicans in the state that Mr Moore has accumulated first as a district attorney in Etowah County, then as a judge on the state's sixteenth circuit court, and finally as a chief justice on the Alabama Supreme Court were in doubt, the fallout from the accusations levied against him appears to show that it is quite sturdy.
In the hours and days after the news broke, Republican after Republican in the state told media outlets that they don't believe the accuser. One supporter, Alabama state auditor Jim Ziegler, went as far as making a biblical comparison.
World news in pictures

Show all 50
"There is nothing to see here," Mr Ziegler said. "The allegations are that a man in his early 30s dated teenage girls. Even the Washington Post report says that he never had sexual intercourse with any of the girls and never attempted sexual intercourse."
That Washington Post report alleged that Mr Moore had pursued a physical relationship with a 14-year-old when he was 32, a crime under Alabama state law at the time. In that report, a woman described meeting Mr Moore at the age in a courthouse while he was district attorney, where he chatted with her alone before asking for her phone number.
The woman says that he picked her up days later from around the corner from her home and took her to his home in the woods. He told her that she was beautiful and kissed her. In a separate encounter he took of his and her clothes, leaving their underwear on. He groped her breasts, she said. She said he guided her hand to touch the outside of his underpants.
The Washington Post had relied on three other on-the-record sources who also alleged that Mr Moore made advances on them when they were teenagers and he was in his 30s, but indicated that he had not attempted to initiate sexual contact with them. Those women ranged in age from 16 to 18.
Mr Moore has adamantly denied all the allegations, saying that he has "never engaged in sexual misconduct."
"As a father of a daughter and a grandfather of five granddaughters, I condemn the actions of any man who engages in sexual misconduct not just against minors but against any woman," he said.
Mr Moore is also known for a number of controversial opinions he gave during his time as a judge.
That includes an opinion he wrote in which he denied a mother custody of her children because she had begun dating a woman. The case came in 2002, with the Alabama Supreme Court hearing arguments over a custody agreement in which a woman who had previously allowed her ex-husband to have primary custody of her children sued to modify the custody agreement because of reports that the children's father had abused the children. The mother had since entered a same-sex relationship, and had initially lost in the trial court phase, but won on appeal when the appeals court found the father had indeed abused the children.
The Alabama Supreme Court, however, reversed the appeal, which prompted Moore to filed a concurring a opinion stated the mother's same-sex relationship is the reason she should not have custody over her children.
"The effect of such a lifestyle upon children must not be ignored, and the lifestyle should never be tolerated," he wrote. "The common law designates homosexuality as an inherent evil, and if a person openly engages in such a practice, that fact alone would render him or her an unfit parent."
Mr Moore has also spoken out against "activists judges" who let sexual offenders go free, and has blamed murder and child abuse on America forgetting about God.
The Republican faces off next month against Democrat Doug Jones in a race that had become unexpectedly competitive in recent weeks. If he loses, it would stretch the already thin Republican majority there, making it even more difficult for Republicans to enact legislation to give the White House much needed legislative victories.
Mr Moore won the Republican primary against Senator Luther Strange, who was appointed to the Senate to fill Attorney General Jeff Sessions' old seat. Mr Strange had the backing of President Donald Trump (who later expressed anger that he had picked the wrong horse), while Mr Moore enjoyed the support of Steve Bannon, the former White House chief strategist who is known to have championed nationalist and populist ideas there.
Register for free to continue reading
Registration is a free and easy way to support our truly independent journalism
By registering, you will also enjoy limited access to Premium articles, exclusive newsletters, commenting, and virtual events with our leading journalists
Already have an account? sign in
Register for free to continue reading
Registration is a free and easy way to support our truly independent journalism
By registering, you will also enjoy limited access to Premium articles, exclusive newsletters, commenting, and virtual events with our leading journalists
Already have an account? sign in
Join our new commenting forum
Join thought-provoking conversations, follow other Independent readers and see their replies