US says Russia developing 'doomsday' autonomous nuclear torpedo, as Trump administration announces more aggressive stance to Moscow
Defence department report says Moscow has been working on range of 'new warheads and launchers'
Lucy Pasha-Robinson
Saturday 03 February 2018 13:53 Comments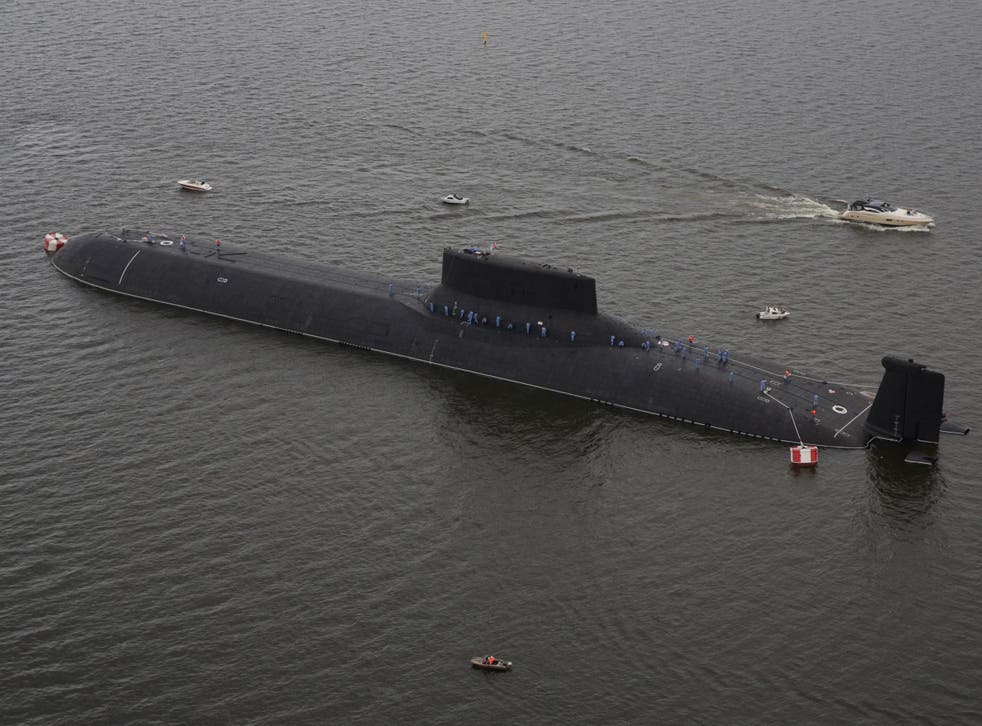 The Pentagon has warned Russia is developing a "nuclear-armed, undersea autonomous torpedo", as Donald Trump's administration outlined a more aggressive stance towards Moscow.
The US defence department said Russia has been constructing a "new intercontinental, nuclear-armed, nuclear-powered" weapon, in a policy statement known as the Nuclear Posture Review (NPR).
Officials warned that upon detonation, the undersea device could cause large areas of radioactive contamination, with some analysts describing it as a "doomsday weapon".
But the White House said Russia would face "unacceptably dire costs" if it were to threaten even a limited nuclear attack in Europe.
Doomsday clock set at two minutes to midnight
The Trump administration announced it would continue much of President Barack Obama's nuclear weapons policies, but would take a harder line towards Russia.
The report said Vladimir Putin's regime had been developing a range of "new nuclear warheads and launchers" and modernising "legacy" Soviet nuclear systems.
"Russia is modernising an active stockpile of up to 2,000 non-strategic nuclear weapons, including those employable by ships, planes, and ground forces," the summary reads.
"These include air-to-surface missiles, short range ballistic missiles, gravity bombs, and depth charges for medium-range bombers, tactical bombers, and naval aviation, as well as anti-ship, anti-submarine, and anti-aircraft missiles and torpedoes for surface ships and submarines, a nuclear groundlaunched cruise missile in violation of the 1987 INF Treaty, and Moscow's antiballistic missile system."
World news in pictures

Show all 50
The document also outlined the US multibillion nuclear deterrence effort targeted at Russia.
The military is considering developing smaller means of carrying the payloads, after concerns were raised that Moscow saw US nuclear weapons as too big to be used, and therefore not a viable nuclear deterrent.
The report also said North Korea represented a "clear and grave threat" to the US and its allies, and said any attempt by the North Korean regime to attack would result "in the end of that regime".
It also cast China as a potential nuclear adversary, saying the US arsenal is tailored to "prevent Beijing from mistakenly concluding" that it could gain advantage by using its nuclear weapons in Asia, or that "any use of nuclear weapons, however limited, is acceptable".
Mr Trump responded to the report's findings on Friday, saying it confirmed the US commitment to "nuclear non-proliferation".
"Over the past decade, despite US efforts to reduce the roles and numbers of nuclear weapons, other nuclear nations grew their stockpiles, increased the prominence of nuclear weapons in their security strategies, and – in some cases -pursued the development of new nuclear capabilities to threaten other nations," he said.
"The strategy develops capabilities aimed at making use of nuclear weapons less likely. It enhances deterrence of strategic attacks against our nation, and our allies and partners, that may not come in the form of nuclear weapons.
"And, importantly, it reaffirms our commitment to arms control and nuclear non-proliferation, maintains the moratorium on nuclear testing, and commits to improving efforts to prevent, detect, and respond to nuclear terrorism."
Register for free to continue reading
Registration is a free and easy way to support our truly independent journalism
By registering, you will also enjoy limited access to Premium articles, exclusive newsletters, commenting, and virtual events with our leading journalists
Already have an account? sign in
Join our new commenting forum
Join thought-provoking conversations, follow other Independent readers and see their replies