US orders Russia to close diplomatic offices in New York, Washington and San Francisco
Latest in a series of retaliations between the two countries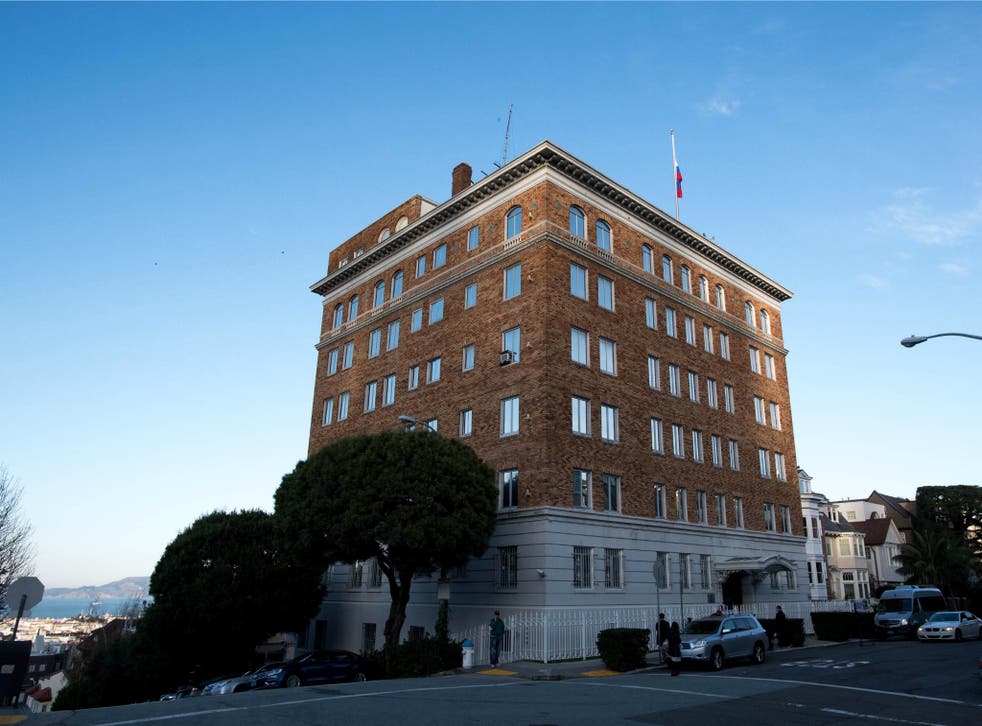 The US has ordered Russia to close diplomatic offices in New York, Washington and San Francisco - the latest in a series of tit-for-tat moves by the two nations.
After Donald Trump reluctantly signed a bill imposing new sanctions on Russia for interfering with the 2016 presidential election, Russia swiftly reacted by order the closure of American diplomatic facilities.
In a statement blasting that move as "unwarranted and detrimental to the overall relationship between our countries", the State Department directed Russia to shutter the three facilities "in the spirit of parity".
"The United States hopes that, having moved toward the Russian Federation's desire for parity, we can avoid further retaliatory actions by both sides", the statement said.
The moves began in December, when former president Barack Obama kicked out dozens of Russian officials in the US, closed Russian recreational compounds in New York and Maryland, and sanctioned Russian individuals and entities over the election meddling.
Mr Trump's warm words for Russian President Vladimir Putin and repeated calls for better relations countries had fueled hopes of rebuilding a relationship that had grown increasingly strained amid Russian aggression in Europe and support for Syrian President Bashar al-Assad.
But the consensus among American intelligence agencies that Mr Putin sought to disrupt the 2016 election, as well as the ongoing investigation into potential ties between the Trump campaign and Russia, have undercut hopes for a detente.
The biggest names involved in the Trump-Russia investigation

Show all 17
Despite those crosscurrents Mr Trump has continued to express hope about improved relations. Directly asked earlier this week if he considered Russia a security threat, Mr Trump deflected the question and reiterated his goal of stronger ties.
"I hope the United States will someday be able to have a good relationship with Russia", Mr Trump told reporters.
Similarly, the statement ordering the closure of Russian facilities urged "improve relations between our two countries" as "the stated goal of both our presidents".
In addition to its consulate, the Russians must close an official residence in San Francisco by Saturday.
Though Russia can keep its New York consulate and Washington embassy, Russian trade missions housed in satellite offices in those two cities must shut down, a senior Trump administration official told the Associated Press.
The US is not expelling any Russian officials, so those who work at the closed offices can be reassigned elsewhere in the US, the official said.
One of the buildings is believed to be leased, but Russia will maintain ownership over the others, the official said, adding that it would be up to Moscow to determine whether to sell them or otherwise dispose of them.
Agencies contributed to this report
Register for free to continue reading
Registration is a free and easy way to support our truly independent journalism
By registering, you will also enjoy limited access to Premium articles, exclusive newsletters, commenting, and virtual events with our leading journalists
Already have an account? sign in
Register for free to continue reading
Registration is a free and easy way to support our truly independent journalism
By registering, you will also enjoy limited access to Premium articles, exclusive newsletters, commenting, and virtual events with our leading journalists
Already have an account? sign in
Join our new commenting forum
Join thought-provoking conversations, follow other Independent readers and see their replies