Jeff Sessions says 'I do now recall' meeting Trump aide who admitted lying in Russia investigation, after failing to disclose it
But he told the House Judiciary Committee he doesn't have a 'clear recollection' of what Mr Papadopoulos said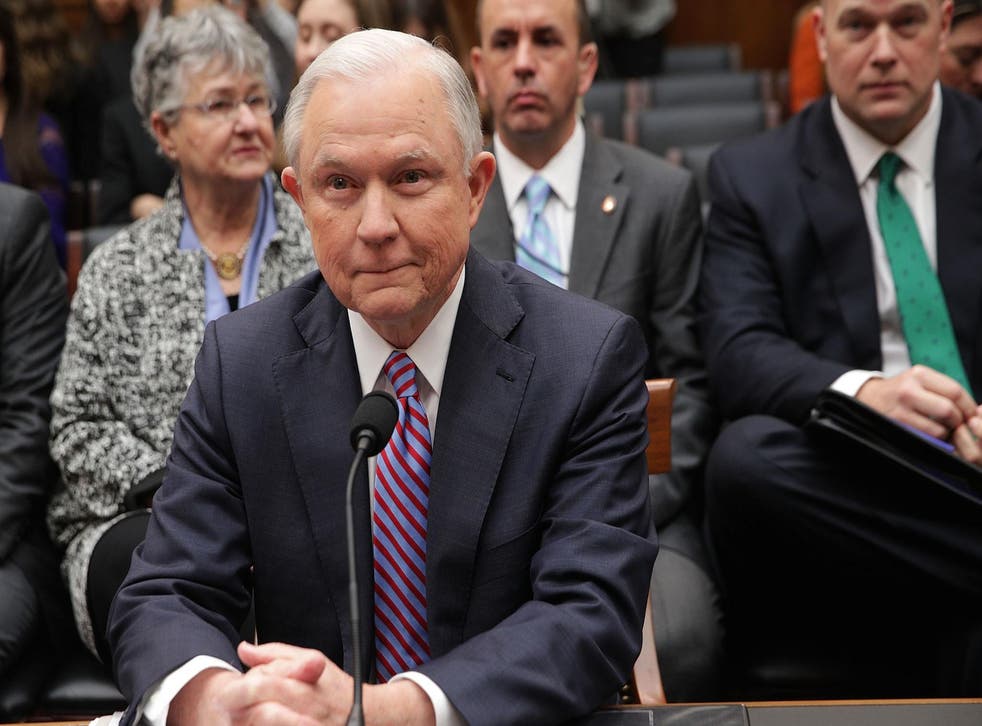 Attorney General Jeff Sessions has said he does now recall a March 2016 meeting with George Papadopoulos, a member of the Trump campaign team who pleaded guilty to lying to the FBI about his contact with Russians.
But he does not have a clear memory of what Mr Papadopoulos said, Mr Sessions testified before the House Judiciary Committee.
Mr Sessions denied that he lied in October when he told a Senate panel that he knew of nobody in the Trump campaign who had contacts with Russians during the run-up to the 2016 election.
"I did not, and I'm not aware of anyone else that did, and I don't believe it happened," Mr Sessions said at the time.
Court records later showed that Mr Sessions led a March 2016 meeting in which George Papadopoulos, who was part of the campaign's foreign policy council, discussed his Russian ties and suggested setting up a meeting between Mr Trump and Russian President Vladimir Putin.
"I had no recollection of this meeting until I saw these news reports," Mr Sessions said on Tuesday. "I do now recall the March 2016 meeting at Trump Hotel that Mr Papadopoulos attended, but I have no clear recollection of the details of what he said at that meeting."
"In all of my testimony," he added, "I can only do my best to answer all of your questions as I understand them and to the best of my memory. But I will not accept and reject accusations that I have ever lied under oath. That is a lie."
Mr Sessions testified that was still did not remember the details regarding what Mr Papadopoulos had proposed. But he did try to make one thing clear: he said he rejected Mr Papadopoulos's suggestion of a Trump-Putin meeting, because he thought "it may have been improper".
The biggest names involved in the Trump-Russia investigation

Show all 17
"After reading his account, and to the best of my recollection, I believe that I wanted to make clear to him that he was not authorised to represent the campaign with the Russian government, or any other foreign government, for that matter," Mr Sessions asserted.
"But I did not recall this event, which occurred 18 months before my testimony of a few weeks ago, and would gladly have reported it had I remembered it, because I pushed back against his suggestion."
Mr Sessions also said he does not remember speaking to Carter Page during the 2016 presidential campaign about a trip that the former foreign policy campaign adviser took to Russia.
Earlier this month, Mr Page told the House intelligence committee that he had informed some members of the Trump campaign about the trip, including Mr Sessions. He said he mentioned in passing to Sessions that he was visiting Russia and the then-Senator had no reaction.
Mr Page's trip has drawn scrutiny in inquiries into Russia's meddling in the 2016 US election. Mr Sessions said on Tuesday that he doesn't challenge Mr Page's recollection, but doesn't remember the conversation.
"All of you have been in a campaign. But most of you have not participated in a presidential campaign. And none of you had a part in the Trump campaign," Mr Sessions said.
"It was a brilliant campaign in many ways. But it was a form of chaos every day from day one. We travelled all the time, sometimes to several places in one day. Sleep was in short supply. And I was still a full-time Senator keeping a very full schedule during this time."
The House's routine oversight hearing was scheduled as Mr Sessions works to reshape the Justice Department with a sharp focus on immigration, drugs, gangs and violent crime. In the background, special counsel Robert Mueller – appointed by Mr Rosenstein – is conducting a probe into alleged ties between Russia and the Trump campaign.
Mr Sessions recused himself from that investigation in March after reports revealed he had two previously undisclosed meetings with Sergey Kislyak, the then-Russian ambassador, during the presidential campaign.
Despite accusations from Democratic members of Congress that he keeps changing his narrative about his contacts with Russian officials, Mr Sessions has maintained that he has had no improper discussions with Russians at any time regarding a campaign, or any other matter facing the US.
Register for free to continue reading
Registration is a free and easy way to support our truly independent journalism
By registering, you will also enjoy limited access to Premium articles, exclusive newsletters, commenting, and virtual events with our leading journalists
Already have an account? sign in
Register for free to continue reading
Registration is a free and easy way to support our truly independent journalism
By registering, you will also enjoy limited access to Premium articles, exclusive newsletters, commenting, and virtual events with our leading journalists
Already have an account? sign in
Join our new commenting forum
Join thought-provoking conversations, follow other Independent readers and see their replies