Russia's excitement for 'their man' Donald Trump has turned sour in just one year
There were parties in Moscow one year ago, when Trump emerged as the US 2016 election's unlikely victor. The stage should have been set for a new era of blissful co-operation, but the reality of the last year has been anything but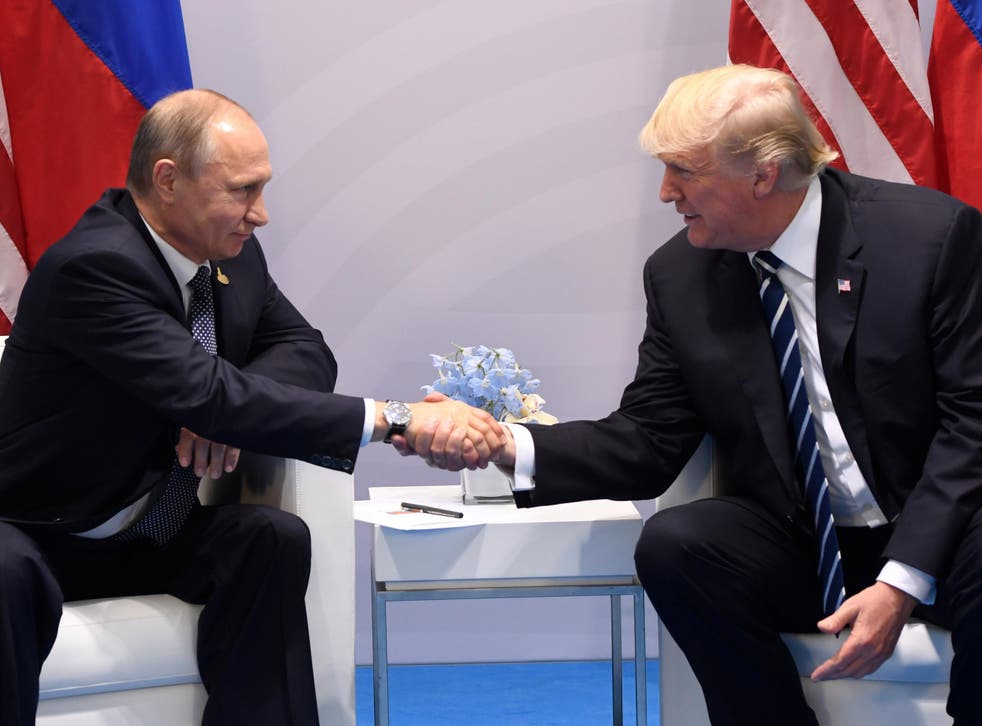 It was a strange hope, but hope nonetheless. Hope that the Russian worldview – complete with its weary-eyed, white-is-black cynicism – had become international. Hope that the too-good-for-thou Americans were also embracing vice and the virtual. Hope that Russia had somehow been brought in from the post-Crimean cold.
Donald Trump's unexpected election one year ago was accompanied by a wave of euphoria in Moscow. And it wasn't only those in the Kremlin who celebrated. Many liberal-minded Russians were genuinely relieved, having worried that a hardline Clinton presidency would have brought out the worst in their president. There were several, often weird, inauguration parties.
But the happiest of all were those inside the tall red walls. Their high-risk strategy had paid off. The Kremlin had got its man.
The Russian and American presidents were now, remarkably, on the same page. The media was fake. Nato was misguided. America did too much. There was no such thing as truth. Exceptionalism. Nationalism. Militarism. What-about-ism. These were the shared visions of the age.
The stage should have been set for blissful co-operation, but the reality of the last year has been anything but.
The honeymoon was dashed almost immediately with the allegations that Russian foul play had enabled a Trump win. Soon after came the evidence that Russia had first conspired against Ms Clinton, and later actively for Mr Trump. Four official investigations began. Then sanctions, compound seizures, and tit-for-tat diplomatic expulsions. The Kremlin-funded RT was labelled a "foreign agent," and banned from advertising on Twitter. Russia is now poised to retaliate against CNN, Radio Liberty and Voice of America – even Twitter itself.
Relations have not been at a lower ebb since the height of the Cold War.
From an already high watermark, Russian authorities ratcheted up their anti-American rhetoric. The US was conspiring with Isis to undermine Russian-backed forces in Syria, claimed the Ministry of Defence. America had "desecrated" the Russian flag by removing them from seized consulate buildings, said the Foreign Ministry.
But for all the dirt hurled westwards, the US president remained off-limits. Broadly speaking, propaganda shows on state TV have continued to support him. The talk is of "feik nyus", of "Russophobes" blocking Mr Trump from doing his noble, pro-Russian deeds. At the Valdai conference in Sochi last month, President Putin called for people to start "respecting" his opposite number.
"They still view Trump positively," says Vladimir Frolov, a security expert and former Kremlin adviser. "After all, he plunged the US into chaos and distracted it from confronting Russia. What's there not to like?"
Several Russian governmental insiders suggested to The Independent that it was no longer clear who ran US Russia policy. The US State department was "underpopulated;" the White House "understaffed;" and the Trump administration generally "unable to respond to the challenge." They considered Mr Trump had lost control of his Russia policy to Congress.
"Mr Trump still matters in US-Russia relations, but only in the sense that he makes a mess of them," says Fyodor Lukyanov, an expert close to the foreign policy elite. The prevailing atmosphere had placed Russia in an impossible position. No longer an actor, but an instrument in US domestic policy, the Kremlin is the pretext used to undermine the US president. What is worse, it is "powerless" to intervene.
"Now any bulls**t becomes something," says Mr Lukyanov.
For a while, the Kremlin enjoyed the world's attention. Certain parts of the elite revelled in their "evil genius" status. But nervousness has since crept in. The hawks aren't so much worried about being blamed for crimes, says Mr Lukyanov, but that the hype will get out of control: "I wouldn't say that there is euphoria or even acceptance of the situation – it is changing."
With reluctance, the Kremlin understands that it will stay front page news in the US for some time to come. Special Counsel Robert Mueller is only just beginning to deliver on his investigation. Paul Manafort and Rick Gates remain under house arrest, and pressure is being ratcheted up on the low-level chancers around Mr Trump's campaign.
Rhetoric aside, the blowback has already led to more caution in the Kremlin, suggested Mr Frolov. The use of hacking in public influence campaigns will be cut back, he said, though its use "as a legitimate intelligence collection tool" will continue. There was an understanding that the situation was "pretty dangerous." New defence sector and oligarchic sanctions are due to come into effect in February, and the logic points to a further breakdown of relations.
"It will continue, and inevitably escalate," says Mr Lukyanov. The outlook will remain murky for some time to come, maybe years: "As long as this struggle for power inside the United States continues there is no chance to chance to normalise relations."
Donald Trump might still be viewed as a kindred spirit, but the truth is that he no longer really matters for Russia. "There's been a shift to accept long-term confrontation as a new normal," says Mr Frolov. "The Kremlin believes that to gain stature as a great power it has to confront the US, not acquiesce into cooperating with it."
Alexei Chesnakov, a former member of the Kremlin administration close to presidential aide Vladislav Surkov, said there were absolutely no grounds to expect improvement. Mr Trump wasn't the problem, he said. It was the "American establishment" who were conspiring against Russia and common sense.
"A year after the election, they still cannot get their act together," he told The Independent. "And, with that, you begin to doubt the relevance of the entire American political system."
Join our new commenting forum
Join thought-provoking conversations, follow other Independent readers and see their replies