Barack Obama received 'intelligence bombshell' on Russian hacking plans, investigators report
Washington Post investigation into Russian interventions during the US election campaign is critical of Obama's lack of response to threat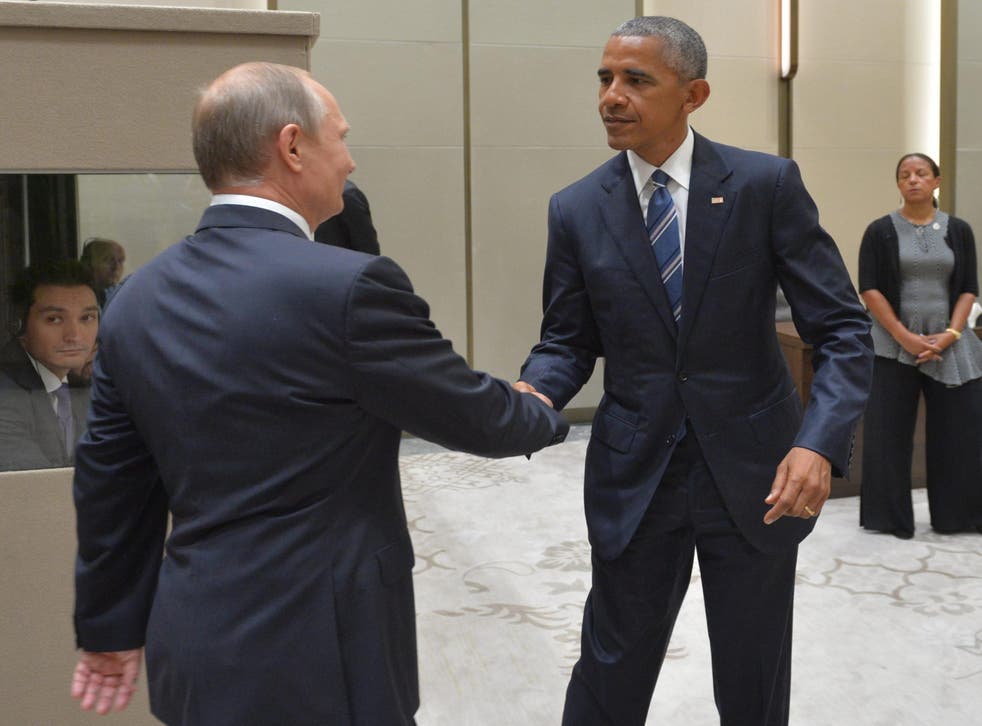 Barack Obama received an "intelligence bombshell" from the CIA to warn him of a hacking campaign led by Vladimir Putin to help Donald Trump win the US election, it has been reported.
The Russian president had given specific instructions on the operation's objectives to defeat Democratic candidate Hilary Clinton, and help get her opponent elected, the Washington Post revealed in a special report.
Citing interviews with current and former senior US officials, the newspaper detailed how the Obama administration allegedly considered retaliating against Putin by releasing intelligence on him, and planting "cyber weapons" in Russia's infrastructure to destroy its economy.
They chose not to go ahead, however, opting for a more "modest package" to punish Russia for other issues with economic sanctions.
President Trump tweeted earlier this week: "By the way, if Russia was working so hard on the 2016 election, it all took place during the Obama admin. Why didn't they stop them?"
The FBI opened its investigation into Russia's involvement with the Trump campaign in July 2016.
According to the Washington Post, an envelope with "eyes only" instructions were sent from the CIA to the White House one month later.
"Inside was an intelligence bombshell, a report drawn from sourcing deep inside the Russian government that detailed Russian president Vladimir Putin's direct involvement in a cyber campaign to disrupt and discredit the US presidential race," the paper says.
The CIA gave instructions for the package to be returned immediately after reading, and meetings in the situation room followed the same protocols as planning sessions for the raid that killed Osama bin Laden to avoid leaks.
World news in pictures

Show all 50
In August, the paper reported, Obama confronted Putin directly at a meeting of world leaders in China.
A senior aide told the Post that Obama said of Putin: "We knew what he was doing and [he] better stop or else".
The Russian leader demanded proof, however.
Obama and his senior advisers were concerned that any pre-election response could provoke an escalation from Putin, including a cyberattack on voting systems before and on election day, the Post said.
There were also concerns that any action would be seen as politically motivated on behalf of the Democratic Party, fuelling Trump's repeated claims in the run up to the election that the voting would be rigged.
The report states that Obama approved "a previously undisclosed covert measure that authorised planting cyber weapons in Russia's infrastructure, the digital equivalent of bombs that could be detonated if the United States found itself in an escalating exchange with Moscow.
"The project, which Obama approved in a covert-action finding, was still in its planning stages when Obama left office. It would be up to President Trump to decide whether to use the capability."
Speaking to the Guardian, Daniel Drezner, a professor of International Politics at the Fletcher School of Law and Diplomacy and senior fellow at the Brookings Institution, said Obama should have acted.
The story highlighted what was "always Obama's greatest weakness as a foreign policy president", he claimed.
"To his credit he was always wary [to] first do no harm, which led him to not react immediately to crises and not necessarily want to take retaliatory action," Prof Drezner said. "But this is a case where he clearly moved too slowly, and I think failed to appreciate the magnitude of what was going on."
Obama declined to respond to the article, but a spokesman said in a statement: "This situation was taken extremely seriously, as is evident by President Obama raising this issue directly with President Putin; 17 intelligence agencies issuing an extraordinary public statement; our homeland security officials working relentlessly to bolster the cyber defenses of voting infrastructure around the country; the President directing a comprehensive intelligence review, and ultimately issuing a robust response including shutting down two Russian compounds, sanctioning nine Russian entities and individuals, and ejecting 35 Russian diplomats from the country."
Register for free to continue reading
Registration is a free and easy way to support our truly independent journalism
By registering, you will also enjoy limited access to Premium articles, exclusive newsletters, commenting, and virtual events with our leading journalists
Already have an account? sign in
Register for free to continue reading
Registration is a free and easy way to support our truly independent journalism
By registering, you will also enjoy limited access to Premium articles, exclusive newsletters, commenting, and virtual events with our leading journalists
Already have an account? sign in
Join our new commenting forum
Join thought-provoking conversations, follow other Independent readers and see their replies