Russian lawyer from Trump Tower meeting claims to be an 'informant'
'I am a lawyer, and I am an informant,' Natalia Veselnitskaya says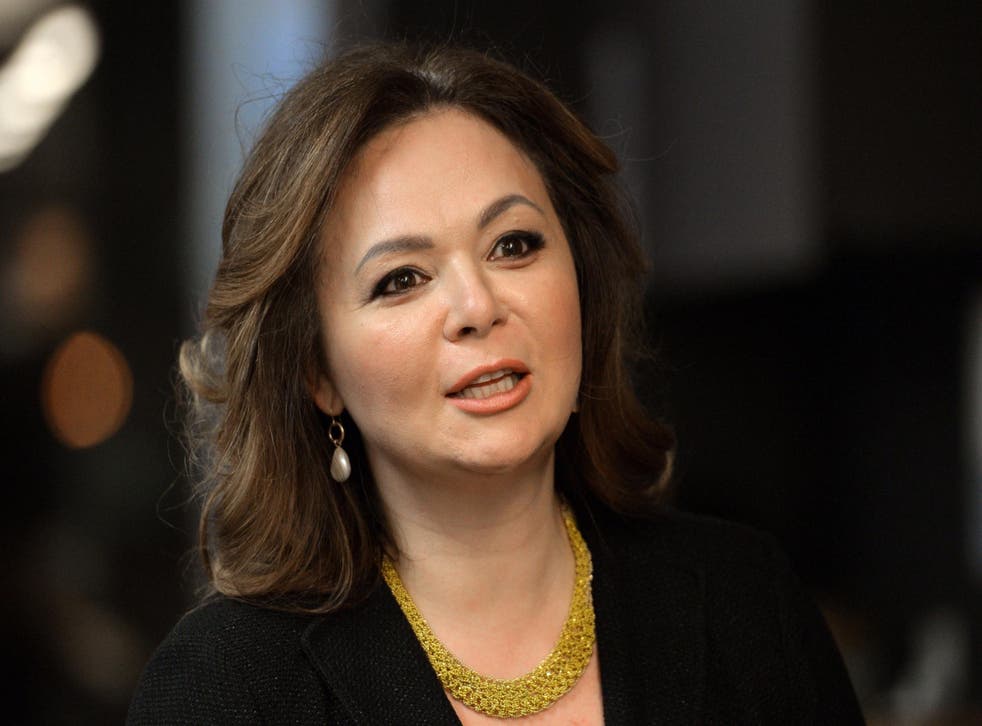 The Russian lawyer who attended at a controversial meeting with Trump campaign members has reportedly called herself "an informant" who is in communication with Russia's chief prosecutor.
Attorney Natalia Veselnitskaya was one of eight people present at the June 2016 Trump Tower meeting, which was organised after an intermediary promised to give Donald Trump Jr incriminating information about his father's election rival, Hillary Clinton.
Ms Veselnitskaya has previously claimed that she was acting independently during the meeting with Trump campaign officials. But her recent comments suggest she may have been more involved with the Russian government than she let on.
"I am a lawyer, and I am an informant," she told NBC News in an interview set to air Friday night, according to the New York Times.
She added: "Since 2013, I have been actively communicating with the office of the Russian prosecutor general."
The comments square with earlier New York Times reporting, which suggested Ms Veselnitskaya had spoken with Russia's prosecutor general about the memos she intended to deliver to the Trump team.
The biggest names involved in the Trump-Russia investigation

Show all 17
The Times also reviewed emails which appear to show Ms Veselnitskaya working closely with the prosecutor general, Yuri Chaika, on a 2014 case involving the US Department of Justice.
According to emails obtained by former Russian tycoon Mikhail B. Khodorkovsky, and seen by the Times, Ms Veselnitskaya helped Mr Chaika respond to the US's request for help in a civil fraud case. The Russian government provided little help in the case, according to an American judge, and the Justice Department eventually agreed to settle.
The emails, and Ms Veselnitskaya's recent comments, contrast with her statement to the Senate Judiciary Committee last year, in which she claimed to operate "independently of any governmental bodies".
"I have no relationship with Mr Chaika, his representatives and his institutions other than those related to my professional functions as a lawyer," she told the committee in November.
Russian lawyer says Trump Jr 'badly' wanted dirt on Clintons
The Trump Tower meeting drew scrutiny last year, after the Times reported that Ms Veselnitskaya had attended the meeting with Trump campaign manager Paul Manafort, as well as Mr Trump Jr and the president's son-in-law, Jared Kushner.
Mr Trump Jr claimed the meeting – which friend and former business partner Rob Goldstone helped arrange – was "nothing" and "a wasted 20 minutes".
He later released emails revealing that Mr Goldstone had offered him "official documents and information" that would incriminate Ms Clinton, from someone he referred to as the "Crown prosecutor of Russia".
Russia does not have a crown prosecutor. The closest role is Mr Chaika's – the prosecutor general.
Mr Trump Jr and his father have both repeatedly denied colluding with Russia to win the 2016 election.
Register for free to continue reading
Registration is a free and easy way to support our truly independent journalism
By registering, you will also enjoy limited access to Premium articles, exclusive newsletters, commenting, and virtual events with our leading journalists
Already have an account? sign in
Register for free to continue reading
Registration is a free and easy way to support our truly independent journalism
By registering, you will also enjoy limited access to Premium articles, exclusive newsletters, commenting, and virtual events with our leading journalists
Already have an account? sign in
Join our new commenting forum
Join thought-provoking conversations, follow other Independent readers and see their replies