Ruth Bader Ginsburg confirms she will stay on Supreme Court until after 2020 election
The Supreme Court justice has still got a lot of fight left in her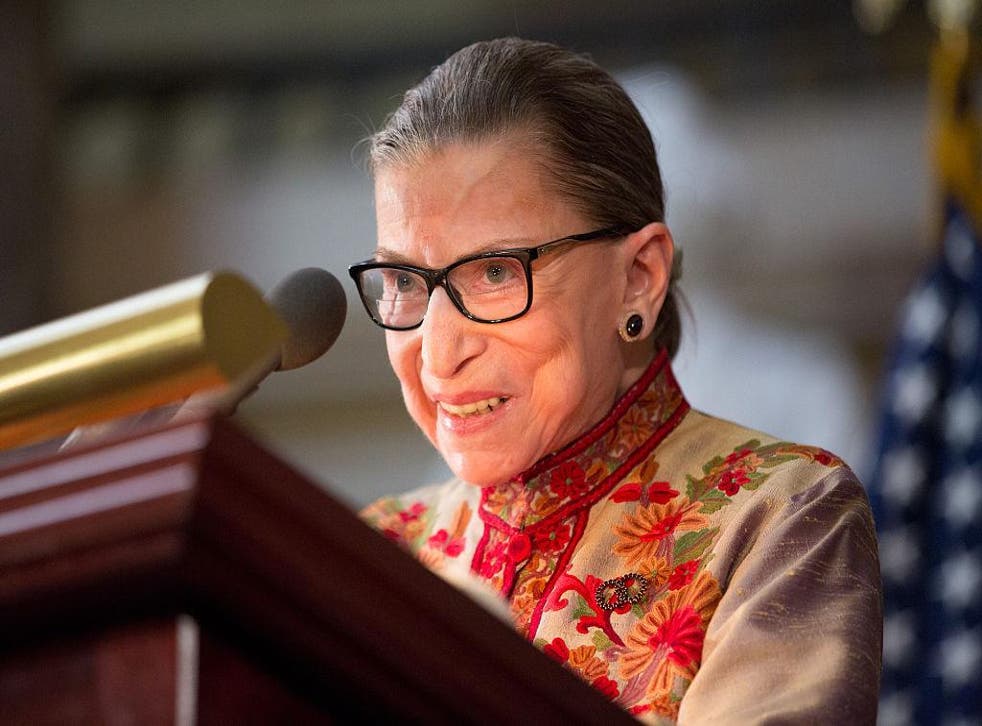 Ruth Bader Ginsburg has said she will not retire from the Supreme Court before 2020, reassuring Americans the left-leaning justice will continue serving until after the next presidential election.
At 85-years-old, Ms Ginsburg maintains an active and healthy lifestyle, complete with weekly exercises and a nutritious diet. Over the weekend, the Supreme Court justice said she will stay in her post "at least five more years," after viewing a play about the life of late Justice Antonin Scalia.
"I'm now 85," she said. "My senior colleague, Justice John Paul Stevens, he stepped down when he was 90, so think I have about at least five more years."
Ms Ginsburg has become a beloved figure amongst Democrats and left-of-centre Americans, who view her as a reliable vote on the Supreme Court for the advancement of civil rights and social justice.
Many have speculated about when the justice would step down, fearing another vacant seat in the nation's highest court would provide Donald Trump the ability to seat another conservative judge.
Ruth Bader Ginsburg confirms that a hot dog is a sandwich
Mr Trump has already appointed conservative Justice Neil Gorsuch, and nominated another judge named Brett Kavanaugh, who is seen as conservative. Though many of Mr Kavanaugh's stances on hot button issues like abortion rights or marriage equality remain unknown for now, the judge has said he would put "the final nail in the coffin" when it comes to the creation of special counsels to investigate the sitting president.
Currently, a special counsel investigation led by Robert Mueller is investigating whether the president may have colluded with Russians to impact the 2016 presidential election.
World news in pictures

Show all 50
However, if Ms Ginsburg has any say, Mr Trump won't be filling her seat with another justice — at least not in the next four years.
Twitter users rejoiced after hearing she was planning on staying in her post until after the 2020 elections, hoping a Democratic candidate would unseat Mr Trump in two years.
Several users shared images of Ms Ginsburg performing her workout, while others predicted she'd be considered "the most important Supreme Court justice in history."
Register for free to continue reading
Registration is a free and easy way to support our truly independent journalism
By registering, you will also enjoy limited access to Premium articles, exclusive newsletters, commenting, and virtual events with our leading journalists
Already have an account? sign in
Register for free to continue reading
Registration is a free and easy way to support our truly independent journalism
By registering, you will also enjoy limited access to Premium articles, exclusive newsletters, commenting, and virtual events with our leading journalists
Already have an account? sign in
Join our new commenting forum
Join thought-provoking conversations, follow other Independent readers and see their replies