Donald Trump's Interior Secretary 'told staff diversity isn't important'
Ryan Zinke is accused of reassigning a disproportionately high number of executives from minority backgrounds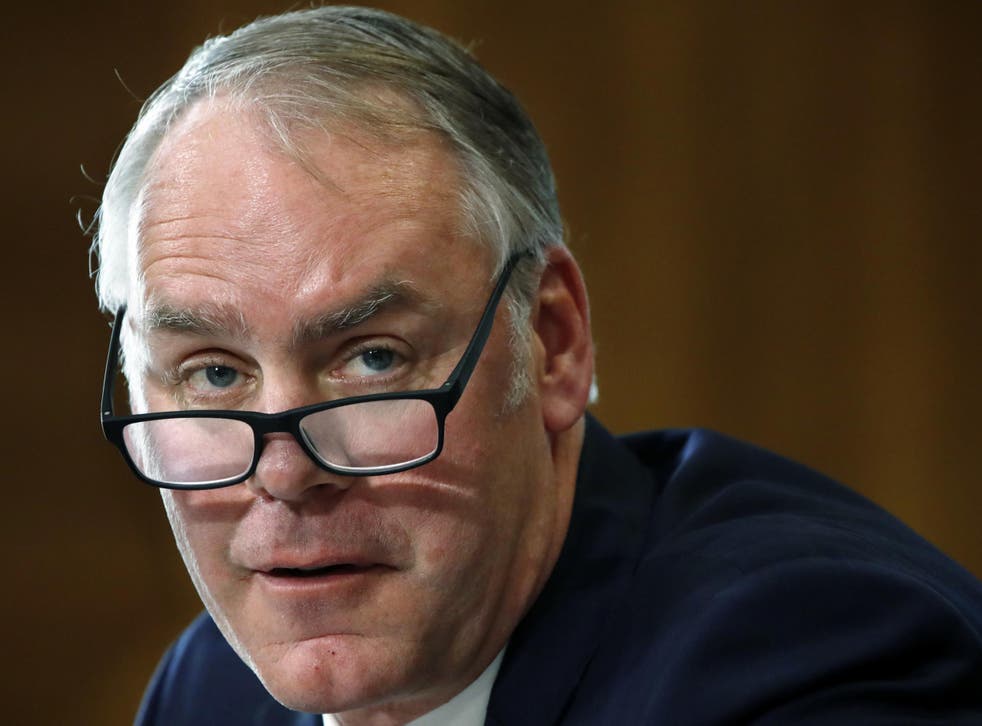 Donald Trump's Interior Secretary reportedly told staff he will not focus on diversity because it "isn't important".
Ryan Zinke's comments were said to have upset many people within the Interior Department, three high-ranking officials told CNN.
The sources, from three different divisions of the department, all said he made similar remarks such as "diversity isn't important", "I don't care about diversity" and "I don't really think that's important anymore".
Each time, Mr Zinke reportedly added something along the lines of "what's important is having the right person for the right job," or "I care about excellence, and I'm going to get the best people, and you'll find we have the most diverse group anyone's ever had".
Interior Department spokeswoman Heather Swift denied that Mr Zinke had criticised the need for diversity.
"The anonymous claims made against the secretary are untrue," she added. "As a woman who has worked for him for a number of years in senior positions, I say without a doubt this claim is untrue, and I am hopeful that they are a result of a misunderstanding and not a deliberate mistruth."
The accusations come as Mr Zinke faces investigation by multiple agencies, including the Interior Department's inspector general and Office of Special Counsel, over allegations of inappropriate employee reassignment and taxpayer spending on private planes.
The Interior Department last year unexpectedly reassigned 33 senior executive staffers. The move has raised concerns because 15 of them – or 45 per cent – were from minority groups, according to a lawyer for one staffer who was reassigned. Twenty-eight per cent of the department's senior officials are from minorities.
Some of those reassigned have filed complaints with the US Merit Systems Board.
Interior Secretary Ryan Zinke greets Japanese-American congresswoman with 'konnichiwa'
Ms Swift said Mr Zinke had appointed two women and an African-American man to senior leadership positions and "filled several other senior positions at the career and appointed level with individuals from diverse backgrounds".
However, a minority senior official who spoke to CNN said: "If you look at the people who were moved and you look at their race or gender, it's very obvious that this is a person that does not embrace the concept of diversity.
"If you look at the actions he's taken, they are unbalanced in regards to minorities and women."
Earlier this month Mr Zinke was criticised as "insensitive" for his response to a congresswoman's story about her grandfathers' detention in Japanese internment camps during the Second World War.
After listening to Hawaii Representative Colleen Hanabusa speak, Mr Zinke responded with a cheery "konnichiwa", the Japanese word for "good day".
Register for free to continue reading
Registration is a free and easy way to support our truly independent journalism
By registering, you will also enjoy limited access to Premium articles, exclusive newsletters, commenting, and virtual events with our leading journalists
Already have an account? sign in
Register for free to continue reading
Registration is a free and easy way to support our truly independent journalism
By registering, you will also enjoy limited access to Premium articles, exclusive newsletters, commenting, and virtual events with our leading journalists
Already have an account? sign in
Join our new commenting forum
Join thought-provoking conversations, follow other Independent readers and see their replies