Sally Yates: Trump's refusal to believe Russia hacked US election means it could happen again
She made the statement in only her second tweet as a private citizen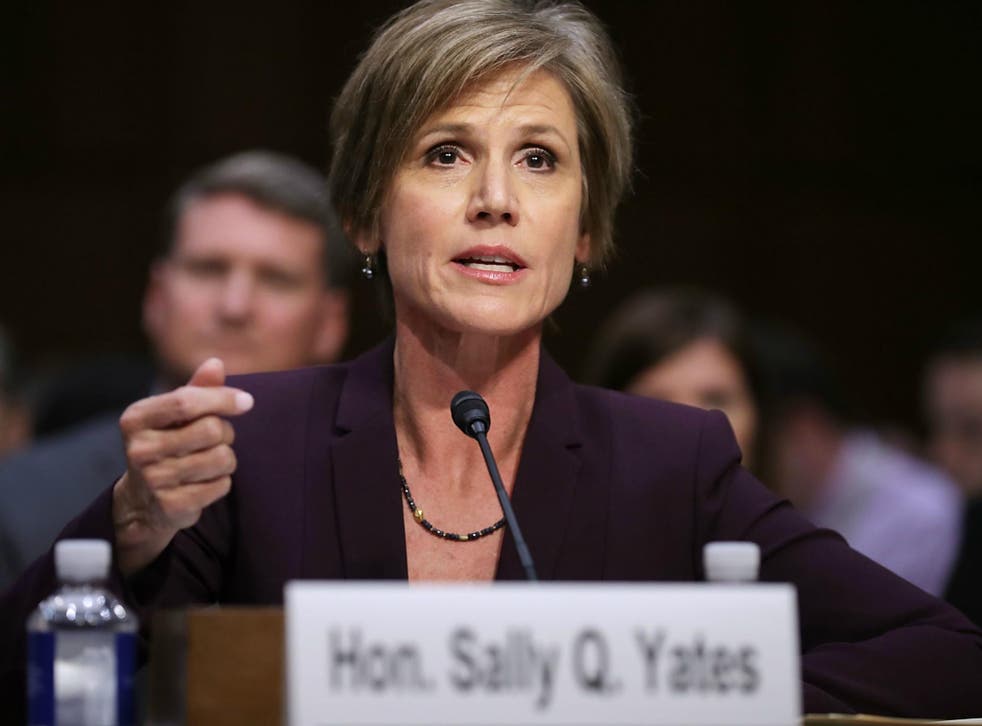 Sally Yates has taken to Twitter to say Donald Trump's "refusal" to believe Russians hacked the US election mean it could happen again.
The former Deputy Attorney General, who was sacked by Mr Trump when she was Acting Attorney General, appears to be referring to the President's comments during his visit to Poland.
In a news conference with Polish President Andrzej Duda, Mr Trump said: "I think it was Russia and I think it could have been other people and other countries. It could have been [that] a lot of people interfered."
He did not name any other countries that could have possibly hacked the US election, however, adding: "Nobody really knows for sure."
He also called into question a January 2017 report issued by the US intelligence community that confirmed Russian interference in the 2016 election. Original news reports said all 17 agencies had signed on to the report.
Mr Trump, in Poland, said that only "three of four" agencies had done so and called reports about it "fake news".
It is true that the main agencies that said they have "high confidence" of Russian hacking were the Central Intelligence Agency, the National Security Agency, the F.B.I. and the Office of the Director of National Intelligence (DNI). However, the New York Times characterised the President's comments as "misleading".
The biggest names involved in the Trump-Russia investigation

Show all 17
The DNI serves as an umbrella coordinating agency for the massive, widespread US intelligence community. Also, "there is no evidence that significant uncertainty or dissent exists across the intelligence community, simply because not all 17 were involved in the assessment of Russian interference" as the newspaper reported.
However there is a simpler explanation - those four agencies were doing the work to track Russian hacking into the election while the other 13 agencies may have been doing other work or only supplementary work on the issue.
Ms Yates, who has tweeted once thus far, said the President's attitude "insults" career intelligence professionals:
Ms Yates believes she was fired early in Mr Trump's term, not because she was an appointee of Barack Obama but because she warned White House officials about then-National Security Adviser Mike Flynn's alleged ties to Russian officials.
She told them that Mr Flynn was at risk for blackmail and that he had misled senior officials including Vice President Mike Pence about his dealings with Russian Ambassador to the US Sergei Kislyak before the Trump administration came into office.
Mr Trump is currently meeting with Russian President Vladimir Putin at the G20 summit in Hamburg, Germany.
There has been no set agenda communicated to the public; the White House has said the conversation will be about "whatever the president wants to talk about".
There is no indication Mr Trump will bring up the hacking or the ongoing FBI, House, Senate, and Special Prosecutor Robert Mueller's investigations into alleged ties between the Trump campaign team and Russian officials.
Join our new commenting forum
Join thought-provoking conversations, follow other Independent readers and see their replies