San Juan mayor sends public plea to Trump over Puerto Rico crisis: 'We will die'
Hundreds of thousands of islanders are struggling to obtain food and water
Andrew Buncombe
New York
Friday 13 October 2017 14:29 Comments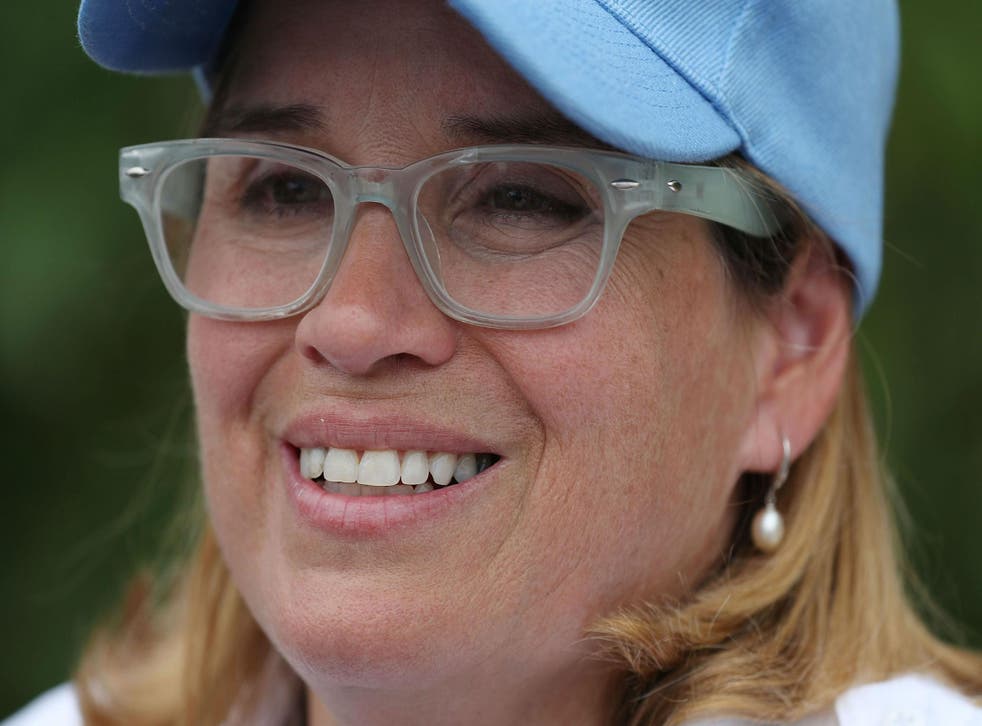 The mayor of Puerto Rico's largest city has written an impassioned public letter - urging Americans to stand by the beleaguered island as Donald Trump has threatened to withdraw federal aid workers.
Earlier this week, Mr Trump said he could not keep staff from the Federal Emergency Management Agency (FEMA), military and first responders in Puerto Rico "forever".
With around 90 per cent of the island still without electricity more than three weeks after it was struck by Hurricane Maria, and with hundreds of thousands of people struggling to access clean water and food, the mayor of San Juan made a call for help.
"I ask every American that has love, and not hate in their hearts, to stand with Puerto Rico and let this President know we WILL NOT BE LEFT TO DIE," wrote San Juan Mayor Carmen Yulín Cruz.
"I ask the United Nations, Unicef and the world to stand with the people of Puerto Rico and stop the genocide that will result from the lack of appropriate action of a President that just does not get it because he has been incapable of looking in our eyes and seeing the pride that burns fiercely in our hearts and souls."
In the aftermath of the storm, Ms Cruz has frequently clashed with Mr Trump. He has accused her of being politically motivated and has said repeatedly his administration has scored high marks for the way it responded to the disaster.
Ms Cruz does not agree.
Mark Zuckerberg high-fives in VR cartoon tour of Puerto Rico devastation
"Puerto Ricans have suffered greatly in the past month. Two hurricanes devastated our homes and our electrical infrastructure leaving us without the essentials to survive: drinkable water, food and medicine," she wrote,
"But perhaps more frustrating has been the devastating actions, time after time, by a President whose tweets, comments and actions seem to be taken out of a book on "how to add insult to injury" rather than a book on "how to help during a humanitarian crisis".
She added: "He is simply incapable of understanding the contributions, the sacrifices and the commitment to democratic values that Puerto Ricans have shown over decades. His actions are unbecoming of a leader of the free world."
Ms Cruz later told CNN of Mr Trump: "Rather than being a commander-in-chief, he's like a hater-in-chief."
World news in pictures

Show all 50
"When the President makes this personal, he really is exuding behaviour unbecoming a leader of a free world," she said.
"This isn't personal. This is life saving. This isn't politics. This is about saving lives."
The posting of Ms Cruz's letter came as the House of Representatives voted to pass a measure of disaster relief to help Puerto Rico's recovery.
The Republican-controlled House voted 353-69 to approve $36.5bin in emergency relief for Puerto Rico and other areas hit by recent disasters. Senate approval is expected in coming weeks, Reuters said.
Mr Trump subsequently posted another tweet, assuring the islanders had his administration's support.
"The wonderful people of Puerto Rico, with their unmatched spirit, know how bad things were before the H's,' he wrote. "I will always be with them."
Register for free to continue reading
Registration is a free and easy way to support our truly independent journalism
By registering, you will also enjoy limited access to Premium articles, exclusive newsletters, commenting, and virtual events with our leading journalists
Already have an account? sign in
Join our new commenting forum
Join thought-provoking conversations, follow other Independent readers and see their replies