Police fear Trump administration will withhold money to help fight violent crime from immigration 'sanctuary cities'
Department of Justice targets 'violent crime stemming from illegal immigration'
Jeremy B. White
San Francisco
Friday 04 August 2017 00:43 Comments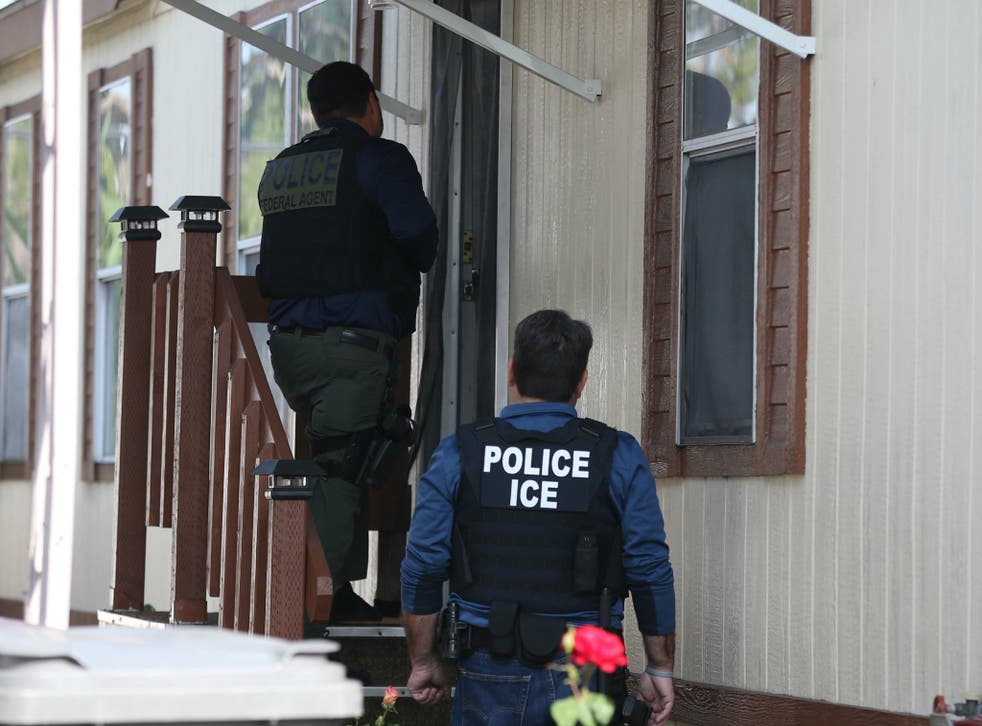 A police chief has expressed concern about the politicization of violent crime after the Trump administration sent letters to so-called "sanctuary cities" for immigrants, suggesting law enforcement agencies might not get funding unless they co-operated with the federal government's efforts to deport people.
The Department of Justice (DOJ) said it was assessing the four cities' "commitment to reducing violent crime stemming from illegal immigration".
The letters were sent to the police chiefs of Baltimore, Stockton, San Bernardino and Albuquerque, marking the latest salvo in Donald Trump's attempted crackdown on jurisdictions that limit how much local police and sheriff officials comply with federal immigration agents.
Immigrant activists and their political allies have pushed to curtail such collaboration. Resistance can take the form of limiting access to jails or refusing to honor federal requests to continue detaining immigrants after their release dates. California law prohibits complying with such requests if immigrants were being detained for low-level or nonviolent offenses.
After notifying the police chiefs that their cities were suffering excessive levels of violence, which qualifies them to receive federal assistance under the Public Safety Partnership (PSP), Acting Assistant Attorney General Alan Hanson posed a series of questions about whether local jurisdictions allow federal immigration agents to enter jails to interview immigrants, notify federal officials when detained immigrants will be released and honor requests to hold onto them longer.
"The Department is reviewing your jurisdiction's commitment to reducing violent crime stemming from illegal immigration," Mr. Hanson wrote.
Representatives of police departments quickly pointed out a problem: it is typically not their responsibility to manage jails. Compounding the confusion, Stockton Police Chief Eric Jones said he had only learned about the request through the media. In an emailed statement, Baltimore Police Department Commissioner Kevin Davis seemed caught off guard to learn federal funds could be tied to immigration cooperation.
"When the original PSP jurisdictions were selected by DOJ, it was done so without a formal selection process," Mr. Davis wrote. "We remain unaware of any formal selection process, but are now aware that federal immigration enforcement criteria appears to be a primary consideration.
"Baltimore is a welcoming city. We do not enforce federal immigration laws. We do not ask people questions about their immigration status. We do, however, enforce the criminal laws of the State of Maryland and honor criminal arrest warrants obtained by federal law enforcement agencies."
Protestors rally at JFK Airport against Muslim immigration ban

Show all 20
A spokesman for the Maryland Department of Public Safety and Correctional Services said in an email that authorities notify U.S. Immigration and Customs Enforcement (ICE) after arrests and inform federal authorities when detainees are scheduled to be released. Spokesman Gerald Shields noted that ICE has not requested any such holds since 2015.
In an interview with The Independent, Mr. Jones stressed that Stockton "is not a proclaimed, technical sanctuary city", adding that no specific legal definition exists. The San Joaquin County Sheriff's Department, whose jurisdiction encompasses Stockton, did not respond to a request for comment.
Mr. Jones noted that his officers did not as a matter of policy stop and question anyone to potentially detain them based on their potential immigration status. And, like Mr. Davis, he appeared skeptical of an overly harsh approach to policing and immigrants.
"For me, it's unfortunate when certain topics - especially violent crime - become politicized," he said. "We as a professional law enforcement agency are just about data-driven approaches to policing and the fair and equitable treatment of community members, and that's a value we absolutely must uphold in our community."
Representatives of the Albuquerque and San Bernardino police departments did not immediately respond to requests for comment.
Donald Trump's immigration crackdown encapsulated in poignant footage of father being deported
Register for free to continue reading
Registration is a free and easy way to support our truly independent journalism
By registering, you will also enjoy limited access to Premium articles, exclusive newsletters, commenting, and virtual events with our leading journalists
Already have an account? sign in
Join our new commenting forum
Join thought-provoking conversations, follow other Independent readers and see their replies