Sarah Sanders attacks media's 'wild obsession' with identity of anonymous op-ed writer
Ms Sanders suggests that anyone interested in the anonymous writers' identity should call the New York Times and ask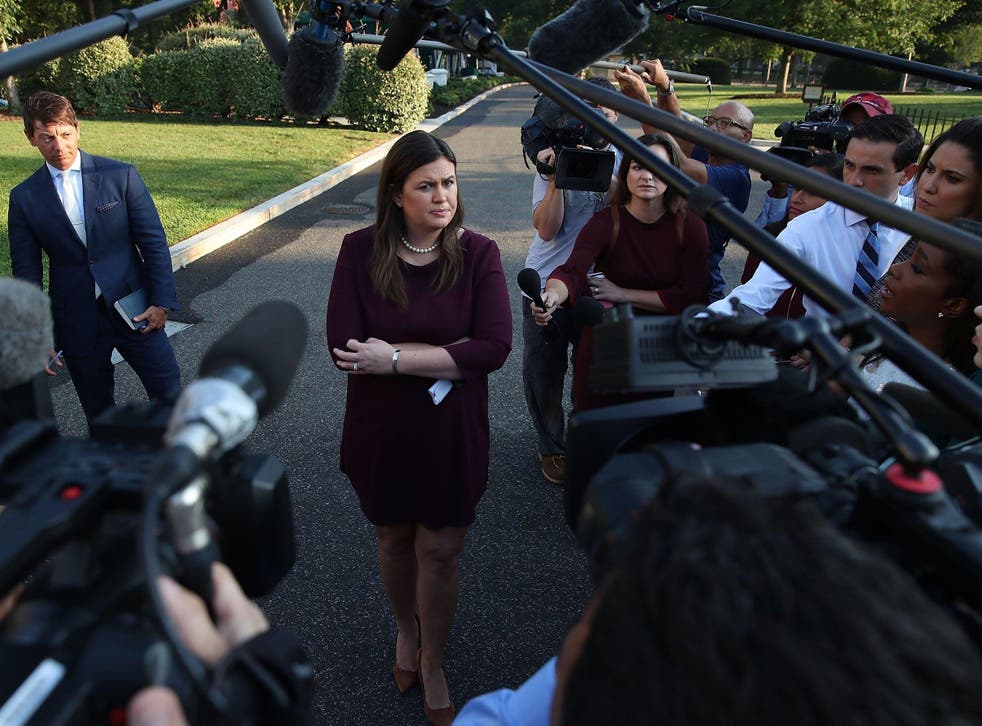 White House Press Secretary Sarah Huckabee Sanders has attacked the news media's "wild obsession" with discovering who wrote the anonymous New York Times op-ed that claims top Trump administration officials are actively working to subvert the president.
Ms Sanders claims that the press' inures is "tarnishing the reputation of thousands of Americans who proudly serve our country and work for President [Donald] Trump", and suggests that anyone who wants to know the author should call the New York Times' opinion desk.
She then lists the phone number for that desk.
The source of the op-ed has been the subject of rife speculation since it was published on Wednesday, claiming that senior officials in the White House are "working diligently from within to frustrate parts of" the president's agenda. The writer also claimed that the prospect of removing the president from office using the 25th Amendment had been discussed privately by some .
Soon after Ms Sanders published the newspaper's opinion desk phone number, reporters and employees of the newspaper said they began receiving calls from people seeking to speak with the desk that green lit the op-ed
That included culture writer Sopan Deb, who tweeted just after noon that someone had called his land line at work and asked for the desk. Mr Deb joked that he was tempted to tell the caller that Mr Trump's adult son, Donald Trump Jr, had actually written the op-ed trashing the president's fitness for office.
President Trump's most shocking attacks on the media

Show all 16
Several top-level members of the Trump administration have already denied being the authors of the embarrassing letter.
That includes Housing and Urban Development Secretary Ben Carson, Department of Homeland Security Secretary Kristjen Nielsen, Director of National Intelligence Dan Coats, Vice President Mike Pence, Defense Secretary James Mattis, Attorney General Jeff Sessions, FCC Commissioner Ajit Pai, and Secretary of State Mike Pompeo.
While Mr Trump and his White House have attacked the letter — and its anonymous sourcing — coverage of the Trump administration has often relied on anonymous sources working within the West Wing to understand what is happening at the highest levels of government.
The letter was also published just after excerpts of the forthcoming book, "Fear", which was written by veteran journalist Bob Woodward, and described efforts to keep documents from the president, and in some cases outright refusal follow Mr Trump's orders.
Register for free to continue reading
Registration is a free and easy way to support our truly independent journalism
By registering, you will also enjoy limited access to Premium articles, exclusive newsletters, commenting, and virtual events with our leading journalists
Already have an account? sign in
Register for free to continue reading
Registration is a free and easy way to support our truly independent journalism
By registering, you will also enjoy limited access to Premium articles, exclusive newsletters, commenting, and virtual events with our leading journalists
Already have an account? sign in
Join our new commenting forum
Join thought-provoking conversations, follow other Independent readers and see their replies