Democrats publicly demand Scott Pruitt recuse himself from EPA's decision to repeal the Clean Power Plan
The filing resembles similar requests filed by a coalition of left-leaning cities and states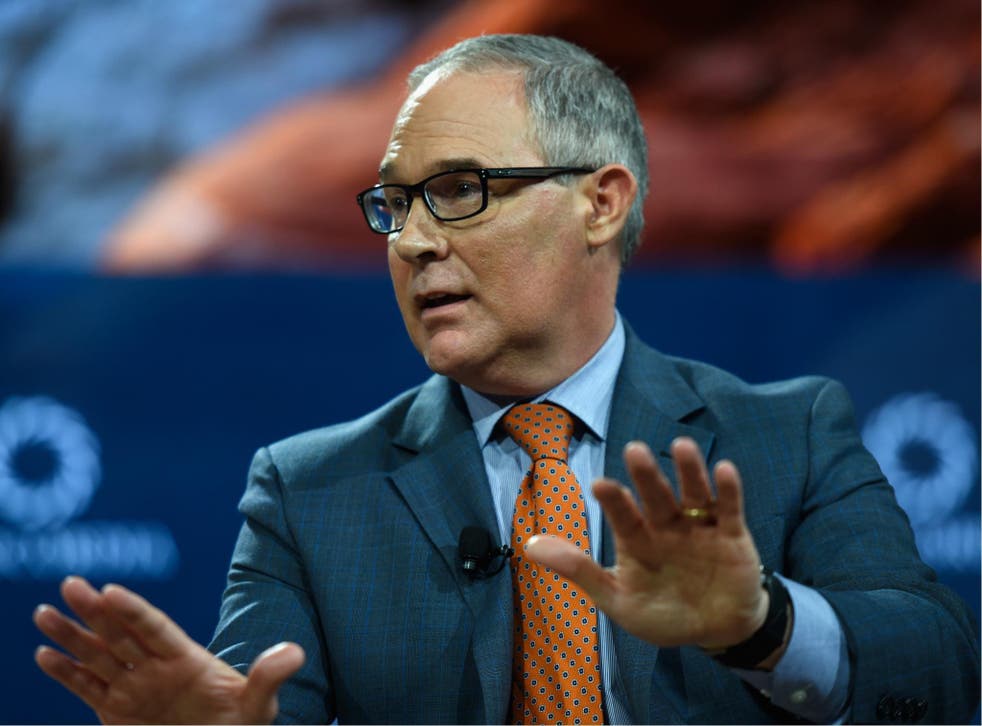 Four Democrats have asked that Environmental Protection Agency Administrator Scott Pruitt recuse himself from the agency's decision regarding the repeal of the Clean Power Plan, citing his acceptance of fossil fuel industry money as a politician as a conflict of interest.
The formal comment on the proposed repeal, which would roll back significant greenhouse gas emissions cuts established by the administration of President Barack Obama, was filed Wednesday.
Senators Sheldon Whitehouse, Jeff Merkley, Brian Schatz, and Ed Markey signed the note, which also noted Mr Pruitt's history of lawsuits against the Clean Power Plan (CPP) and the Obama administration while he was attorney general of Oklahoma.
"The evidence for Pruitt's inalterably closed mind on CPP rule making is overwhelming," the Senators wrote.
The comment continues to list Mr Pruitt's "deep and wide financial ties" to the fossil fuel industry, which is "ferociously opposed" to the plan, his history of suing the EPA an Obama administration, and his history of statements questioning climate science and the CPP's ability to reduce greenhouse gas emissions in general.
Mr Pruitt sued the EPA 14 times while serving as attorney general of Oklahoma, including four times specifically against the Clean Power Plan.
Donald Trump's first year: in pictures

Show all 29
During Mr Pruitt's time in public office, he has received at least $319,596 from fossil fuel industry players, including during his runs to become Oklahoma's Attorney General, and for the Oklahoma State Senate, according to data compiled by the National Institute on Money in State Politics. The donations ramped up in his runs for attorney general, when the industry donated $107,400 in his 2010 run, and $116,025 in 2014.
The senators' comment reflects similar requests that Mr Pruitt recuse himself from the matter, filed by environmental groups as well as a coalition of 19 states and cities.
"A private citizen (or even a state attorney general) has the luxury of making up his mind and never changing course," the coalition, which submitted a comment last year, wrote. "The decision maker in an administrative proceeding, however, does not."
Register for free to continue reading
Registration is a free and easy way to support our truly independent journalism
By registering, you will also enjoy limited access to Premium articles, exclusive newsletters, commenting, and virtual events with our leading journalists
Already have an account? sign in
Register for free to continue reading
Registration is a free and easy way to support our truly independent journalism
By registering, you will also enjoy limited access to Premium articles, exclusive newsletters, commenting, and virtual events with our leading journalists
Already have an account? sign in
Join our new commenting forum
Join thought-provoking conversations, follow other Independent readers and see their replies