Environmental Protection Agency employees launch effort to block Scott Pruitt's confirmation
Nomination of Oklahoma Attorney General sparks fears among staff as he has sued agency 13 times
Will Worley
Friday 17 February 2017 19:00 Comments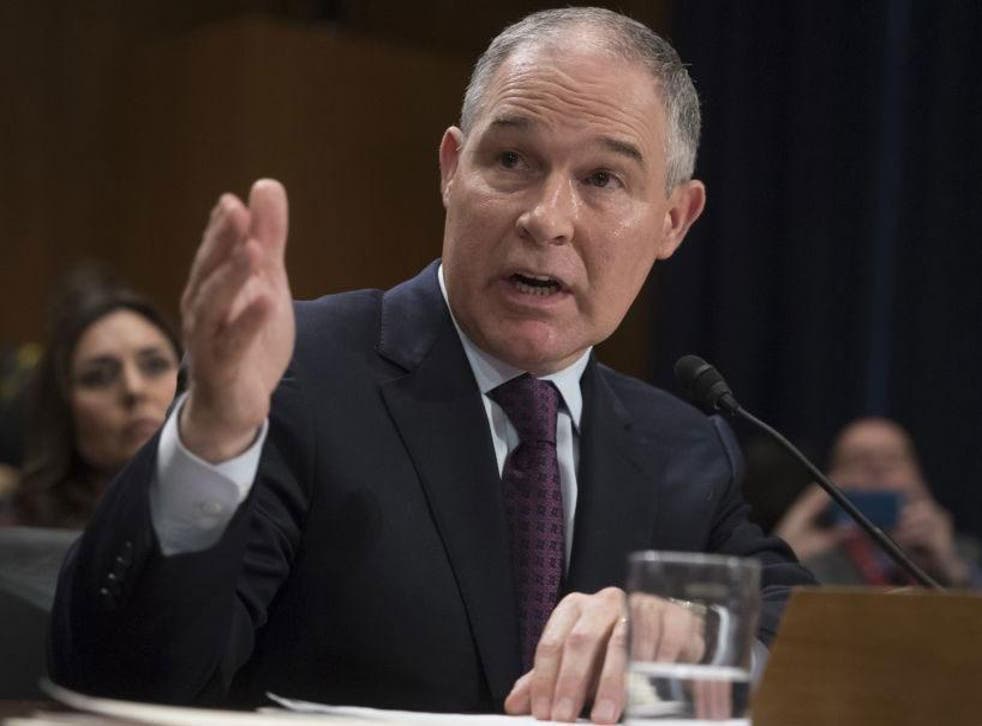 Environmental Protection Agency employees have reportedly been appealing to their senators in a last-ditch bid to prevent the confirmation of Scott Pruitt as their new chief.
Donald Trump's nomination of Mr Pruitt, Attorney General of Oklahoma, has caused widespread concern among environmentalists.
Mr Pruitt – described by Bernie Sanders as "the worst of the worst" of Mr Trump's cabinet picks - has sued the EPA on 13 occasions. He has also accused the agency of having an "activist agenda" and his opponents fear he will seek to dismantle the body.
Ed Miliband: PM must discuss climate change with President Trump
Now, in circumstances widely regarded as unprecedented, the federal employees who staff the EPA have publicly voiced their concern about their likely new boss.
"At this point, it's just, 'call your senator,'" long time employee and head of the EPA's union, John O'Grady, told the New York Times.
"We plan on more demonstrations, more rallies. I think you will see the employees' union reaching out to NGOs and having alliances with them …We're looking at working with PR firms."
An employee who wanted to remain anonymous told the newspaper: "I've been here for 30 years, and I've never called my senator about a nominee before."
Federal employees are usually expected to behave in a similar fashion to British civil servants, and implement the policies of the elected government.
But Mr Pruitt's stance has been the antithesis of the EPA's work. In addition to fighting the very agency he may soon lead, Mr Pruitt has also opposed the Clean Air Act, disputed climate science and is suspected of having extensive ties with the fossil fuel lobby.
He only needs 51 votes in the 100-member chamber to be approved. Nearly all 52 Republicans, except Senator Susan Collins, who announced her opposition on Wednesday, are expected to vote for him.
10 photographs to show to anyone who doesn't believe in climate change

Show all 10
In addition, one Democrat, Heidi Heitkamp, said she would vote for Mr Pruitt despite her concerns about his weak support for renewable energy like wind and solar power, and for cutting emissions. If there were a tie, Vice President Mike Pence would vote to break it.
If Mr Pruitt is approved, Mr Trump is expected to quickly issue up to five executive orders to reshape the EPA, sources have told Reuters.
Mr Trump has promised to slash environmental rules as a way to bolster the drilling and coal mining industries, but has vowed to do so without compromising air and water quality. The White House website says lifting policies such as Barack Obama's Climate Action Plan would help US workers and raise wages.
Additional reporting by Reuters.
Register for free to continue reading
Registration is a free and easy way to support our truly independent journalism
By registering, you will also enjoy limited access to Premium articles, exclusive newsletters, commenting, and virtual events with our leading journalists
Already have an account? sign in
Join our new commenting forum
Join thought-provoking conversations, follow other Independent readers and see their replies