US environment chief Scott Pruitt told he is 'unfit for office' during Congress hearing
The environmental chief answered questions about controversial spending in front of two committees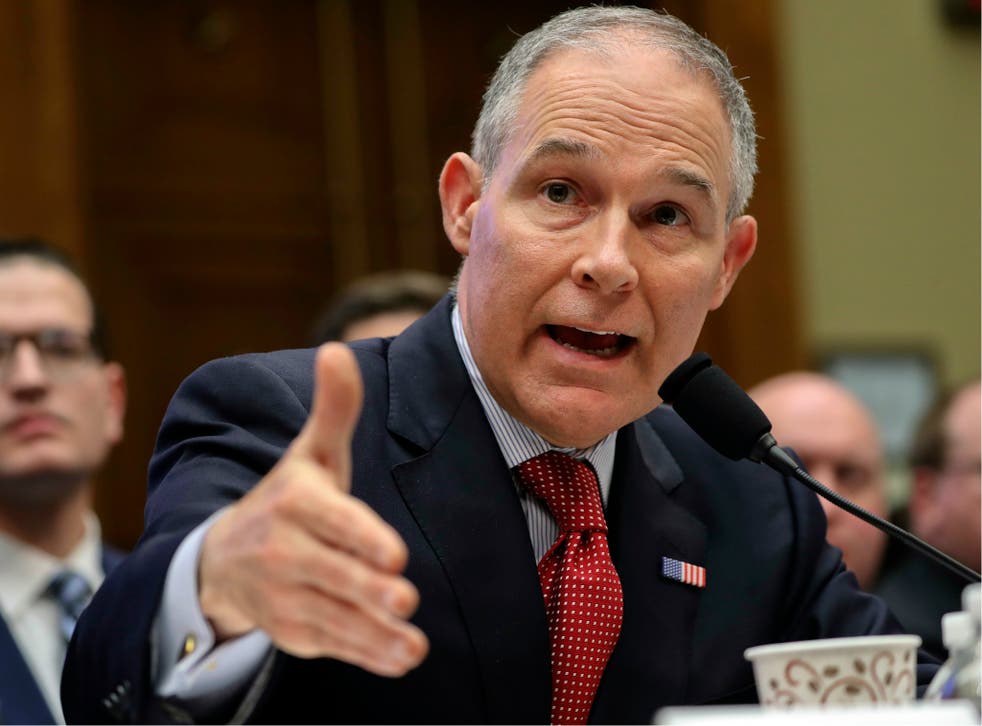 US Environmental Protection Agency chief Scott Pruitt was on the hot seat today as he testified on Capitol Hill and was told he was "unfit to hold public office and undeserving of the public trust".
"There are so many outstanding questions that we need truthful answers to today because so far, we've only gotten half-truths, misleading answers, or outright falsehoods," Democratic Congressman Frank Pallone bluntly said to Mr Pruitt.
House members of the Energy and Commerce first, then the House Appropriations Committee, grilled Mr Pruitt on recent controversial spending of taxpayer money on his large security detail, a soundproof booth in his office, first-class flights, approving raises for staffers, and renting a place to live from an oil and gas lobbyist.
Democrats were not the only ones to hold the former Oklahoma Attorney General accountable for his headline-making actions of late. Republican Congressman Greg Walden said: "These issues are too persistent to ignore, and I know many members are looking for more clarity from you today," adding that the administration's policies are being "undercut" by the controversies. President Donald Trump's administration officials have also become increasingly frustrated by news reports.
"Facts are facts and fiction is fiction," the embattled agency chief told the panel. "And a lie doesn't become true just because it appears in the front page of the newspaper," in an attempt to defend himself. "Much of what has been targeted at me and my team has been half-truths or, at best, stories that have been so twisted that they do not resemble reality," he noted, echoing Mr Trump's favoured "fake news" line.
He said those "attack[ing]" him are just out to derail the president's agenda of deregulating the manufacturing, oil, and gas industries while ignoring the goals outlined in the global Paris Agreement on climate change.
EPA Chief Scott Pruitt suggests global warming could be good for humans
Democratic Congressman Paul Tonko said Mr Pruitt had a "propensity for grift," mentioning that the lobbyist Mr Pruitt rents the condo from in Washington has had business before the EPA during his tenure.
Mr Tonko also pushed Mr Pruitt to answer questions on giving raises to two EPA staffers who had also worked for him while in Oklahoma. The administrator refused to answer with a simple "yes" or "no" when asked if he had approved the raises but said he was "unaware of the amount".
As CNN reported, that is "a contradiction to what he told Fox News earlier this month when he said he didn't know about the pay raises at all until they were revealed in public reports the day before the interview".
10 photographs to show to anyone who doesn't believe in climate change

Show all 10
To curtail the line of tough questioning and insults, Republican Congressman David McKinley argued the interrogation was a "classic display of innuendo and McCarthyism". He lamented that "some just can't resist the limelight, the opportunity to grandstand".
The EPA has defended the administrator's spending on travel and security, saying it has been crucial to protecting him from public threats and ensuring he can conduct confidential work, and have also pointed out that Mr Pruitt's lease for the room in Washington was around market rate.
Mr Pruitt has drawn praise from conservatives during his EPA tenure for rolling back former President Barack Obama's policy to curb greenhouse gas emissions from power plants, which account for almost 40 per cent of the country's emissions. Called the Clean Power Plan, the legislation would have reduced power plants' carbon emissions by 2030 to a level 32 per cent lower than they were in 2005 if it had been left in place.
Although Mr Trump has expressed support for his appointee for his work on scaling back environmental regulations, White House sources have told Reuters officials are worried about the flow of charges against him.
There are nearly a dozen pending investigations into Mr Pruitt with the EPA inspector general, the Government Accountability Office (GAO) and the White House Office of Management and Budget, as well as the US House of Representatives oversight committee.
Agencies contributed to this report.
Register for free to continue reading
Registration is a free and easy way to support our truly independent journalism
By registering, you will also enjoy limited access to Premium articles, exclusive newsletters, commenting, and virtual events with our leading journalists
Already have an account? sign in
Register for free to continue reading
Registration is a free and easy way to support our truly independent journalism
By registering, you will also enjoy limited access to Premium articles, exclusive newsletters, commenting, and virtual events with our leading journalists
Already have an account? sign in
Join our new commenting forum
Join thought-provoking conversations, follow other Independent readers and see their replies