Watchdog says EPA broke law with Scott Pruitt's $43,000 phone booth
Official has faced scrutiny over his spending on security measures
Jeremy B. White
San Francisco
Tuesday 17 April 2018 00:10 Comments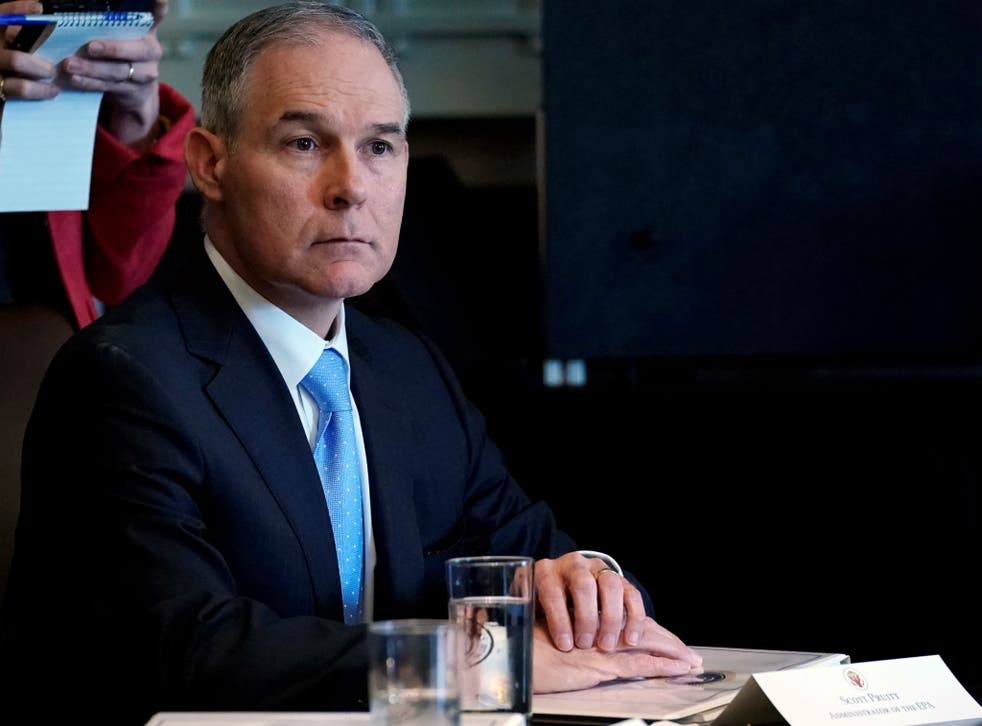 The Environmental Protection Agency (EPA) broke the law in purchasing a $43,000 soundproof booth for administrator Scott Pruitt, a government watchdog has concluded.
Federal law imposes a $5,000 limit on improvements to a presidential appointee's office unless an agency notifies Congress in advance. A Government Accountability Office examination concluded that the EPA did not meet that requirement and is thus obligated to report a violation.
An EPA representative said in a statement that the agency planned to send Congress the necessary information this week.
In addition to facing scrutiny for spending habits that include an around-the-clock security detail whose members have flown first class, Mr Pruitt has drawn criticism for staying in an apartment owned by the wife of an energy industry lobbyist.
Critics have contended that the $50 he paid per night was an artificially low price, although an EPA official concluded that the amount was market rate and thus did not constitute a gift. Donald Trump has defended his embattled EPA chief, saying in a tweet that "rent was about market rate" and "travel expenses OK".
"While Security spending was somewhat more than his predecessor, Scott Pruitt has received death threats because of his bold actions at EPA", Mr Trump said, a claim he did not substantiate.
World news in pictures

Show all 50
The EPA has also cited Mr Pruitt's safety in defending spending decisions. The agency spent millions during his first year on his security team, according to records obtained by the Associated Press, and a letter from Democrats noted that the protection cost nearly double what it had for the previous two previous administrations.
EPA Chief Scott Pruitt suggests global warming could be good for humans
Multiple Trump administration officials have dealt with controversies over their use of public funds. Former Health and Services secretary Tom Price stepped down amid a furor over his spending on charter flights, and Housing and Urban Development head Ben Carson has had to defend the purchase of a $31,000 furniture set for his office.
Register for free to continue reading
Registration is a free and easy way to support our truly independent journalism
By registering, you will also enjoy limited access to Premium articles, exclusive newsletters, commenting, and virtual events with our leading journalists
Already have an account? sign in
Join our new commenting forum
Join thought-provoking conversations, follow other Independent readers and see their replies