Scott Pruitt: EPA chief had 'round-the-clock' security since first day in office, contrary to his claims
Mythili Sampathkumar
New York
Tuesday 15 May 2018 16:30 Comments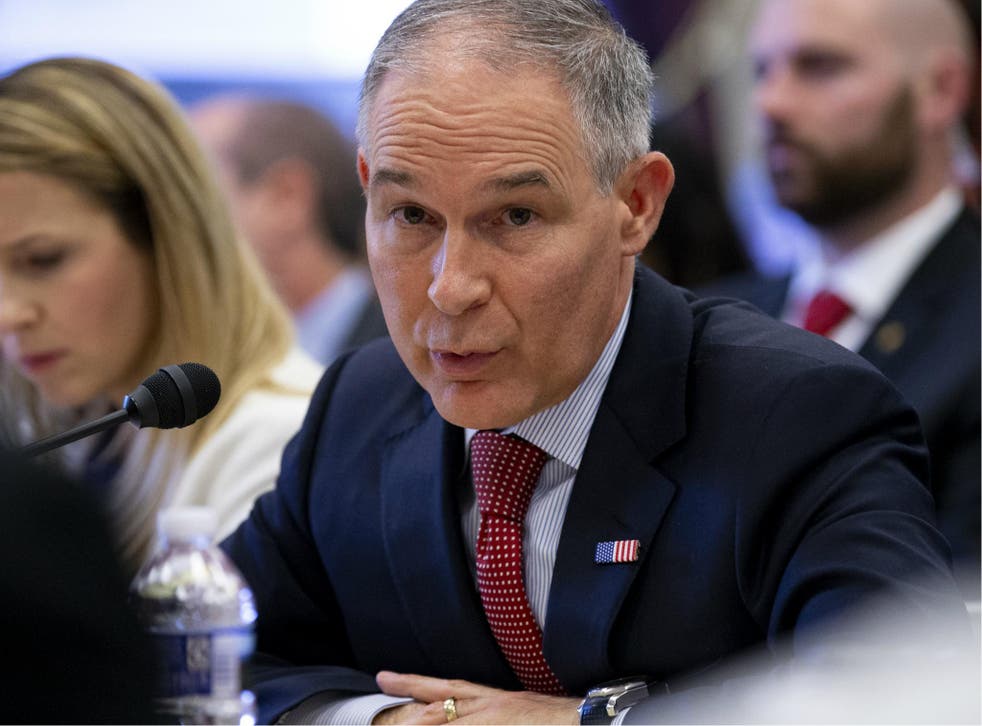 President Donald Trump's head of environment Scott Pruitt has had round-the-clock security detail since his first day in office, contrary to his prior claim.
Mr Pruitt, administrator of the Environmental Protection Agency (EPA), read aloud a list of alleged threats he had received in 2017 in front of a Congressional panel as a reason for spending in excess of $3m in taxpayer money on his extensive security. However, emails obtained by the Washington Post show that there was no proper "threat assessment" done prior to Mr Pruitt's security detail in place.
In a letter to Democratic Senators Sheldon Whitehouse and Thomas Carper earlier this week, EPA inspector general Arthur Elkins said that: "EPA's Protective Service Detail began providing 24/7 coverage of the Administrator the first day he arrived". Mr Elkins also said his office "played no role in this decision" and that Mr Pruitt requested the detail.
Mr Pruitt and the EPA have defended the high costs - which included first-class plane tickets and several special agents - and said "these are threats that the [Inspector General of the EPA] has documented," Mr Pruitt told Congress just last month. The agency issued a statement last month that read: "According to EPA's assistant inspector general, Scott Pruitt has faced an unprecedented amount of death threats against him and his family. Americans should all agree that members of the President's Cabinet should be kept safe from these violent threats".
The emails actually showed that the detail was requested by Don Benton, a former state senator from Washington and a Republican who had been working as the agency's White House adviser just ahead of Mr Pruitt's February 2017 appointment. The threat assessment was only done once, in August 2017.
The newspaper reported: "there were no confirmed threat cases open the day Pruitt took office, according to an individual with direct knowledge of the matter who spoke on the condition of anonymity out of fear of retaliation".
Mr Benton said in a February 2017 email: "There will be several Executive Orders signed when [Pruitt] is sworn in that will likely stir the hornets nest and with the security issue in the Atlanta office last week as well as the lady who threatened former administrator [Gina] McCarthy not showing up for court and at large in DC it is best to be on the safe side".
As a result the number of agents in the criminal and investigative unit of the agency had to be double to 16. Mr Pruitt's Cabinet position is not normally one that receives such extensive protection like the Secretaries of Defence, Homeland Security, and State. His predecessor Ms McCarthy guard was roughly a third of the size of Mr Pruitt's and she said in a recent interview that she kept her detail to a "minimum".
What has stirred even more controversy in addition to spending taxpayer money was that the special agent in charge Eric Weese, who had predicted the increased security would be a "major disruption," was replaced at the request of Mr Pruitt.
Register for free to continue reading
Registration is a free and easy way to support our truly independent journalism
By registering, you will also enjoy limited access to Premium articles, exclusive newsletters, commenting, and virtual events with our leading journalists
Already have an account? sign in
Join our new commenting forum
Join thought-provoking conversations, follow other Independent readers and see their replies