Environment chief Scott Pruitt could be fired after White House says Donald Trump 'not OK' with possible ethics scandals
Dozens of members of Congress call for Scott Pruitt to resign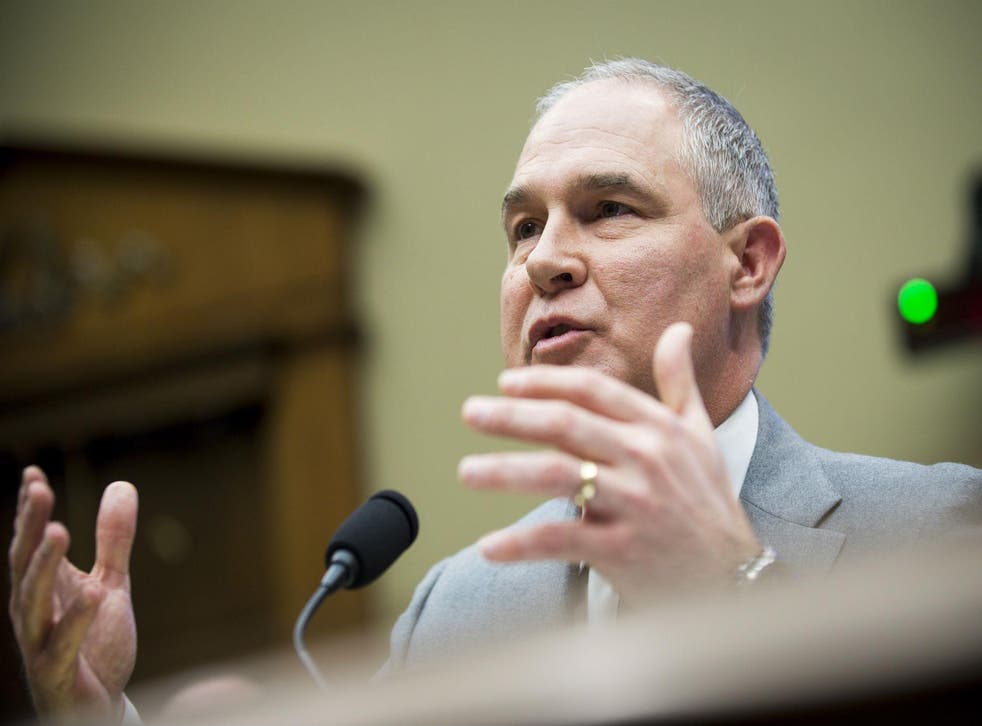 Scott Pruitt's stint as environment secretary appears to be almost over after the White House said Donald Trump was "not OK" with his conduct.
The head of the Environment Protection Agency (EPA) is facing a growing list of potential ethics scandals, including the revelation two aides were granted huge pay rises against White House direction.
Dozens of members of Congress, including two Republicans, have called for Mr Pruitt to resign, or for the president to fire him.
Mr Pruitt denied he knew about the raises given to his aides, and claimed he only found out about them on Wednesday.
In a series of interviews with Fox News and other conservative media outlets, Mr Pruitt attempted to shore up his position in an administration that has seen many other top officials depart after ethical missteps.
Trump spokesperson Sarah Huckabee Sanders said the White House is reviewing Mr Pruitt's conduct and declined to confirm reports the president called him in recent days to offer support.
EPA Chief Scott Pruitt suggests global warming could be good for humans
Asked if Mr Trump was OK with Mr Pruitt's actions, Ms Sanders replied: "The president's not [OK].
"We're reviewing the situation. When we have had the chance to have a deeper dive on it we'll let you know the outcomes of that," she added. "But we're currently reviewing that here at the White House."
The remarks from Ms Sanders were a departure from the enthusiastic support Mr Pruitt has previously received from Mr Trump, who has touted his environmental chief's relentless efforts to reverse, scrap or rewrite pollution limits opposed by industry.
On Tuesday, the administration had put out word that the president had Mr Pruitt's back. By Wednesday, White House officials were describing his situation as unsustainable.
Speaking on condition of anonymity to discuss internal deliberations, they said the EPA administrator was given a green light to sit down for the Fox News interview, adding that if he failed to clear the ethical cloud his job would be in serious doubt.
For his part, Mr Pruitt denied his job was in any danger, saying his enemies will "resort to anything" to stop his and Mr Trump's regulatory rollbacks.
In an interview with Fox News on Wednesday, Mr Pruitt rebuffed media reports that he bypassed the White House to grant huge pay raises to two young aides he brought with him from Oklahoma, where he previously served as state attorney general.
Donald Trump's first year: in pictures

Show all 29
On Tuesday, The Atlantic reported White House officials denied permission to grant the raises to the political appointees, but that Mr Pruitt used a little-known legal manoeuvre to push them through anyway.
A 30-year-old lawyer serving as Mr Pruitt's senior legal counsel got a 53 per cent raise, boosting her salary to more than $164,000 (£117,000). Mr Pruitt's 26-year-old scheduling director got a 33 per cent raise, increasing her salary to nearly $115,000 (£82,000).
Asked about the issue by Fox correspondent Ed Henry, Mr Pruitt denied approving the pay hikes.
"I did not. My staff did and I found out about [it] yesterday and I changed it," Mr Pruitt said, adding that the agency was now "walking back" the raises.
Pressed on who approved the spending, if not him, Mr Pruitt claimed he did not know.
Mr Pruitt is reported to have approved the raises under a provision to the Safe Drinking Water Act of 1977 that specifically authorises the EPA administrator to hire a limited number of employees without approval from the Senate or White House.
Mr Pruitt spokesperson Jahan Wilcox did not respond to questions on Wednesday about who at EPA granted the raises, or whether Mr Pruitt had delegated his hiring authority under the act to someone else.
The questions surrounding the raises are the latest ethical issues dogging Mr Pruitt, who has been under increasing scrutiny for extravagance with public funds that includes overseas trips, his use of first-class air travel and unusual security precautions.
Mr Pruitt is also pushing back against criticism of his decision last year to lease a Capitol Hill condominium co-owned by the wife of prominent Washington lobbyist Steven Hart, whose firm represents fossil fuel companies.
Mr Pruitt paid $50 (£36) a night for the unit — totalling $6,100 (£4,388) in payments over the six-month period he leased the property, an average of about $1,000 (£711) a month.
Current rental listings for two-bedroom apartments in the neighbourhood show even the more modestly priced units typically go for more than twice what Mr Pruitt paid.
"I'm dumbfounded that that's controversial," Mr Pruitt told The Washington Examiner on Tuesday, insisting that he paid a market rate. Mr Pruitt also described Mr Hart, the registered lobbyist, as a personal friend from Oklahoma who didn't have business before EPA.
Fox News destroyed EPA chief Scott Pruitt over climate change
Mr Hart is chairman and CEO of powerhouse Washington firm Williams & Jensen, which federal disclosure reports show lobbied the EPA extensively in the last year — including Mr Pruitt himself.
It was reported last week that while living in the Harts' property he met in his EPA office with a lobbyist from Mr Hart's firm and two executives from an energy company seeking to scuttle tighter pollution standards for coal-fired power plants.
EPA also granted a favourable ruling to a pipeline company represented by Mr Hart's firm.
Mr Wilcox, Mr Pruitt's spokesperson, did not respond to questions on Wednesday about whether Mr Pruitt's schedule or the disclosure reports were in error.
Mr Pruitt also appeared to dispute media reports that his college-aged daughter stayed in a second bedroom at the property last summer while she was an intern at the White House.
"You know, I was living out of a suitcase for the first four or five months I was here," Mr Pruitt told the Examiner. "My wife was not here. My children were not here."
Mr Pruitt also told the The Daily Signal, an online publication of the conservative Heritage Foundation, that he lived alone in the property while his family remained in Oklahoma.
Those statements appeared to contradict a memo released by EPA over the weekend drafted by an agency ethics lawyer that reviewed Mr Pruitt's lease.
"The lease authorised use by the Administrator and his immediate family, specifically including his spouse and children, and consistent with that provision of the lease his immediate family did stay there when they were in Washington, DC," wrote EPA lawyer Kevin Minoli.
Mr Wilcox did not respond to questions about whether Mr Pruitt's daughter stayed at the property with him. Her LinkedIn profile says she worked at the White House from May through August.
Join our new commenting forum
Join thought-provoking conversations, follow other Independent readers and see their replies