People were very concerned when Donald Trump began lurking behind Hillary Clinton
'When this happens to me on a sidewalk, I basically start running'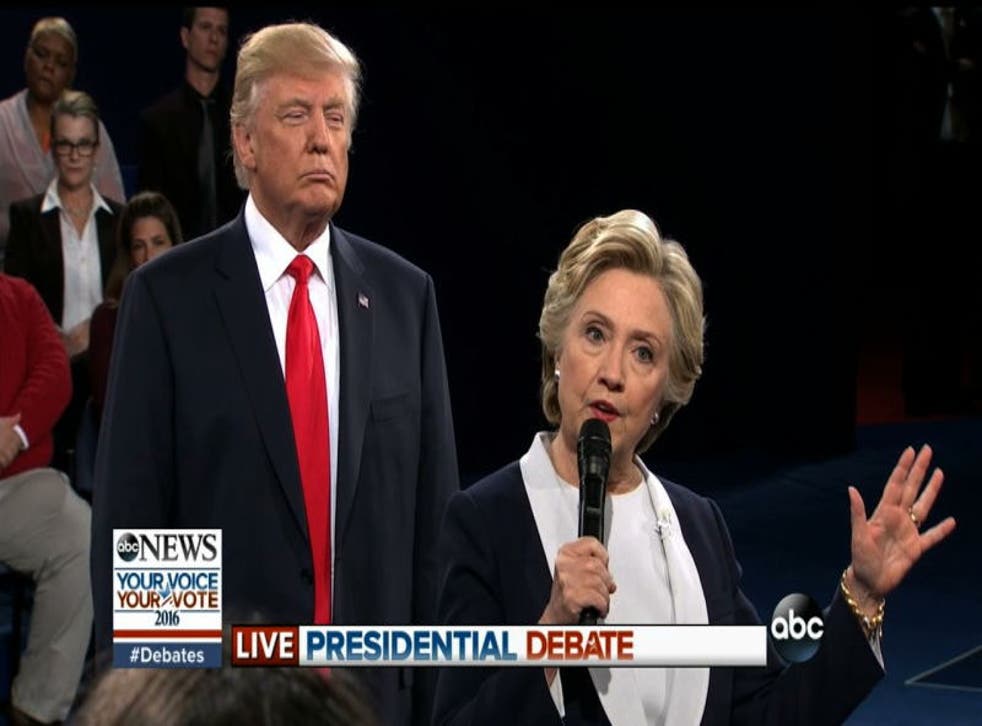 Donald Trump and Hillary Clinton are debating in St Louis at the second presidential debate and for some reason, the Republican candidate is hovering behind Ms Clinton like a shadow. And when he wasn't looming behind the Democratic candidate, he was gripping his chair, and pacing across the stage.
There were a lot of folks on Twitter who were straight up creeped out by Mr Trump's erratic behavior. Was he trying to intimidate her, was he recreating a Simon & Garfunkel album cover, maybe he was doing his best Michael Myers impression ahead of Halloween?
One Twitter user admitted, "When this happens to me on a sidewalk, I basically start running."
Others compared Trump to the clowns who are terrorizing the states in 2016. While some folks didn't find Mr Trump's body language funny at all considering his recent leaked tape controversy.
"Trump standing directly behind Hillary, in light of his comments bragging about sexual assault, is a bad, ominous pose for him," another Twitter user said on Sunday night.
Check out the images below and decide for yourself.
Why was Trump creeping behind Clinton at the debate?

Show all 13
Register for free to continue reading
Registration is a free and easy way to support our truly independent journalism
By registering, you will also enjoy limited access to Premium articles, exclusive newsletters, commenting, and virtual events with our leading journalists
Already have an account? sign in