Midterms 2018: Mitch McConnell says tight Senate races are 'like knife fight in alley'
The elections this November will have a dramatic impact on President Trump's ability to pass major legislation in the second half of his first term
Clark Mindock
New York
Monday 15 October 2018 15:12 Comments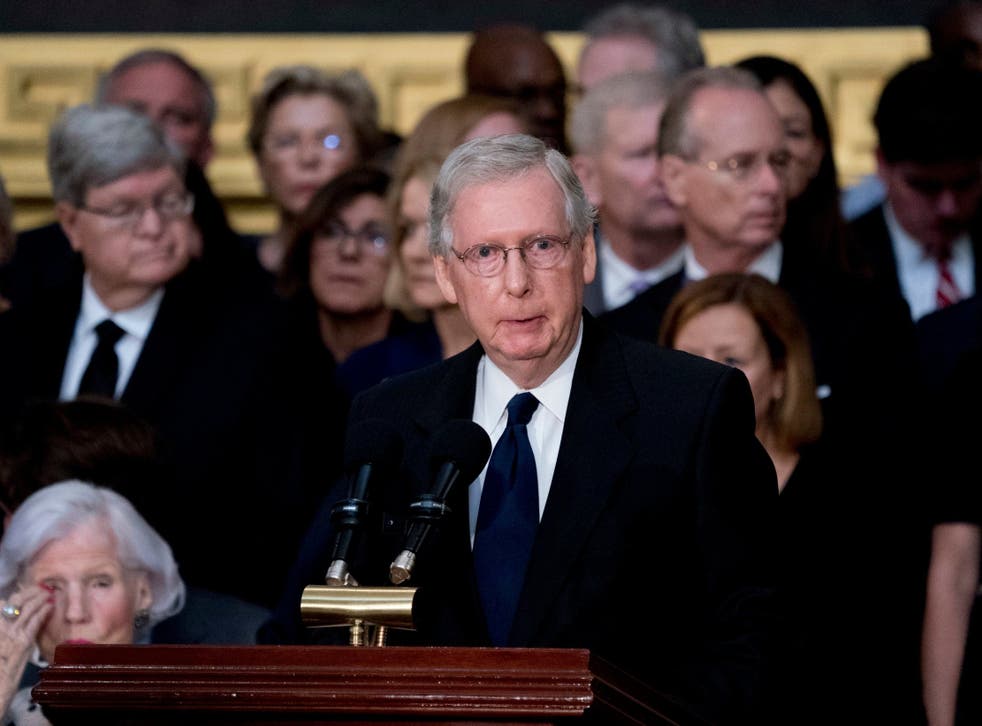 Senate majority leader Mitch McConnell has said that this year's closest Senate elections during the upcoming midterm elections are going to be comparable to "a knife fight in an alley".
Mr McConnell made the comments in Kentucky in response to questions from reporters on whether Republicans will be able to maintain a majority in the Senate after the midterms this November.
"We know this is going to be a very challenging election," Mr McConnell said.
Mr McConnell recognised a few states where the races are "dead even" between Republicans and Democrats, including Arizona, Nevada, Tennessee, Montana, North Dakota, Missouri, Kentucky, Indiana, West Virginia, and Florida.
Just three of those states — Arizona, Nevada, and Tennessee — are currently held by Republicans.
"All of them too close to call and every one of them is like a knife fight in an alley, it's just a brawl in every one of those places," Mr McConnell said.
World news in pictures

Show all 50
The outcome of the Senate elections could have a dramatic impact on how successful President Donald Trump will be in passing legislative priorities in the second half of his first term.
Democrats are anticipating a so-called blue wave, and have seen considerable support in generic congressional ballot polls — which indicate that Democrats in general are preferred over Republicans across the country by at least half a dozen points.
But, while Democrats are hoping that blue wave will lead to their regaining control of the House, the path to Senate control is considerably more murky for the Democrats.
That's because Democrats are defending more seats this year than Republicans, and incumbents are generally thought to have an advantage over challengers in American electoral politics.
Democrats are facing at least five races where they have sitting senators, but political handicappers are saying the races are too close to call. That's compared to just four for Republicans. Democrats are also defending four seats labelled "leans Democrat", compared to none in that category for Republicans, according to Real Clear Politics
Register for free to continue reading
Registration is a free and easy way to support our truly independent journalism
By registering, you will also enjoy limited access to Premium articles, exclusive newsletters, commenting, and virtual events with our leading journalists
Already have an account? sign in
Join our new commenting forum
Join thought-provoking conversations, follow other Independent readers and see their replies