US Supreme Court rules in favour of sports betting across the country
New Jersey could see legal sports betting at its casinos and racetracks 'within weeks'
Clark Mindock
New York Comments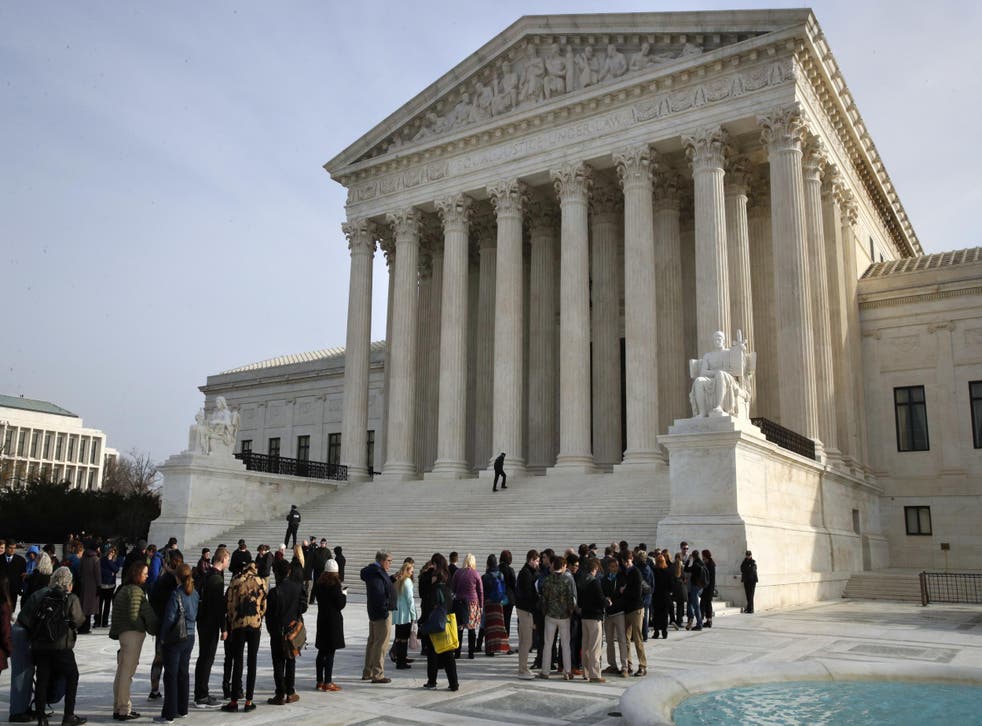 The Supreme Court has struck down a federal law that made sports betting illegal in most states, giving states that had previously been barred from the ability to go ahead and legalise being on sports if they choose to do so.
The 6-3 decision worked to strike down the 1992 Professional and Amateur Sports Protection Act, which barred state-sanctioned sports betting, except for in a handful of states.
The court's decision, one research firm says, will likely lead to 32 states offering sports betting within the next half a decade, according to the Associated Press. A researcher also told the news agency that legal sports betting could end up being more than a $57bn annual market, and that the Monday decision is likely to lead to near-term positive effects.
"The legalisation of sports gambling requires an important policy choice, but the choice is not ours to make. Congress can regulate sports gambling directly, but if it elects not to do so, each state is free to act on its own. Our job is tin interpret the law Congress has enacted and decide whether it is consistent with the Constitution," Justice Samuel Alito wrote in the majority opinion.
Monday's decision comes from a case in New Jersey, a state that has fought for years to have legalised sports betting in its casinos and racetracks. Former New Jersey Governor Chris Christie said in December after arguments for the case that the state could see the first sports bets as soon as two weeks following the decision.
"A great day for the rights of states and their people to make their own decisions. New Jersey citizens wanted sports gambling and the federal Gov't had no right to tell them no," Mr Christie wrote on Twitter Monday following the decision. "The Supreme Court agrees with us today. I am proud to have fought for the rights of the people of NJ."
World news in pictures

Show all 50
The Supreme Court's decision could have the effect of encouraging people to make legal bets when they may have been wagering illegally for years. The American Gaming Association, for instance, has estimated that Americans put down $150 billion every year on illegal sports bets.
The state of New Jersey has spent millions in legal fees to try and legalise sports betting, and has tried more than one strategy to legalise the conduct.
The first of those efforts came in 2012 when sports betting was legalised by the state with voters' support. The law directly challenged the 1992 law, and brought on lawsuits from four major professional sports leagues and the National College Athletics Association. Courts ruled against New Jersey at that time.
The state also tried simply repealing its laws that prohibited the gambling, saying that it didn't technically authorise sports betting. That effort also lost in court.
The Associated Press contributed to this report
Register for free to continue reading
Registration is a free and easy way to support our truly independent journalism
By registering, you will also enjoy limited access to Premium articles, exclusive newsletters, commenting, and virtual events with our leading journalists
Already have an account? sign in
Register for free to continue reading
Registration is a free and easy way to support our truly independent journalism
By registering, you will also enjoy limited access to Premium articles, exclusive newsletters, commenting, and virtual events with our leading journalists
Already have an account? sign in
Join our new commenting forum
Join thought-provoking conversations, follow other Independent readers and see their replies