Stephen Clark shooting: Police arrest 84 people after East Sacramento protest — but no charge for officers involved
California Attorney General Xavier Becerra says he will not file criminal charges against Officers Terrence Mercadal and Jared Robinet for fatally shooting the unarmed black man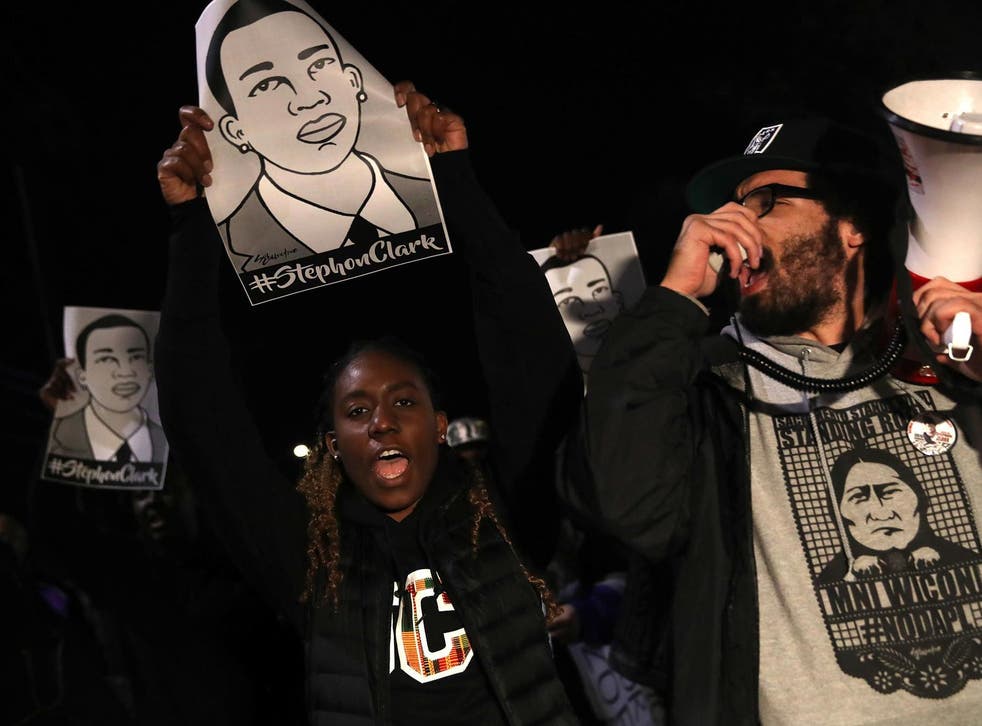 The Sacramento Police Department arrested 84 people earlier this week after activists marched through the wealthy East Sacramento neighbourhood to protest the district attorney's decision to not criminally charge the two cops who shot and killed Stephon Clark in March 2018.
Among the 84 protesters arrested on Monday were clergy members and college students, who recently participated in a sit-in protest shutting down Arden Fair Mall, as well as three local reporters. One of the clergy members arrested is pastor Les Simmons, a prominent voice in the Clark case.
The march took place two days after Sacramento County District Attorney Anne Marie Schubert announced she would not file criminal charges against the two cops—Terrence Mercadal and Jared Robinet—who killed Mr Clark, a 22-year-old unarmed black man who was shot to death after they chased him into his grandmother's backyard.
The officers said they thought Mr Clark had a gun but later discovered only a cell phone next to his body.
The size of the arrest after the march on Monday is a sharp contrast to the demonstrations held last year, when police only arrested a few protesters shutting down Interstate 5 and blocking people from entering the NBA Sacramento Kings game.
Black Lives Matter organises march to Trump Tower

Show all 15
While there have been several protests in the past regarding Mr Clark's death, it often took place in downtown Sacramento. The march Monday was the first to take place in an affluent and predominantly white part of Sacramento.
"We've had protests in other neighbourhoods and this kind of response has not happened," Tanya Faison, the founder of the Sacramento Black Lives Matter chapter, told NPR. "It proves that everything our DA has said, everything our chief has said and everything our mayor has said was all words."
Sacramento Mayor Darrell Steinberg released a statement on Twitter late Monday night expressing his disappointment in the police's response to the protests, but only specifically mentioned "no member of the press should be detained for doing their job."
"I'm very disappointed the protest ended the way it did. I have many questions about what went on that precipitated the order to disperse and the subsequent arrests," the statement read. "I will withhold further comment until I get answers to these crucial questions tonight or tomorrow morning. No matter the reason an order to disperse was given, no member of the press should be detained for doing their job."
The day after the march, California Attorney General Xavier Becerra said he will also not be filing criminal charges against the officers who shot and killed Mr Clark.
Support free-thinking journalism and attend Independent events
"Our investigation has concluded that no criminal charges against the officers involved in the shooting can be sustained," Mr Becerra said during a press conference, setting the stage for more political upheaval and protests in the city.
Mr Becerra said he spoke with Mr Clark's mother, Se'Quette, before announcing his decision. He laid out the similar reasoning to those explained by Ms Schubert on Saturday and came to the same conclusion: Officers Mercadal and Robinet believed Mr Clark was armed and feared for their lives when they fired a total of 20 rounds at him.
Register for free to continue reading
Registration is a free and easy way to support our truly independent journalism
By registering, you will also enjoy limited access to Premium articles, exclusive newsletters, commenting, and virtual events with our leading journalists
Already have an account? sign in
Register for free to continue reading
Registration is a free and easy way to support our truly independent journalism
By registering, you will also enjoy limited access to Premium articles, exclusive newsletters, commenting, and virtual events with our leading journalists
Already have an account? sign in
Join our new commenting forum
Join thought-provoking conversations, follow other Independent readers and see their replies