Steve Bannon 'doesn't plan to testify before Congress despite subpoena'
If he does refuse to comply, Mr Bannon could be held in contempt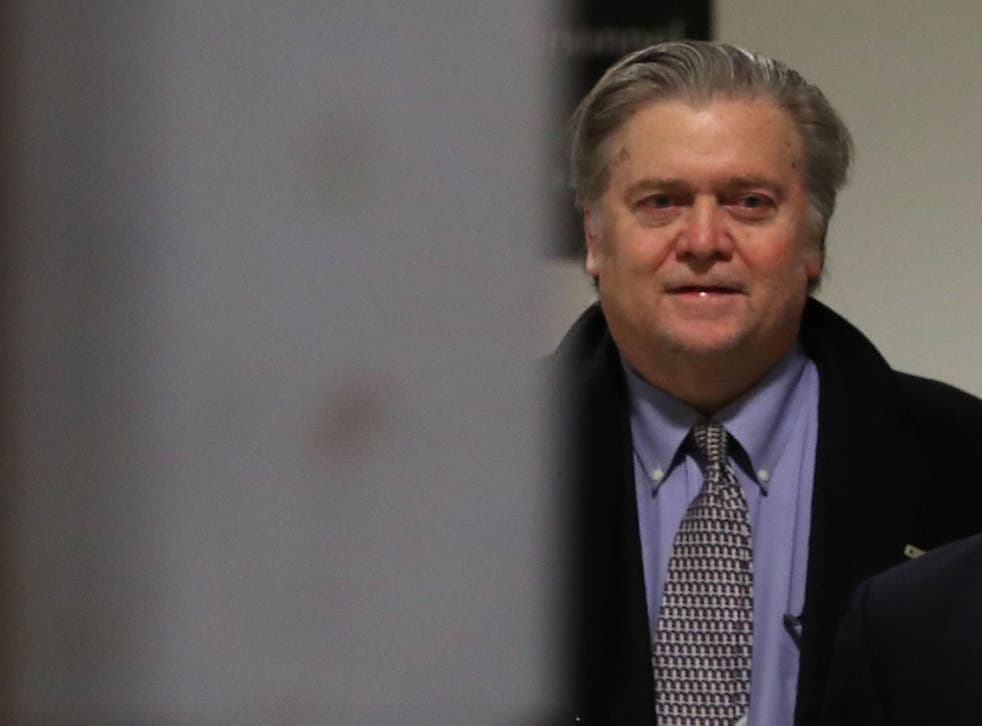 Former White House adviser Steve Bannon reportedly does not intend to testify before the House Intelligence committee, risking being held in contempt for refusing a subpoena to appear.
The committee issued a subpoena compelling Mr Bannon to appear as it conducts one of several investigations into Russian meddling in the 2016 presidential election.
In a tense previous meeting Mr Bannon refused to answer questions about his time serving in the Trump administration's transition or in the White House, according to legislators who vowed to wring more information out of him.
"We have a subpoena for him in the morning and we expect it to be complied with," Rep Mike Conaway, a Texas Republican who chairs the committee, told reporters. "We have questions that are unanswered that we want answered on both sides."
But as of late Monday evening Mr Bannon was not planning to show, according to sources cited by Reuters.
During Mr Bannon's last appearance before the House panel his attorney said the White House directed him to decline questions about his time in the administration, according to Rep Adam Schiff of California, the top Democrat on the intelligence committee, who said the White House had effectively imposed a "gag order".
The biggest names involved in the Trump-Russia investigation

Show all 17
Once a central figure in the Trump campaign and White House, Mr Bannon has been excommunicated after he was quoted in a book disparaging Mr Trump's family and calling a Trump tower meeting between Mr Trump's son and Russian emissaries "treasonous".
A parallel inquiry to the House probe, led by special counsel Robert Mueller, has led to indictments against multiple Trump campaign aides. The President has denied any wrongdoing or collusion with Russia.
Join our new commenting forum
Join thought-provoking conversations, follow other Independent readers and see their replies