Steve Bannon: Ex-White House strategist lashes out at 'Javanka' in blistering attack on Ivanka Trump and Jared Kushner
Donald Trump's former adviser lays bare tensions between himself and the President's family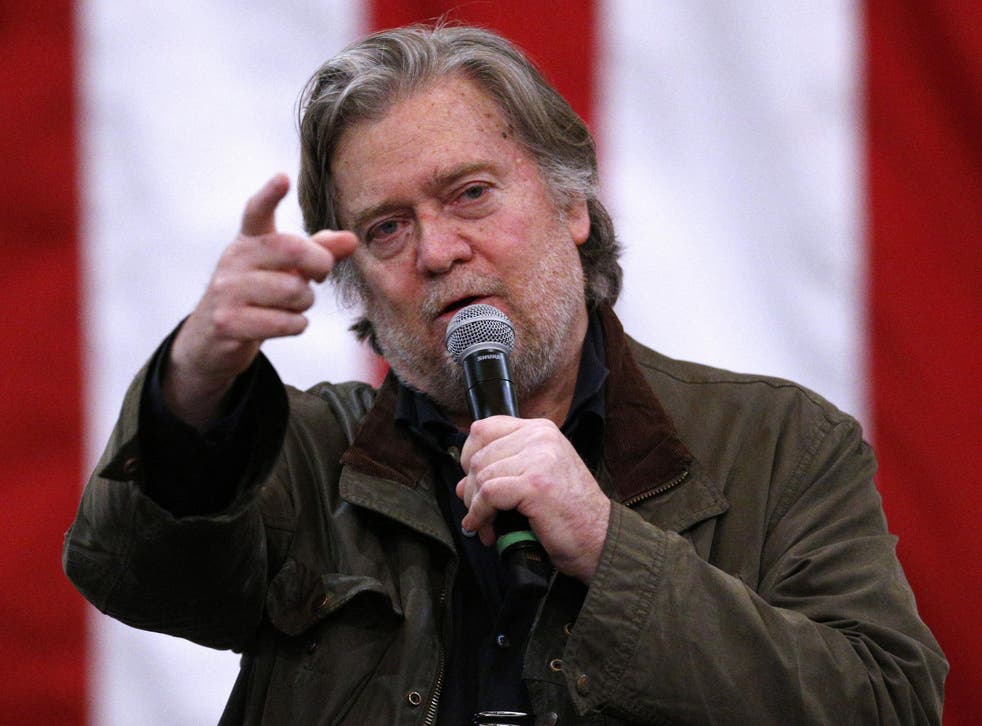 Donald Trump's former chief strategist Steve Bannon has lashed out at Ivanka Trump and her husband Jared Kushner in a wide-ranging interview, in which he also referenced the (withdrawn) allegation that the President raped a 13-year-old.
Laying bare his disdain for the pair, who he referred to as "Javanka", he blamed them in Vanity Fair magazine for being the "railhead of all bad decisions" in the White House.
Ms Trump came in for particular criticism after she stepped in to Alabama's recent special election for the US Senate.
Mr Bannon had heavily backed Republican candidate Roy Moore, whose campaign became embroiled in child sex allegations.
A number of women accused the Alabama Supreme Court Judge of sexual misconduct, including one woman who claimed he molested her when she was 14 years old while he was in his thirties.
Mr Moore denied the allegations, but a number of prominent Republicans distanced themselves from his campaign. Mr Moore lost the seat to Doug Jones, who became the first Democrat to hold a seat in the Republican heartland since 1992.
Although Mr Trump had eventually came out in support of his party's candidate, at one point during the campaign his daughter said there was "a special place in hell for people who prey on children".
Roy Moore refuses to concede defeat in Senate race
Responding to Ms Trump's comments in the Vanity Fair interview, Mr Bannon said: "What about the allegations about her dad and that 13-year-old?"
He was referring to an unproven allegation from a California woman that Mr Trump had raped her as a teenager – a claim the US leader denied. The woman dropped a lawsuit making the claim last year.
Mr Trump has also denied claims of sexual misconduct from a number of other women.
Mr Bannon, who left the White House in August after seven months in office, amid infighting with members of Mr Trump's family, said Ms Trump had been "a fount of bad advice" during the presidential campaign.
The 64-year-old, who returned to the far-right news website Breitbart as chairman, also blamed Mr Kusher for reportedly encouraging the president to fire FBI Director James Comey, during the investigation into alleged collusion between Mr Trump's presidential campaign and Russia.
US intelligence agencies have concluded Moscow tried to sway the presidential election in favour of Mr Trump. It is alleged that Russian hackers stole information linked to the campaign of his rival Hillary Clinton and passed it to Wikileaks so it could be released to undermine her – a claim Mr Trump has repeatedly denied.
World news in pictures

Show all 50
Mr Bannon nonetheless accused Mr Kushner, 36, of being naive and exposing the administration by holding meetings with figures linked to Moscow during the campaign.
"He's taking meetings with Russians to get additional stuff. This tells you everything about Jared," he said. "They were looking for the picture of Hillary Clinton taking the bag of cash from Putin. That's his maturity level."
Mr Trump fuelled claims of a cover up when he sacked Mr Comey in May, citing his reason as "this Russia thing". The Department of Justice subsequently appointed ex-FBI director Robert Mueller as special counsel to look into the matter.
Mr Bannon described Mr Comey's firing as "the dumbest political decision in modern political history, bar none. A self-inflicted wound of massive proportions".
Join our new commenting forum
Join thought-provoking conversations, follow other Independent readers and see their replies