Steve Bannon and Jared Kushner agree to 'bury the hatchet' as infighting envelops Trump administration
Pair seek to end their struggle 'for soul and brain of President'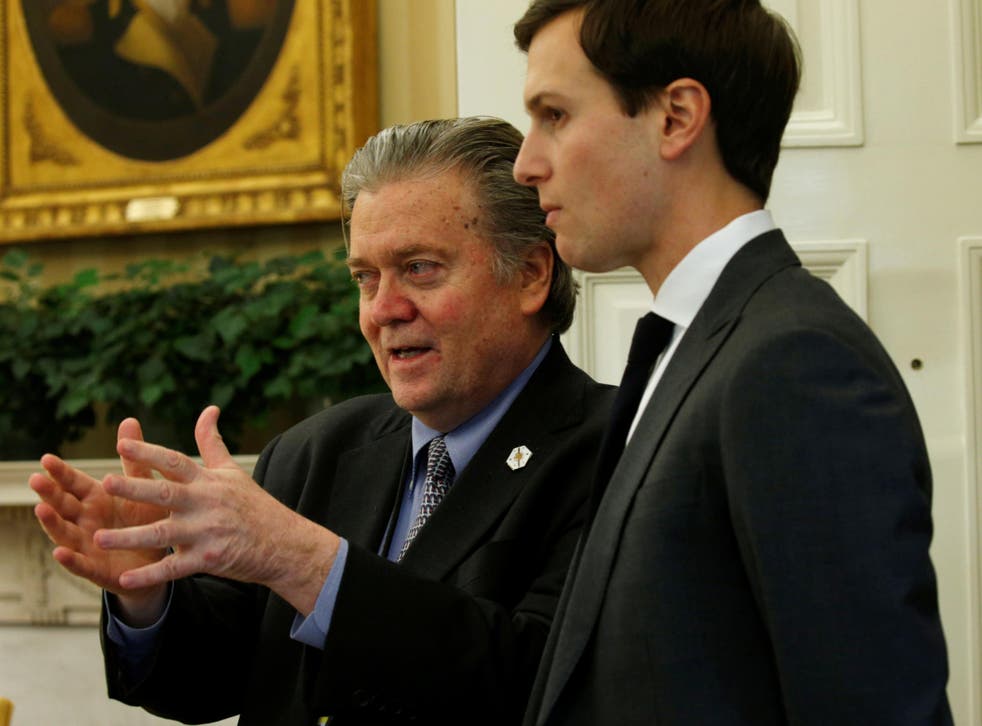 Donald Trump's influential son-in-law and his chief of staff have vowed to put aside their bitter rivalry, following weeks of infighting that has highlighted sharp divisions in the White House, a senior administration official has said.
Jared Kushner, the husband of Ivanka Trump, and Steve Bannon, the ideologue behind Trump's populist rise, have clashed repeatedly in recent weeks over strategies for replacing Obamacare, handling fallout from failed attempts to ban immigration and intervention in the Syrian War.
But the pair have agreed it was time to "bury the hachet and move forward" in an attempt to stop distractions from the President's agenda, an official speaking on condition of anonymity told Reuters.
The aides met on Friday at the President's Mar-a-Largo Florida resort at the request of White House chief of staff Reince Priebus, who told them that if they have any policy differences, they should discuss them private, the official said.
He added that Mr Priebus' message to the two senior White House staff members was to "stop with the palace intrigue" and focus on the President's agenda.
The administration has been troubled by infighting taking place in public, with high-profile aides competing for dominance.
Mr Trump was reported to have grown frustrated by a stream of articles emerging from the West Wing about staff clashes and ordered Mr Bannon and Mr Kushner to end their feud.
But Rumours that the President was planning a staff shake-up in an attempt to quell the fighting were dismissed by the White House, with spokesperson Lindsay Walters issuing a statement Friday saying it was "a completely false story driven by people who want to distract from the success taking place in this administration."
Ms Walters cited the Senate's confirmation of Supreme Court nominee Neil Gorsuch, Mr Trump's recent meetings with foreign leaders and the US missile strikes in Syria as evidence the administration was being effective.
The President's strikes against Syrian targets after a horrific chemical attack in the country drew praise in many parts of the world and the move was widely supported by Democrats and the mainstream liberal media.
World news in pictures

Show all 50
Mr Bannon, former chief of the right-wing news organisation Breitbart News, had been at odds with Mr Kushner and Gary Cohn, the head of the White House National Economic Council, four former advisers said.
They said Mr Kushner,was trying to tug the president into a more mainstream position, while Mr Bannon was trying to stir the nationalist fervour that carried Trump to his unexpected election victory in November.
One leak by an official claimed that Mr Bannon had called the President's son-in-law a "cuck".
"[Mr Bannon] recently vented to us about Jared being a 'globalist' and a 'cuck'', the official told The Daily Beast. "He actually said 'cuck,' as in "cuckservative'"
Mr Bannon's role in the administration is seen to be in decline, a view supported by his removal from the National Security Council this week. Administration officials said he was forced out after he and clashed with national security adviser HR McMaster.
Some former Trump advisers have said Mr Priebus is at fault for not gaining control of the feuding and said Mr Cohn, a former Goldman Sachs executive, was a candidate to replace him.
Bill Daley, a former White House chief of staff to President Barack Obama, who himself was forced out in a shakeup a year into the job, said it appeared there was a struggle for "the soul and brain of the President" inside the Trump administration.
Additional reporting by Reuters
Join our new commenting forum
Join thought-provoking conversations, follow other Independent readers and see their replies