Trump cabinet member Steve Mnuchin 'may have used taxpayer money to watch the eclipse on top of Fort Knox'
A watchdog group was alerted to a possible issue after a controversial Instagram post by Mr Mnuchin's wife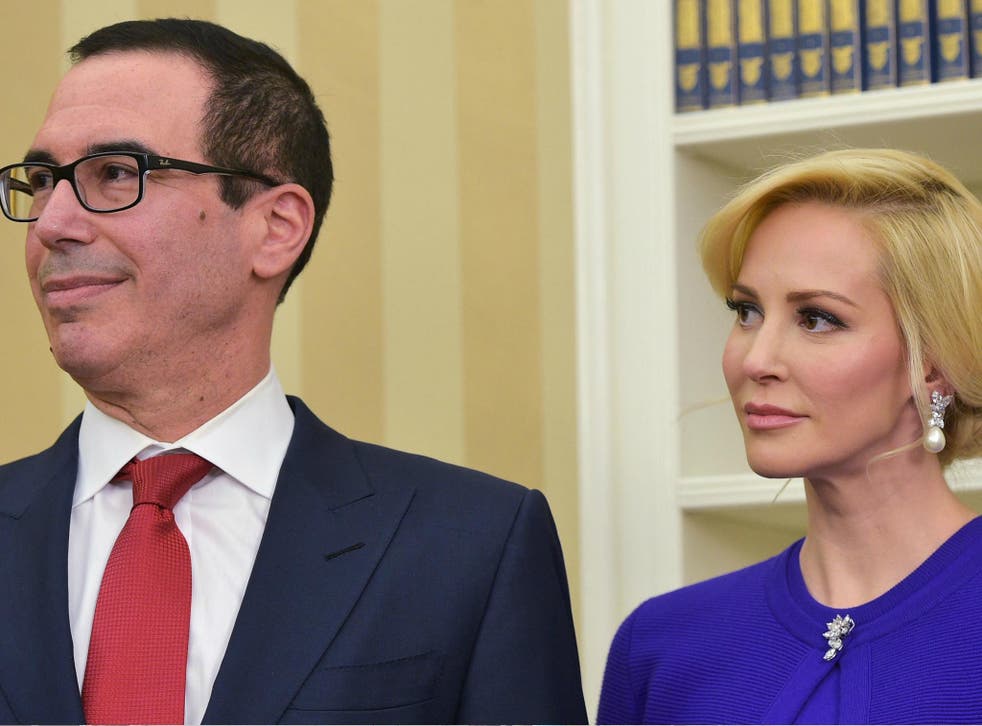 A watchdog group believes Treasury Secretary Steve Mnuchin and his wife Louise Linton may have used taxpayer money to watch the solar eclipse atop $200 billion worth of gold.
The pair travelled with Senator Mitch McConnell his home state, which happened to be in the prime eclipse viewing path. They viewed it atop Fort Knox, and Army base and the US gold bouillon depository.
Ms Linton's posted a picture on Instagram of her and Mr Mnuchin stepping off a government plane the day of the eclipse. In the post the Scottish-born actress described her outfit, naming several high-end fashion designers, calling it a "great #daytrip".
A commenter, Jenni Miller, criticised Ms Linton for bragging about her designer wear while many Americans are suffering financially.
It was Ms Linton's response which caught the eye of the Citizens for Responsibility and Ethics in Washington (CREW). Ms Linton wrote: "Did you think this was a personal trip?! Do you think the US govt paid for our honeymoon or personal travel?! Lololol".
CREW is now asking the Treasury Department for financial records showing "authorisation for and the costs" of the trip using a government plane.
In its Freedom of Information Act request, the group wrote: "At a time of expected deep cuts to the federal budget, the taxpayers have a significant interest in learning the extent to which Secretary Mnuchin has used government planes for travel in lieu of commercial planes, and the justification for that use."
Ms Linton went on to say in her lengthy response to Ms Miller that the commenter was "adorably out of touch" and said the couple had contributed more in US tax dollars than Ms Miller had.
She later made her account private after massive backlash to her response and has since deleted the picture and issued an apology to Ms Miller.
The US Trearsury said in a statement that Mr Mnuchin had been in the state to discuss tax reform - a priority for the Trump administration - with Mr McConnell.
It also said Mr Mnuchin will reimburse the government for Ms Linton's travel "as is longstanding policy regarding civilians on military aircraft. The trip was originally planned for earlier in August but was postponed to accommodate the Congressional calendar."
CREW spokesperson Jordan Libowitz told CNBC that the issue would not have caught their attention if not for "the Instagram rant" by Ms Linton.
"That picture was clearly of a government plane, so that raised questions of what the relationship was of her to the trip, and what she was doing there," he said.
Mr Mnuchin is the fist Treasury Secretary to visit Fort Knox in nearly 70 years, according to Mr Mnuchin's own tweet. It is also another point that raised the watchdog group's suspicion.
Join our new commenting forum
Join thought-provoking conversations, follow other Independent readers and see their replies