Steve Scalise was 'as critical as he could be' after Virginia shooting, doctor says
The Representative remains in critical condition, but doctors say a full recovery is likely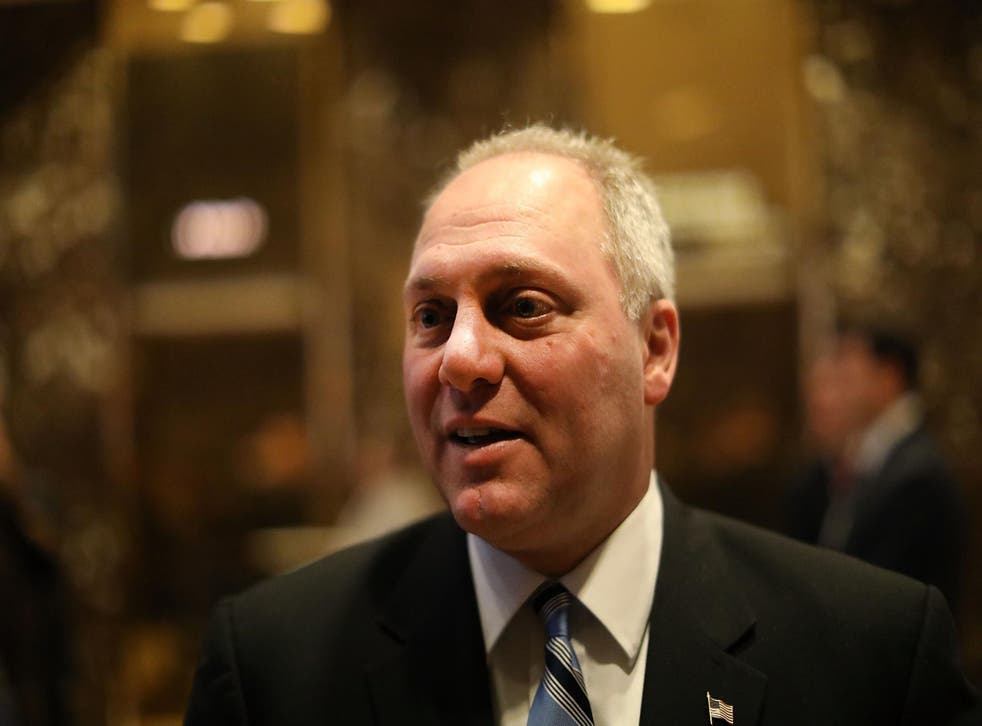 House Majority Whip Steve Scalise looks like he will make an "excellent recovery," doctors say – but that wasn't always the case.
When the Representative entered MedStar Washington Hospital after a mass shooting at a Congressional baseball practice, his surgeon said, he was "as critical as he could be".
"I would say that when he arrived he was in critical condition with an imminent risk of death," Dr Jack Sava told reporters.
Mr Scalise was shot in the hip when a lone gunman descended on the baseball practice in a Washington, DC suburb on Wednesday. A lobbyist, a congressional aide, and two Capitol Police officers were also injured in the shooting.
Police believe the attack may have been politically motivated.
Congress members and aides watched Mr Scalise drag himself through the dirt field after he was shot, leaving a trail of blood behind him. He remained awake and responsive as fellow congressmen ran to his side approximately 10 minutes later. When he arrived at the hospital, however, he was in a state of shock.
Doctors rushed Mr Scalise to surgery, pumping blood into his body to counteract his multiple haemorrhages.
Virginia Shooting

Show all 20
Surgeons estimated that hundreds of bullet fragments remain in Mr Scalise's body. The team doesn't plan on removing them all soon: The Congressman has already undergone multiple surgeries in the last 36 hours.
Mr Scalise remains in critical condition in the intensive care unit, but his risk of death is "substantially lower than when he came in," Mr Sava said.
"We have controlled his internal bleeding and his vital signs have stabilised," the surgeon reported, adding that he will require additional surgeries to manage abdominal and bone injuries.
Doctors expect Mr Scalise will eventually be able to walk and return to work at "full capacity". What they don't know, however, is exactly how long that will be.
Wednesday's shooting sent shock waves through Washington, where most members travel without a personal security detail. The other congress members present credit Mr Scalise's security guards – members of the Capitol Police – with saving their lives.
"We had nothing but baseball bats to fight back against a rifle with," Representative Mo Brooks told CNN.
The alleged gunman, James Hodgkinson of Belleville, Illinois, died shortly after the incident following a shoot out with police. The 66-year-old posted several angry messages about President Donald Trump and the Republican party on social media before the incident.
In a statement on Wednesday night, Mr Trump urged unity and bipartisanship.
"We may have our differences, but we do well, in times like these, to remember that everyone who serves in our nation's capital is here because, above all, they love our country," he said.
Join our new commenting forum
Join thought-provoking conversations, follow other Independent readers and see their replies