Super Tuesday: Donald Trump and Hillary Clinton could be set for election showdown by end of crucial day
Polls suggest the two frontrunners are going to assume perhaps unassailable positions
Andrew Buncombe
New York
Tuesday 01 March 2016 07:44 Comments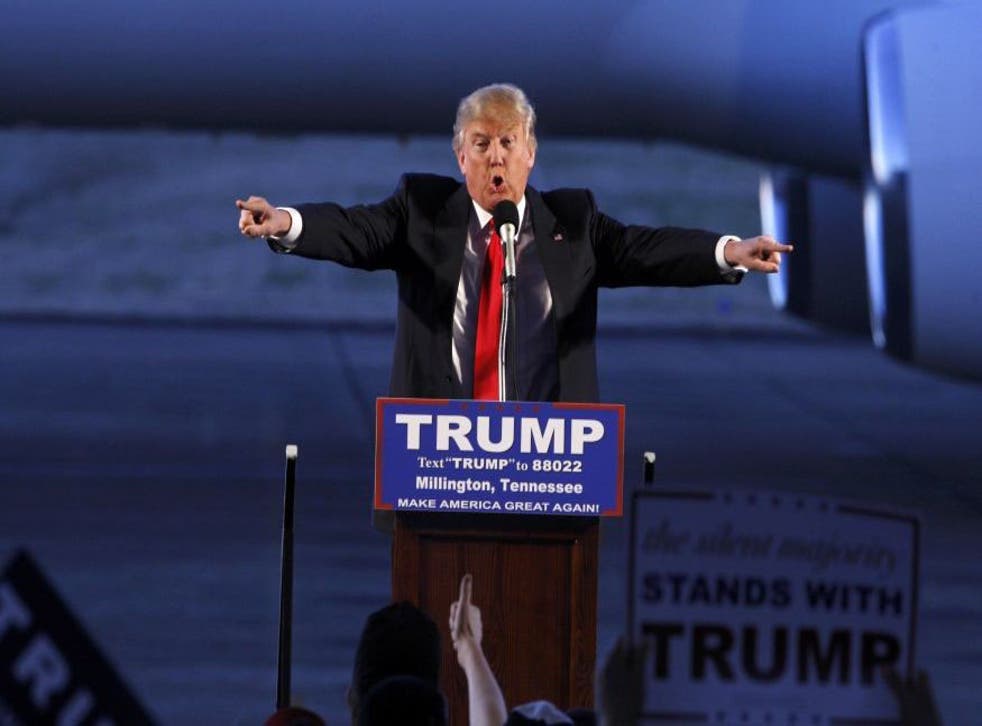 By the end of what is called Super Tuesday, it could be all but over.
If the polls are correct, current Republican frontrunner Donald Trump could be in an all but unassailable position in the battle to choose the party's nomination for president. Hillary Clinton could find herself in a similarly dominant position for the Democrats.
On Tuesday, the residents of 12 US states - Alabama, Alaska, Arkansas, Colorado, Georgia, Massachusetts, Minnesota, Oklahoma,Tennessee, Texas, Vermont and Virginia – along with American Samoa and Democratic voters living abroad, get to cast their vote in the primary election. Results for Wyoming's Republican caucuses will also be completed by the end of Super Tuesday, with counties having caucused in the weeks preceding the day itself.
At stake for the presidential candidates are 880 delegates up for grabs as they seek to accumulate enough to clinch their party's domination. For the Democrats that is 2,383, and for the Republicans it is 1,237.
A poll published on Monday morning put Mr Trump on 49 points nationally, ahead of all his rivals combined. Meanwhile, the same CNN-ORC scored the Democratic contest 55-38 in favour of Ms Clinton, over her rival Bernie Sanders.
More importantly, on the eve of what is perhaps the second most important day in the political calendar, passed in significance only by election day itself on November 8, Mr Trump is leading the individual polls in eight of the 12 races where Republicans are voting.
His rival Marco Rubio is ahead in Minnesota, while Ted Cruz is leading in Arkansas and Texas, the latter his home state where he is desperate to do well. Colorado has not had a poll carried out for several months, but the last one put Ben Carson at the top of the pile. The doctor is unlikely to come ahead when people actually vote.
Donald Trump's most controversial quotes

Show all 14
Meanwhile, in the 11 states where Democrats are voting Ms Clinton appears to have the advantage in a majority of them. She is expected to win easily in the five southern states - Alabama, Georgia, Texas, Arkansas, and Virginia.
Mr Sanders is hoping to do much but among white liberals in Vermont, Minnesota, Colorado, and Massachusetts, but one recent poll gave Ms Clinton a clear lead over him in Massachusetts. The only place he is all but guaranteed a win in his home state, Vermont, where he has a 83-9 lead, according to polls.
Two other states where Democrats are voting, Oklahoma and Tennessee, are likely to be closer.
Despite whatever happens on Tuesday, it is unlikely that either of the two frontrunners will be able to claim outright victory. Both Mr Cruz and Mr Rubio have vowed to carry on their campaigns; Mr Rubio will want to stay in the race until March 15 when his home state of Florida votes.
Ohio Governor John Kasich has also said he will keep campaigning at least until that date when his home state votes.
From Mr Trump's perspective that is ideal; the longer that the opposition to him is divided among several candidates, the much easier it is for him to win delegates and take an unassailable lead. If would a little tricker for him if the anti-Trump voters were able to rally around one alternative Republican candidate instead.
For Mr Sanders, still reeling from his huge 48 point defeat to Ms Clinton on Saturday in South Carolina where pressing questions were raised about his inability to make headway with black voters, the path to the White House will become equally more remote.
He may decide to continue his campaign for some time, but he may decide he will never catch Ms Clinton's pace and opt for an honourable exit, and what would certainly be a hero's welcome at the party convention.
Register for free to continue reading
Registration is a free and easy way to support our truly independent journalism
By registering, you will also enjoy limited access to Premium articles, exclusive newsletters, commenting, and virtual events with our leading journalists
Already have an account? sign in
Join our new commenting forum
Join thought-provoking conversations, follow other Independent readers and see their replies